Sports
Marathon Swimmer Evan Morrison Featured in Documentary Driven
S.B. Native Evan Morrison Featured in Documentary Driven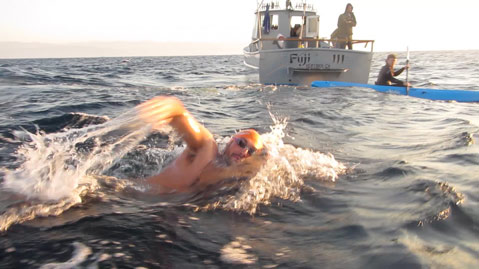 A fish named Dory provided Evan Morrison with his mantra. "Just keep swimming, swimming, swimming," Dory advises the title character in the animated movie Finding Nemo. That pretty much summed up Morrison's thoughts in September 2012 when he was trying to make his way through wind-whipped waves across the Santa Barbara Channel.
Morrison, 33, a former competitor for Dos Pueblos High and the Santa Barbara Swim Club, stroked the 19-mile distance from Santa Cruz Island to the Oxnard shore in 9 hours, 47 minutes, and 49 seconds, a record time. (It was bettered a year later by Ventura's Jim McConica in more favorable conditions.) Morrison's accomplishment is the centerpiece of the documentary film, Driven: A Glimpse Inside the World of Marathon Swimming, which will be screened at the Santa Barbara International Film Festival.
Mark Warkentin followed Morrison's progress across the channel in a kayak. The pair had become friends as age-group swimmers 25 years ago. Warkentin became a distance freestyler at San Marcos High and USC; Morrison swam the backstroke and individual medley at Dos Pueblos and Princeton. Warkentin was a contender for the U.S. Olympic team, but he came up short in the pool trials. Then he qualified for the first Olympic open-water 10,000-meter swim in 2008.
"I got into open-water swimming because of Mark," said Morrison. He lived in Chicago at the time and started training in Lake Michigan. "It was a new lease on life." His land-based exercise was curtailed by hip-replacement surgery when he was 25. "In open water, every swim is different," Morrison said. "Both my body and mind crave it. I hope to be swimming the rest of my life."
"Evan has found his passion," said Warkentin, now head coach at the S.B. Swim Club. "I told him open-water swimming is not a matter of brute strength; it's how you control your mind. He started looking into tide charts and currents. He was like a chess player in a checkers game." But Morrison did not foresee the wind that swept across the channel after he jumped off from Santa Cruz Island in the middle of the night. "Evan did all kinds of research, but he got screwed by Mother Nature," Warkentin said. "I could never have done that swim. I was amazed."
Morrison, a statistician by profession, is cofounder of the Marathon Swimmers Federation (MSF). He owns a website (marathonswimmers.org) that is a repository of information and commentary about the unique humans who choose to go from shore to far shore in nothing but a swimsuit and goggles. Early this month, Morrison published the MSF Rules of Marathon Swimming, a set of guidelines to assure the legitimacy of crossings undertaken "with minimal assistance beyond [the swimmer's] own innate physical strength and mental fortitude."
"It's been endorsed by hundreds of swimmers," Morrison said. "There was a sanctioning body (the Santa Barbara Channel Swimming Association) for my swim, but in random parts of the world, they need a set of rules to refer to. It's not a spectator sport. You're out there in the middle of the ocean followed by a couple people on a boat. It all depends on your integrity."
Morrison came up with the rules in the wake of the controversy, fomented by a forum on his website, over a purported masterpiece of marathon swimming: Diana Nyad's fabled swim from Havana to Key West, Florida. Questions raised about the startling acceleration in Nyad's progress during the 53-hour swim have not been satisfactorily answered, Morrison said. He wrote a blog about it under the heading "Nyad Agonistes."
"There is no hard evidence that Diana cheated, but there is a lack of transparency," Morrison said. "There is a lot of mystery how she managed to go so quickly. There's no money in the sport for most of us [Nyad, who commands substantial fees for corporate speaking, is an obvious exception]. If I don't have the trust of my fellow swimmers, I don't have anything. Diana is an icon to many people, but most of us in the sport don't trust her. She probably doesn't care."
Morrison lives in San Francisco and is currently in a recreational swimming mode, which means he splashes into the chilling waters of the bay for an hour or so, several times a week. On a clear day, he can see the Farallon Islands out in the Pacific, but they are not on his map of open-water destinations.
"At the time of year when the conditions are most favorable for a swim, the Farallons have the highest concentration of great white sharks in the world," he said. "There is a fear factor when you're swimming because sharks attack from below, but I think the risk is blown out of proportion. We're not on their menu. Most cases are accidents." Nevertheless, he will stay away from the one spot where the odds are increased that he could be an accidental appetizer.
Two showings of the movie Driven, produced by Ben Pitterle and Brian Hall, are scheduled during the SBIFF: Tuesday, February 4, at 10 a.m., and Friday, February 7, at 7 p.m., both at the Santa Barbara Museum of Art.
UCSB SWIMMING: The Gaucho men's and women's teams will race against Cal Poly in a dual meet at the Campus Pool at noon, Saturday, February 1. Stanford will send its men's team to UCSB on Friday, February 7. The Gaucho men have been competing in the Pac-12 Conference Championships for the past three years.
WOMEN and GIRLS LUNCHEON: Capturing a silver medal in the women's team pursuit at the London Olympics might be second or third on cyclist Dotsie Bausch's list of accomplishments. It never would have happened if she had not transformed herself from a former runway model, dissipated by a severe eating disorder, to a healthy athlete. Bausch's story has inspired others to escape the life-threatening perils of anorexia and bulimia. She will be the featured speaker Monday, February 3, at the Women and Girls in Sports Luncheon sponsored by the Santa Barbara Athletic Round Table. About 400 female athletes are expected to attend at the Earl Warren Showgrounds. Information: sbroundtable.org.
SCIOSCIA TRUMPS SOCHI: Friday, February 7, is the opening day of the Winter Olympics, but many baseball fans will skip the snow-and-ice spectacle. They'll be basking in an evening of storytelling at the Santa Barbara Foresters Hot Stove Banquet, featuring Angels manager Mike Scioscia. The Foresters, four-time champions of the National Baseball Congress World Series, will introduce new members to their Hall of Fame. Festivities start at 6 p.m. at Earl Warren. Information: sbforesters.org.
SUPER BOWL: I flipped a coin with a head on one side and a heart on the other. The head came up. Seattle's defense and ability to force turnovers will spoil Peyton Manning's day: Seahawks 24, Broncos 20.