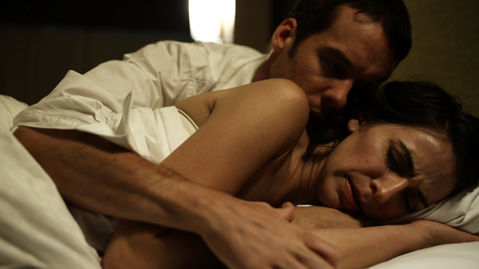 When a newlywed couple retreats to their hotel room at the end of the wedding in this short film by a Santa Ynez Valley-raised filmmaker, the conversation and mood takes a dive far away from revelry and toward something more like despair.
Please tell me this didn't happen on your own wedding day.
No. This didn't happen to me. Which I am very grateful for. I was inspired to write it after working as a bellman for many years. I would spend time with newlyweds as I checked them into their room. Some were on their third marriage and some their first. I found that a lot of them would treat their wedding night like any other day. I began to wonder what the newlyweds relationship was like and what brought them to that moment in time. Are they gonna make it? Or were they just In love with the idea of each other? With all these questions haunting me, I started writing as if I were a fly on the wall in their honeymoon suite.
There is lots of pressure for this to be the best day of people's lives. Do you think there is too much emphasis on this one day?
Yea, I think there definitely can be too much emphasis on the wedding day instead of their future life together. Or it can swing the other way were the couple treats it like a party, and it means nothing. I think my characters are split between Beth having ideals of the night and of who David is. Then there is David who just wants to have a satisfying evening.
Should past loves be discussed before vows?
I think everything should be on the table. A certain transparency needs to happen in the relationship. "The one that got away" needs to be talked about and moved past. You are two individuals before the vows with a history, brokenness, and wounds, but after the vows you are partners together through the hurt…or at least that's the idea.
What sort of feelings did you hope to convey with your directorial and editing style?
I wanted to make it as intimate as possible; handheld and close. I wanted it to make the viewer feel as if they are right in the room with them. Then after their relationship shifts and they know more about each other, I wanted to capture the feeling of an open room with lots of dead space and silence…stale. It is as if all the oxygen had been sucked out of the room and they are left gasping for air.
What is your Santa Barbara connection?
I was born and raised in Solvang,Calif., about 45 minutes north of Santa Barbara. I graduated from Santa Ynez High School and growing up in Solvang, you tell everyone you are from Santa Barbara, so they know what you are talking about. Everyone knows beautiful Santa Barbara.
My parents opened a coffee house in Solvang in 2003 and called the Bulldog Café. I worked there for many years, before my parents sold it a few years back. When I think of home, I think of the Santa Ynez Valley as my family and friends are all in Santa Barbara area.
Check the latest schedule here.