Film & TV
A Year in Champagne
Director David Kennard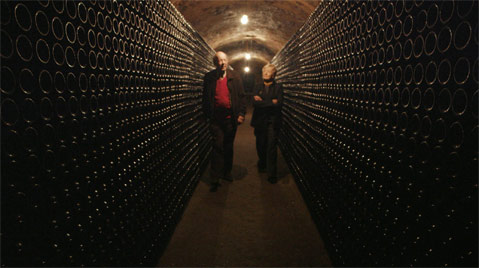 Coming in the wake of last year's oenophile-fave flick A Year in Burgundy, this one focuses on the world's home of sparkling wine, painting a fun and effervescent portrait of the people, places, and processes behind bubbly.
As you show, champagne is dominated by big producers. Are the smaller producers making a comeback?
There has been an artisanal revolution in Champagne in the last 10-plus years. Many families have stopped selling their grapes to the big producers, and have set up on their own. Not all their product is good, but the effect on the big guys has been to make them buy up more and more small producers, just to get their vines. The four small artisanal family wineries we feature have been established more than 50 years, and produce the very top quality wine. They have time to really concentrate on their vineyards, which makes the process more intimate and the result often more remarkable.
Did you run into any backlash from the big champagne makers in producing this film?
I don't think the big guys even knew we were filming, during the many visits we were there. We simply didn't want to be involved with their industrial methods of production and their huge PR machines. Bollinger is an important player in Champagne (hugely prestigious) and so is Gosset, but they're medium sized and have kept the personal touch.
Did you produce this at the same time as you did A Year in Burgundy?
No. We filmed Burgundy in 2011, and edited it in 2012. We filmed Champagne in 2012, and edited it in 2013.
The pacing and structure reminds me of a New Yorker story, told eloquently but in a leisurely way. How did you decide on that style of presentation?
Thank you. I treat that as a compliment. I decided to tell the story of wine the same way that good wine is made: you take your time, you try to get subtlety into the blend, you give the viewer time to get to know the people involved — even their dogs! Bouchon the terrier is one of the stars of the movie: sun or rain, he's out in the fields with his master.
This film feels more "fun" than the Burgundy film, which was great but also very technical. Why is that?
That's an interesting observation. We were all concerned that (because of the weather at least) it would seem more gloomy. But I think we have a much wider range of emotions here, from the grim trenches of World War I to the out-and-out fun of parties and balloon rides: more laughs, perhaps.
I think you'll find there's technical information woven in here: explaining how Champagne is made is much harder than explaining how Burgundy is made. But perhaps we've integrated it better, and used the music better, so you hardly realize you're getting educated as well as entertained! We want these films to have a 20-plus year shelf-life, so that's important to us.
I noticed that the glassware used in France is not the American fluted variety. Why do we insist on flutes?
Flutes, of course, concentrate the bubbles and direct them straight up the nose, to get that initial tingle before you even taste the stuff! The French do use flutes, but the people who make champagne are more down-to-earth and are quite happy to use any old wine-glass that is available!
The history of wine-glass shapes is also largely tied up with fashion, as it has changed over the years. Who knows what will be in vogue in the future?
Though it often seems like a very elite region, the people of Champagne seemed very approachable and down to earth. Is that what you found?
Champagne really isn't an elite region, though the PR departments of the biggest companies might like you to think so. The people are very down to earth: the weather is often dreadful, they've been invaded many times, other people have stolen their inventions and imitated their wine: they can be downright grouchy, indeed! But once you get to know them (which is the great advantage of filming a documentary over a whole year), you become one of the family, and discover their warmth and love of fun.
Do you have any more wine docs in the works?
One more: A Year in Port, filmed in 2013 in Portugal's Douro Valley and the ancient city of Porto. This film, which we'll start to edit after SBIFF, will perhaps be the most fun and the most extraordinary film of the trilogy, but we'll have to see what the critics think.
Check the latest SBIFF schedule here.