Food & Drink
New Year, New Flavors for McConnell's
State Street Ice Cream Shoppe Introduces Blackberry Lime and Lime Pie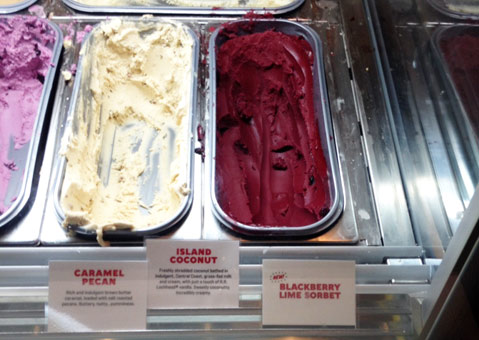 McConnell's Ice Cream Kitchen brought in 2014 with two new flavors: blackberry lime sorbet and lime pie. These healthy, lime-flavored treats have hit the menu to accommodate those sticking with their New Year's diets.
While McConnell's Ice Cream has been a household name in Santa Barbara for more than 60 years, it's only been two years since the two current families-in-charge, Michael Palmer and Eva Ein and Barry and Kira Kay, have taken oven the brand. The new flavors are evidence of their strategy to adjust to the dessert-loving market, and here's what they taste like.
Blackberry Lime Sorbet: A non-dairy, purple sorbet that tastes like a delicious margarita mix. It's reminiscent of that Brazilian açaí smoothie you would have ordered had you gone next door to Blenders. The sorbet is tart but refreshing; it's guaranteed to satisfy your inner health guru.
Lime Pie: Tastes of sweet limes, blended with the tangy flavor of yogurt, and pieces of crumbly piecrust. This white-colored treat can be eaten either as a dessert or used as a palette cleanser. My ice cream partner, Nolan Wallner, said, "I'd rather eat this than key lime pie," and I couldn't help but agree. This lime pie ice cream tastes better than any lime pie you've ever had.