Announcement
Peruvian Students Visit Cate for "Peaks to Piers" Program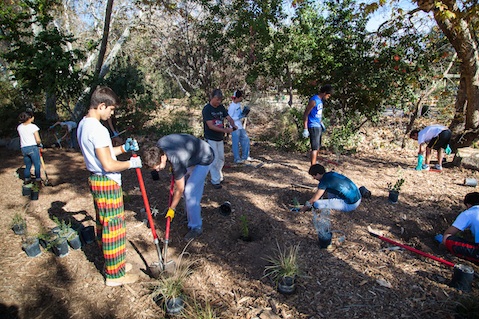 In late January seven students from Peru's Markham College arrived at Cate School to participate in Peaks to Piers, a ten-day experiential learning program that took them from the mountains to the beaches of Central California to build environmental and intercultural awareness. Co-designed by the two Round Square member schools, the program allowed students from both institutions to take part in activities designed to facilitate an understanding of watersheds and the critical role they play in environmental and human health.
The program kicked off with a school-wide assembly on January 23, when the visitors introduced themselves and presented a slideshow with maps, images, and videos of their home country and school, located in Peru's capital city Lima. Afterward they toured the School's campus with Cate's Round Square student leadership team headed by Christi Choi '14 and attended classes before heading off to Mammoth Mountain for a long weekend of skiing. They then resumed the "pier" portion of the program, exploring and learning about the local watershed while staying with Cate students in the dorms.
During the week they joined Cate students to meet and talk with local NGOs and government watershed experts, participated in hands-on science and service projects and discussions about water conservation practices, and experienced adventure-based water activities.
Last Monday they met with Penny Owens, a scientist from Santa Barbara Channelkeeper, to learn about the ecology and importance of healthy watersheds, and the following day Cate's Outdoor Program director Ned Bowler led them on a tour of the coastal reef ecosystems using stand-up paddleboards. They also learned from Cate's student-led Stream Team and environmental science teacher Joshua Caditz how to monitor water quality using scientific data-gathering equipment, collecting samples from local creeks and lagoons and then analyzing them back in Cate's science lab. As part of the School's Public Service Day on Wednesday they participated in a watershed enhancement project sponsored by the City of Santa Barbara's Creeks Division, and that afternoon they met with staff from the City's Water Conservation Program to learn about practical ideas for conserving water and maintaining water quality in homes, schools, and local communities. That night they talked with Cate's environmental club about the ways it has worked with dorms to conserve water and energy and promote recycling on campus.
Before the visiting group departed Friday they joined Bowler again to kayak up the coast and into the local salt marsh, and spoke with Carpinteria Creek Watershed Coalition and Cate's business manager Sandi Pierce to learn how the organization and its partners, like Cate, are collaborating to restore the local habitat for steelhead trout, an endangered species.
"It was an intense week," said Fatih Haloglu, a rising senior at Markham College. "I found it especially interesting that Cate students are involved in collecting and reporting data that's used by the community. It gave me a sense of responsibility that I I know I can apply in some way back home."
Cate Round Square director Jim Masker hopes that students who took part in the activities came away with a fuller understanding of the ways watersheds function, a greater appreciation for what they do, and a greater drive to improve them – be it in the local community of Carpinteria or, for the Markham students, back in their home country.
Peaks to Piers is the first Cate-designed ten-day immersive program that's been open to both its own students and students from another Round Square school. It was inspired by Markham College's Surf and Service project that a Cate delegation participated in last July in the Peruvian coastal village of Lobitos, near the Ecuadorian border. Students from both high schools lived and worked together there as they remodeled dilapidated homes, painted murals and repaired playground equipment at a local school, tutored elementary school children, and surfed every morning and evening.
"With these Round Square programs that merge theory and practice, learning and action," says Masker, "our hope is that students will become more culturally aware and more informed environmental stewards. Knowledge and exposure are the first steps toward affecting positive environmental change."
Round Square is an international association of schools that "share a commitment beyond academic excellence, to personal development and responsibility." Cate joined Round Square in 2007 and became a global member of the organization in 2011.
ABOUT CATE SCHOOL:
Founded in 1910, Cate School is a grade 9-12, coeducational, college preparatory boarding school in Carpinteria, California. What began as a group of twelve boys and a few teachers has expanded into a 265-student, 65-teacher, deeply academic and talented community with the most diverse student body of any boarding school of its size in the United States. The faculty are experts in their fields: 74% hold advanced degrees, 18% of these have PhDs. Cate is one of this nation's most selective boarding schools, accepting only 20% applicants each year. 52% of Cate's most recent graduating class attend the 25 top-ranked colleges and universities in the country. The Cate experience combines academics, athletics, art and co-curricular activities in a close-knit, community setting where students are enriched by their relationships with their teachers and each other. When students leave Cate, they have the tools and the conviction to seek out lives of purpose and meaning.