Film & TV
They Came at Night
Producer Lindsay Branham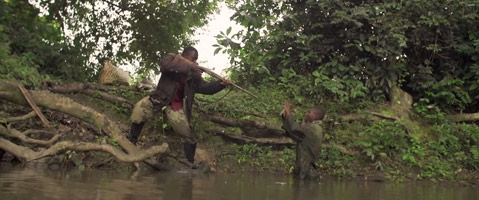 By now, most have heard of the Lord's Resistance Army and the reign of terror they've inflicted on the people of Uganda and neighboring countries, where they steal children and turn them into soldiers to fight for an insane warlord named Joseph Kony. This film tells that story intimately and not, for once, as a documentary, instead using the power of narrative storytelling to show what life is like both in the bush and when these child soldiers eventually escape.
Why did you decide to portray this story as a narrative compared to a documentary?
We chose to make a narrative film instead of a documentary for several reasons. The first reason was this: we wanted to control the nuances of the themes and messages of the story in a way we could not with documentary. Our primary audience are central Africans not westerners so this film was not primarily intended for awareness, it was created to hit the key issues of forgiveness and peace and to stir that response within people who have survived the war. Thus, we found narrative to be a more fitting form. Two: Since we would be screening the film in communities affected by the war, using actors would protect people from any negative stigma, whereas a documentary could place people at risk.
However, we tried to make it as documentary-esque as possible. Some dialogue is transcribed verbatim from interviews I had conducted with survivors of LRA violence. Nothing was fabricated, each encounter was something I'd heard, we just filled it in with dialogue. Furthermore, from the set design to the props to the costumes and makeup and locations, everything was chosen in partnership with our local producers so that it would all be as accurate as possible. Tthat is why we shot the film on location in DRC with actual Zande survivors of LRA violence in the local Zande language. It is the most documentary narrative film that we could have made.
Were these professional actors, or did you find them in the area?
These are first-time, non-professional actors. They are farmers or school children or housemoms and community leaders. We believe in working with first-time actors because it opens up the opportunity for people without experience in film or theatre to be part of this unique program. The change the actors experience through their acting performances is an important part of our model; they become drivers of social change in their communities after walking in the shoes of the characters they play. Actors told us that acting in They Came at Night has changed their perspective of war, has allowed them to understand "the enemy" and has given them hope and the ability to turn their pain into a positive force for change.
DTJ held open auditions and chose actors based primarily on performance ability, comprehension and personal commitment to the objectives of the film and intervention. In addition, we chose actors who had been impacted by the conflict in the same way as the characters in the film. This served a dual purpose. First, it engaged the actors in a powerful process of identification and healing. Second, the connection to the characters and the subject matter enhanced the performances, allowing for a deeper connection with the audience. Our film crew became a large family, united in our collective desire to see communities affected by war brought closer to peace and healing.
As you show, those who escape the LRA are often treated as criminals, even though they were kidnapped. Is that attitude changing or is it getting even more severe?
The attitude towards LRA soldiers who escape is changing and that is the goal of the film. Over 3,000 people in DRC have seen this film so far in local community screenings and we have reports of people walking in to see the film from villages as far as 5 or 8 kilometers away. Our regional partners said that people are realizing for the first time that there are Ugandans who want to escape the LRA and that they have also experienced the same violence that the community members have. The empathy and identification is powerful and we are seeing communities decide to be "surrender" points for the LRA — opening themselves as safe places for the LRA to surrender to as a non-violent strategy to end the war. Before the film screenings and corresponding workshops, the attitude was much more varied, riddled with regression and the desire for revenge, understandably. Now, communities are binding together, inspired by the example of the hunter in the film who chooses to help the LRA soldier as a path towards peace. At one screening a community member said, "We all have to make the choices that the hunter did in the film. So that we can have peace."
How is the film being received in the region?
It is being received very positively. One, it builds solidarity within communities to come together and acknowledge their common experience and their common pain. Two, it creates hope to inspire agency to be be part of building peace. Third, it allows space for feelings of anger to be expressed, acknowleged, and then given impetus to change into a willingness to forgive. There are cases of people who said adamantly they would never forgive the LRA and after watching the film and participating in the workshop say they absolutely will forgive and furthermore want to be advocates in their own community to convince others to do the same. We are seeing the messages of the film catch fire and spread organically.
Can you explain your Santa Barbara connection?
I went to high school at Laguna Blanca School in Hope Ranch in Santa Barbara and graduated in 2001. I lived in Montecito with my family. My parents since moved away from Santa Barbara once I started college at USC in Los Angeles but I never stopped returning and continue to have a community of old friends and new friends in Santa Barbara. It is a special place to me.