Meet Mrs. Jesse James Hollywood
The New Bride Talks About Marrying a Man on the Inside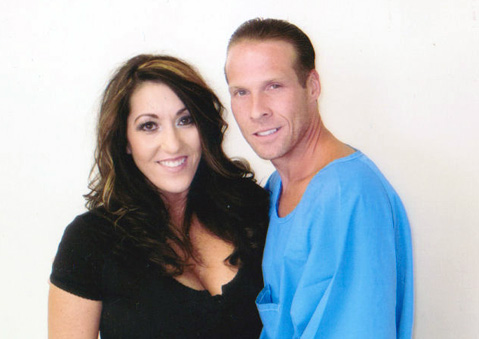 Jesse James Hollywood has tied the knot. The 34-year-old convict — sentenced by a Santa Barbara jury to life in prison without parole for organizing the kidnap and murder of 15-year-old Nicholas Markowitz over a drug debt in 2000 — married Melinda Enos during a small ceremony at Calapatria State Prison on January 19. Hollywood's crime, five-year stint as a fugitive, and eventual arrest in Brazil have grabbed national headlines on and off for more than a decade, and the events leading up to Markowitz's death were detailed in the 2006 film Alpha Dog. (For full coverage of Hollywood's trial, go here.)
Melinda, who took Hollywood's last name, offered The Santa Barbara Independent an interview Monday afternoon about their recent nuptials. With her husband's blessing, she talked about their relationship, the challenges of dating then marrying someone behind bars, and how Hollywood is not the monster the courts and media have made him out to be. What follows is an edited version of our conversation.
Tell me about yourself. Where are you from? What do you do? I was born and raised in Hawaii and moved to Oakland about 10 years ago. Now, I live in Orange County and work in health insurance.
When did you first contact Jesse? What made you want to get to know him? I sent Jesse a letter in March of last year because I had heard about everything that was going on with his case, and I wanted him to know I was supporting him. I wanted him to know that I thought he got a raw deal and that I was there for him. We started writing letters to each other all the time then talking on the phone for hours.
How did you hear about his case? I remember seeing it on Dateline NBC. I also heard about it on America's Most Wanted when he was on the run and then when he was captured — I saw an interview with Marcia [the mother of his son] in Brazil. Jesse was in County Jail for five years, so it was hard to contact him there. He was only transferred to prison a few years ago, and it took a lot of time for him to get in the mail system.
When did your relationship turn romantic? When we met in June for the first time, we started falling for each other. I guess you could say it was love at first sight. We talked about each others' lives, our childhoods. He talked about growing up playing baseball and everything about his family. I wanted him to know about me, too. I wanted him to know I'm not a crazy person! [Laughs.]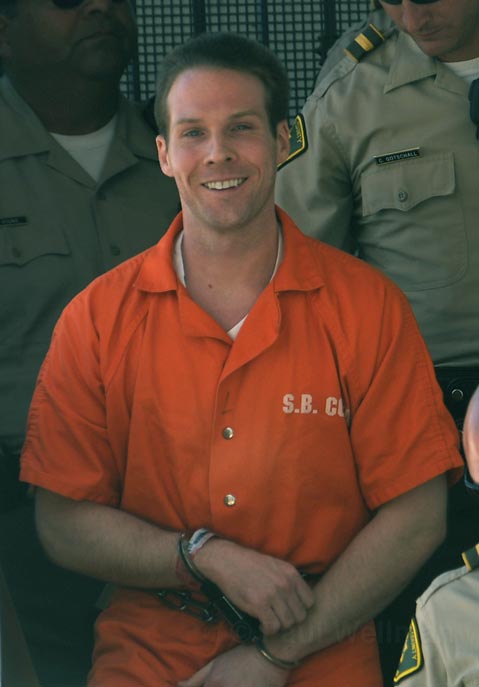 Have you been in a relationship with a prisoner before? No.
Have you ever been to prison? [Laughs.] No.
Have you ever been married? Do you have any kids? This is the first marriage for both of us. I have a 19-year-old daughter in college.
How old are you? [Laughs.] I don't want to tell you.
Okay. How does your daughter feel about the marriage? What have other family and friends said? My daughter has been very supportive, and I'm looking forward to her meeting Jesse when she gets home from school. Everyone has been really supportive of us because they know how much I love and care for Jesse.
What was your first visit with Jesse like? Well, it took me more than 10 weeks to get approved for visitations. When I finally did, it took nine hours to drive from Oakland to Calapatria. I've visited him every weekend since then and stay in a motel nearby. It's a much shorter drive from Orange County, like two or three hours. The prison is in the middle of nowhere, and it's really hot. And it smells really bad because there are cows and slaughterhouses all around there.
I was late for our first visit because when I got there they made me change my skirt — I went to a trailer and changed into pants they had. During visits, you're allowed a brief hug and kiss at the beginning and at the end, and you can hold hands the whole time. The appointments are on Saturdays and go from 8:15 a.m. to 2:45 p.m. We like to buy food and drinks from the vending machines that he doesn't normally get.
Is it hard to not show your affection more than that? No, because we don't want to break the rules and get kicked out. He's a model prisoner, so I want to be a model visitor.
What about Jesse attracts you? Were you drawn by his celebrity? No. It's not like I wrote to Scott Peterson or something. Jesse's very honest and heartfelt, and he's very loving toward me. He's very personable and tells me everything I need to know. If I ask a question, he'll tell me everything. He doesn't bullshit like a lot of people do. Jesse is such a different person than what people think. He's been judged very bad, and people don't know who he really is. If people did know him, they would fall in love with him like I did.
He's been tried and convicted for a very brutal crime. Does that bother you? I think he got railroaded in his trial, and his life sentence is unfair. I mean, they got the guy who pulled the trigger. He sent me everything he had from the court hearings. I read it. It makes you think. I know that a lot of the things put out there are not accurate and true, so I did a lot of research. Also, they put out [Alpha Dog] before they went to trial, and the DA helped make it. The DA should never have been involved. I think pretty much all the jurors watched the movie and based their opinion on that. It wasn't fair to Jesse.
What did you think of Jesse's character in Alpha Dog? How did Emile Hirsch do? I like Emile Hirsch. He's a good actor, but his character was really bad. They made Jesse the mastermind, but he wasn't. I believe in the transcripts, Ryan Hoyt [the shooter] never said Jesse ordered him to do it.
Does Jesse ever talk about the victim, Nicholas Markowitz? He feels remorseful. We talk about it. He's writing a book about the case and when he was on the run, and he wants to give half of the proceeds to a foundation to keep kids out of trouble. There's nothing like that out there for Nick's memory. He wants to put the proceeds to good use — he's not being greedy and keeping it for himself. His aunt is helping him type it up.
Are you close with his family? Yes! They love me and are so happy for us. I spent Thanksgiving with them because they knew I would be in the motel all by myself after visiting Jesse; and they always ask me to text when I get home. Everyone can just tell we're so in love.
Have any of your family members met Jesse? No, it's such a long drive, and it's so hot, I don't want to subject them to that.
Talk to me about your wedding day. How did it go? Who was there? It was the best ceremony [at the prison] ever! A lot of people were talking about it. We saw other weddings at the prison, and they didn't seem special, but ours was special.
I waited out front so he couldn't see me. We were both nervous, but it was good. I had a maid of honor and three bridesmaids — I met all the other girls from visitations since they have guys there; we're all regulars — and he had his best man and his celly there. The girls all wore the same shirt with "Team Hollywood" written on the back, and one of their daughters was the flower girl.
Did you have music, cake, all that? No, but that's okay. It was wonderful and meant so much to him.
What did you wear? I wore a white muumuu with a plumeria in my hair, and I had a bouquet of plumeria flowers. I also wore something old, something new, something borrowed, something blue. [Laughs.] I'm very traditional and old fashioned. I got him a nice wedding band, and I have an engagement band and wedding ring. He was allowed to get a wedding band worth up to $100.
Oh, and he wrote his own vows. He's very smart. He uses all these big words, and sometimes I have to look them up. [Laughs.] It was so heartfelt. One of my friends at the wedding was crying, and his family all say they've never seen him so happy.
This may be a bit too personal, but were you allowed to consummate the marriage? [Laughs.] No, we couldn't because he's serving life without parole.
So you don't have conjugal visits? No, but it doesn't bother me. He knows I care for him and am 100 percent there for him. Just because you're in prison doesn't mean you can't have love or give love. A person deserves love no matter what. It's like that Rihanna song, "We found love in a hopeless place."
What marriage challenges do you think you'll face that other people might not? The only thing that's tough is getting inside prison. You can't wear certain clothing; you can't wear blue jeans because inmates have blue-jean type pants. That's the thing me and my friends always talk about — it's stressful to get in.
Do you expect to suffer any repercussions in your personal or professional life for marrying Jesse? I've had women say I'm crazy. Other prison wives have said that. But I really love Jesse, and I'm not ashamed to be his wife. I wouldn't have made the decision to pursue him if I had second thoughts.
What are you two doing for Valentine's Day? I already sent him a bunch of cards and got him some photos of me. I want to make a calendar for him of pictures of us during the wedding and from the last year. I can't send him flowers or anything like that. They can only get packages like three times a year, but I figured out a way to get him mail quicker: Put stuff in a big gold envelope so it stands out during inspections. I also send him prestamped envelopes and paper so it's easier for him to keep in touch. His mom does that, too.
How does Jesse like to spend his time? He reads a lot. He recently read Mike Tyson's book, and Paradise Lost, and one of the Menendez brother's books. He also watches TV — comedy, like Arsenio Hall. He goes to bed early and wakes up early and programs — running, exercising, working out — all the time.
I assume you weren't the first woman to write Jesse. Does he stay in contact with the other ladies? He had a lot of women interested, but he dropped them on his own. [Laughs.] I never asked for their names or anything. Awhile ago he said he had started to cut them off because he fell for me.
I know Jesse is in the process of appealing his conviction. Do you worry his sentence will be upheld, and he'll never get out? Win, lose, or draw, I'll be with him forever. I will be with him until the end.