Briefs
Woman Sentenced to Probation for DUI Crash That Broke Son's Neck
Kate Walters Faced More Than 10 Years in Prison
Judge Clifford Anderson sentenced 25-year-old Kate Hatrey Walters on Monday to four years of probation for a DUI collision last May that left her 3-year-old son with a broken neck. Walters, who was also ordered to a residential treatment facility, faced a maximum sentence of 10 years and 8 months in prison. Prosecutors had declined to offer Walters any kind of plea deal and argued against probation. According to Senior Deputy District Attorney Arnis Tolks, Walters pleaded guilty to DUI and child-abuse charges, along with a number of enhancements. If Walters violates her probation, Tolks went on, she'll be sentenced to prison.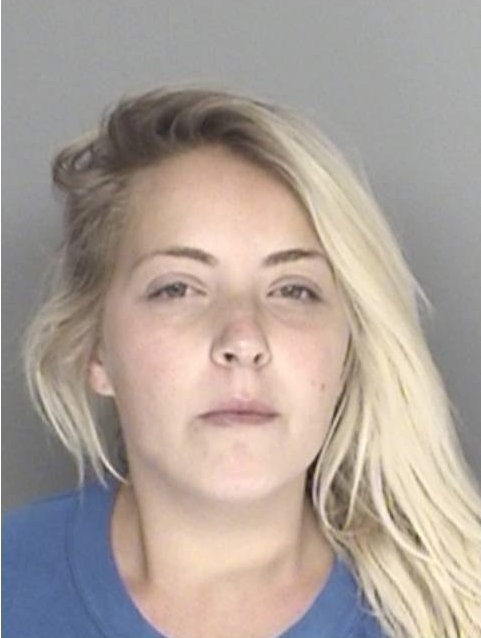 On May 19, 2013, Walters started drinking early in the day before traveling with a friend and her young son to Harry's Plaza Café at around 5 p.m. Police said at the time that Walters and her friend were eventually kicked out when they became unruly and argumentative with restaurant staff. Employees called them a cab, but they continued to make a scene outside Harry's, so staff called police at around 7:00 p.m. Before officers arrived, Walters put her son in the car in his child seat — which an investigation showed hadn't been properly installed — and drove off.
After nearly colliding with two parked cars in Loreto Plaza, Walters traveled two blocks westbound on State Street to the Toyon Drive intersection, where she hit the curb, drove up on the sidewalk, and crashed into a lamppost. When police came upon the scene, they found Walters heavily intoxicated, distraught, and sitting in the back seat of the car. Her son, bleeding with abrasions to his neck, was being cradled in the arms of a witness. The 21-year-old friend, also heavily intoxicated, struggled against firefighters and paramedics as they tried to extricate her from the front passenger's seat.
Walters, who didn't have a criminal record before the incident, has been in County Jail since her arrest. Her defense attorney, J'Aimee Oxton, said Walters's son has recovered well from his injuries and that he is living with his father. Walters no longer has custody but may pursue visitation rights in the future. Right now, Oxton said, Walters is focused on her addiction recovery and receiving treatment for a mood disorder that she was recently diagnosed with.
"I feel like these were absolutely the most fair results under the circumstances," Oxton said, explaining the sentence is sufficiently punitive while also providing the services her client needs. "I felt like it was my job to look a little deeper than what happened during the incident," Oxton said. "I wanted to try and come up with solutions to the problems that led to the accident in the first place." Oxton said Walters never tried to "marginalize her responsibility for what happened" and that "there is no outcome in these criminal proceedings that will sponge away her self-loathing and remorse of what she did to her son."
Oxton said Walters's son still loves her very much, and that he wants her in his life. She said taking Walters away from him for more than 10 years was not a reasonable solution and that Walters should not be defined "by this one very stupid and irresponsible act." Since her arrest, Walters has attended Alcoholics Anonymous meetings and group counseling sessions, Oxton said. As part of her probation, Walters will also live in a restrictive, 12-month treatment facility out of the county and "away from triggers," she went on. "As horrific as the accident was," Oxton said, "I'm thankful that [Walters is] open to treatment, that her son is okay, and that the court agreed to" her and the probation department's recommendations.