Food & Drink
Recipe: Irish Soda Bread
How To Make the Popular Staple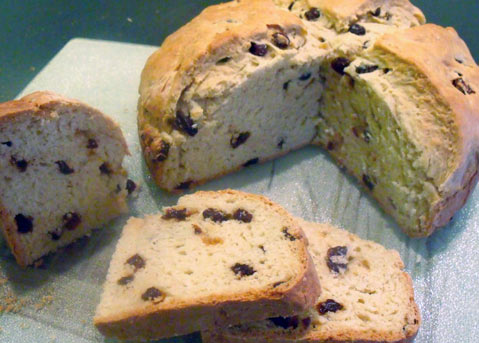 Soda bread was introduced to Ireland in the mid 1800s when the leavening agent bicarbonate (i.e., baking soda) became available. It's a tasty, easy-to-make comfort food that is still popular today. The recipe below is courtesy of Mairead, who writes the blog Irish American Mom. Visit her site for step-by-step photo instructions: irishamericanmom.com.
Ingredients
5 cups all-purpose flour (plus extra for dusting kneading surface)
½ tsp. salt
1 tsp. baking soda
2 tsp. baking powder
4 oz. butter (one stick)
3 Tbs. white sugar
1 cup raisins (or currants)
1 egg (beaten)
1 and ½ cups buttermilk
½ cup plain yogurt
Directions
Preheat oven to 400 degrees. Sift the flour, salt, baking soda, and baking powder into a large mixing bowl. Using a pastry cutter or clean fingers, rub butter into the flour until the mixture looks like coarse meal. Add sugar and raisins and stir to distribute throughout the mixture. Stir the beaten egg, yogurt, and buttermilk together in another bowl. Make a well in the center of the flour mixture, and add the liquid ingredients. Mix together with a wooden spoon to form dough. Gently knead the dough into a ball. Transfer the dough to a lightly floured surface, and knead gently into a round form about 9 inches in diameter. Do not over-knead: This creates tough bread.
Transfer to a lightly greased 9-inch baking pan. Score the top of the loaf with a cross shape to create four distinct quarters or farls. Bake for 20 minutes, then reduce the heat to 350 degrees and bake for 30 to 40 minutes more. The loaf is baked when the bottom sounds hollow when tapped or an inserted knife comes out clean. If, early in the cooking process, the bread starts to brown too much, cover it with a tent of aluminum foil. Remove from the oven and baking pan. Wrap the bread in a clean dishtowel and allow to cool on a wire rack. Serve the sliced bread with butter.