Food & Drink
Fess Parker Fun for All
Experience Waterfront Hotel's Boone & Bourbon Cocktail-Pork Tostada Pairing 'til End of March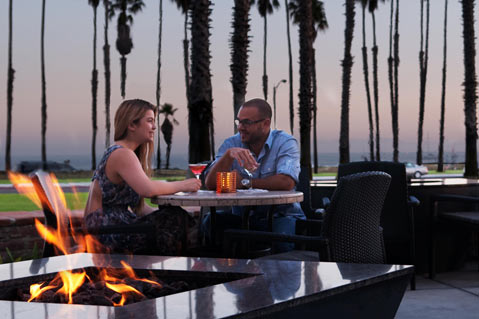 If you've forgotten that the Santa Barbara waterfront is home to a quietly cozy watering hole and patio with sweeping views, smiling service, and validated parking, it's a good time to remember the Fess Parker DoubleTree's hotel bar, known these days as The Set (633 Cabrillo Blvd.; fpdtr.com; [800] 879-2929).
As part of an ongoing hotel promotion to celebrate the 50th anniversary of the hit TV show Daniel Boone (starring, of course, Parker), the bar is now pouring the Bourbon & Boone, a mix of Cutler's Artisan Spirits' booze with sweet maple syrup, spicy muddled jalapeños, lemon juice, and soda water. "It's a little sweet and little spicy at the same time," explained the hotel's Beth Olson, who recommends pairing it with the sweet and smokey pulled-pork tostadas on the menu, also existing in the amply spiced yet nicely sweet range.
The package — which includes the drink and dish for two along with a bottle of Fess Parker Winery wine and a room for $189 until April 30 — combines Boone's Kentucky ancestry (the bourbon), Parker (he loved spice, and there's even a Fess-style tuna melt on the menu), and Santa Barbara, for Cutler's is made just a few blocks away in the Funk Zone. And speaking of that 'hood, the hotel is also offering the SIP & SUP package: two-for-one tastings at seven Funk Zone wineries and kayak or stand-up paddle board rentals for two plus a room for $169 until May 31. "You can literally walk to both things if you wanted," said Olson of the resort's proximity to both the Funk Zone and the Santa Barbara Harbor.
The deals come on the heels of the hotel's recent touch-up of every one of their 360 rooms, which they powered through in less than four months. "It was the world's fastest renovation," said Olson, who pledged that the Fess Parker is equally friendly to midday locals as to its overnight customers.