News
Rosemary Baugh's Case Suspended for Competency Evaluation
Woman Charged with Financial Elder Abuse Will Be Evaluated by Two Psychiatrists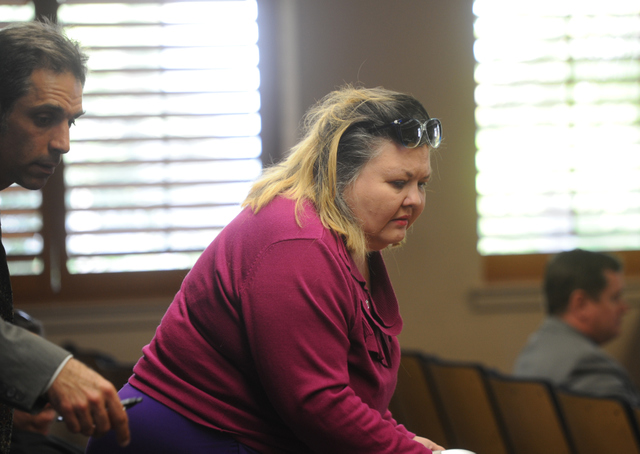 The criminal case against Rosemary Baugh, who in January pleaded guilty to charges of financial elder abuse and perjury under a plea deal, was suspended on Monday to allow two psychiatrists to evaluate her for competency after she was admitted into the county's inpatient Psychiatric Health Facility (PHF) last week. Baugh's sentencing has been scheduled and postponed several times since January — she was set to be sentenced on Monday — after a judge said her deal was too soft and transferred the case to Judge Clifford Anderson's courtroom.
Deputy District Attorney Brian Cota said Monday that the case has been suspended out of an "abundance of caution" to make sure that Baugh understands the charges against her and is able to assist her attorney. Making sure that Baugh is competent is also important to seeing that the terms of her deal — including her signing an annulment Monday — remain permanent and unchallengeable down the line. "It's a way to protect the disposition of the case and protect the annulment," Cota said, adding that with the annulment signed, all of the terms of Baugh's deal have now been fulfilled.
Suzanne Grimmesey, the chief strategy officer of the Department of Alcohol, Drug, and Mental Health Services, said she couldn't comment on specific details of a patient's case. In general, she said, people are admitted into the PHF unit if they are imminently a danger to themselves or others or if they are gravely disabled.
In 2011, Baugh became the caretaker for an 80-year-old man who suffers from dementia. Over the course of 18 months, she stole approximately $700,000 from him and used it to purchase, among other things, a mobile home, psychic services, and items from television shopping programs; she also gave her family about $70,000. Prior to her arrest in November 2013 after months of investigation, the man's family noticed Baugh's behavior — including adding her name to some of his bank accounts — and when they intervened, Baugh took the man to the courthouse and married him. She filed for divorce soon after and requested $10,000 a month in spousal support.
Baugh also filed civil lawsuits against the man's family and claimed she and the man had been married for decades, an act which led to the perjury charge. She filed a separate suit alleging that the man had told her he would forever financially support her. Those actions, Cota has said, forced the District Attorney's Office into an "either-or" situation, in which they chose to take steps to protect the family's finances over punishing Baugh.
Since agreeing to the deal, Baugh has dropped the lawsuits, transferred the $280,000 mobile home to the man's family, accounted for the $70,000 she gave her family, and now has signed the annulment. Per the deal, she would be sentenced to three years of probation; if she violated it, she could face 12 years in prison. Because the case was transferred to his courtroom, Anderson can either accept or reject the appeal. If Anderson rejects the deal, Baugh could withdraw her plea and allow the case to proceed or Anderson could sentence her prison.