Drink
Garagiste Vintners Gear Up!
Annual 'Southern Exposure' Show-Off of Small Winemakers This Weekend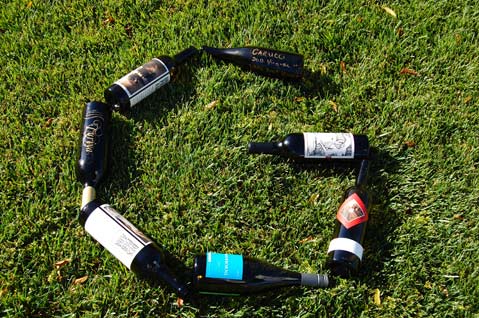 The only chance to meet a vast and varied collection of the Central Coast's best below-the-radar winemakers is this weekend in Solvang, when the California Garagiste's "Southern Exposure" experience brings together more than 60 wineries to pour their small-batch bottlings. Five involved vintners sent wines my way to give a sampling of what to expect, and they were consistent with what I've come to expect of the annual offering: thoroughly unique wines, made by creative people who care, showing that attention to detail and fearless experimentation make for interesting drinking.
Archium Cellars: Ian Sergy and Zach Jarosz represent the epitome of garagistes, in that their inspiration for making wine came from realizing that a certain Wine Spectator Wine of the Year was made by someone who owned neither a winery nor vineyard. That broke down "the barriers," said Sergy, whose day job is as president of Laurel Canyon Productions, but he admits they turned out "quite daunting anyway." None of that struggle is reflected in the wines: The 2013 grenache-based rosé from Watch Hill Vineyard in Los Alamos is racy but flavorful in a Provençal-like style, and the 2012 "Dissident" blend of Stolpman Vineyard syrah and grenache in Ballard Canyon boasts a rosy nose before unleashing
meaty black fruits. See archiumcellars.com.
Carucci Wines: True garagistes tend to be moonlighters in the wine biz, and that's true for Eric and Lindsay Carucci — he's in finance and she's a teacher in Orange County during the day. "Everything I know, I learned from asking an extraordinary amount of questions and experimentation in the cellar," said Eric, who tries to source his Rhône varietals from the coolest spots he can. That's led to their 2012 White Hawk Vineyard viognier, with soft peach, lemon essence, and salted honey, and the 2010 syrah from Thompson Vineyard, Vineyard, whose earthy, mossy nose sinks deep into dark flavors like mocha
and coffee. See carucciwines.com.
Desparada Wines: Vailia Esh blames the cold of her former home in Toronto and the warmth of the people she met traveling in Nicaragua for her foray into the wine business, in which she's worked in most every corner — importer, buyer, server, compliance expert — before starting her own brand in 2009. The brand is drenched in artistic sentiments, from the more whimsical to the deeply beautiful, and the wines show a tremendous sense of power and expression: The 2013 Borealis.1.E4 sauvignon blanc from McGinley Vineyard in Happy Canyon is full of papaya, banana, and pleasant tropicality, and the ambitious, even exotic red blends Sackcloth & Ashes and Borderlands are still a tad young but sure to evolve for years to come, with deep tannins, ample oak presence, and emerging fruits steadily morphing into downright memorable bottles. See desparada.com.
Turiya Wines: A broken heart turned Orcutt native Angela Soleno onto wine, and she learned under winemakers at Consilience, Booker, and L'Aventure before studying at Allan Hancock College and jumping in with her first vintage in 2008, choosing to name her brand after the highest state of consciousness where "reality and truth are harmonious." She's a fan of aged wines, so those 2008s — all sourced from Camp 4 Vineyard in Santa Ynez, though she's expanded to other properties in subsequent years — are just emerging from her cellar, including a syrah (with wet-dog leatheriness and a plum-pie flavor), a cabernet (deliciously chalky cherry), and the "Perpetual Bliss" blend of syrah and cabernet (super-soft with cola, cinnamon, and yeastiness pulling each varietal apart). See turiyawines.com.
Weatherborne Wine Co.: Unlike many small-batch winemakers, Cris Carter took a fairly traditional route to winemaking via school at UC Davis, and yet he decided on making beer for a living at Golden Road Brewery in Los Angeles, with this pinot-noir-focused project his side gig. Expect that to change, for this first vintage of Weatherborne — the name is a nod to his family's aviation history — from the John Sebastiano Vineyard in the Sta. Rita Hills is tremendous: raspberry on the nose, nice brown spice, and brilliant acidity yet with long-lasting fruit flavors. See weatherborne.com.
4•1•1
California Garagiste's "Southern Exposure" starts with a pizza party at Cecco on Friday night, March 29, followed by grand tastings on Saturday and Sunday. See californiagaragistes.com for tickets and info.