Arts & Entertainment
Matt Slocum's Black Elk's Blues
Drummer Finds Inspiration in a Native American's Story
Matt Slocum received his first drum set at age 11 as a Christmas present from his parents. "It was huge," he recalled with a chuckle. "It had seven or eight pieces, including two bass drums. My dad must have gotten a good deal on it."
There was just one problem: It had no cymbals. So for the following four or five months, the resourceful young percussionist made do with the next best thing: a pair of pie pans.
"Who knows? Maybe it had some kind of influence on my sound," he mused.
If so, you can expect a lot of young players to head over into the baking-goods aisle of their local supermarket. At age 32, Slocum has been widely acclaimed as one of the great jazz drummers of his generation, as well as an accomplished composer.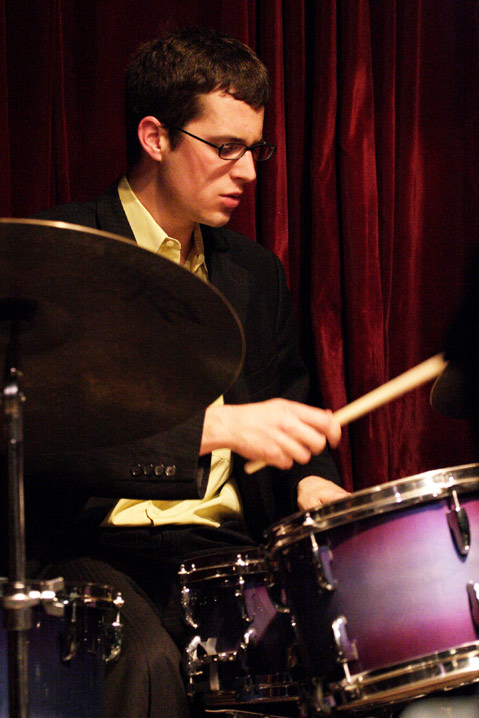 Both facets of his artistry will be on display on Monday night at SOhO when the Minnesota native performs with his trio. The program will feature music from his new CD, Black Elk's Dream.
Born in St. Paul and raised in rural western Wisconsin, Slocum was attracted to percussion from an early age. He has a vivid childhood memory of watching a parade pass by and being mesmerized by the snare drums of a marching band.
Not long thereafter, around age 8 or 9, he began taking piano lessons. "I was using it as a means to an end," he said. "You had to play piano for two years before you could start percussion at school." Once he took up the drums at age 11, "I knew it was my instrument."
He discovered jazz during his high school years. "There is an amazing drummer in the Twin Cities area named Phil Hey," he said. "He taught at the college where my mother went. We really lucked out that he took me as a student when I was a freshman or sophomore in high school." (The two are now colleagues; Slocum said, "I've been writing some duo-drum stuff for us to play together" at an upcoming Twin Cities gig.)
Slocum decided to become a professional musician during his years at USC, where he studied with Peter Erskine and earned a performance degree in jazz studies. He calls Max Roach, Elvin Jones, and Roy Haynes his "big three influences" on the drums and cites a range of influences on his composing, from Wayne Shorter and Dave Holland to Ravel and Debussy.
"It has become increasingly important to me to have a storyline, whether real or imagined, on which to base compositions," he said. He found a highly compelling one in the tale of Black Elk, an Oglala Lakota medicine man who, late in life, described his experiences and philosophy to author John Neihardt.
The resulting book, 1932's Black Elk Speaks, became a best seller and ultimately a classic; seminal psychologist Carl Jung considered it an important look at Native American spirituality.
Slocum was introduced to the book by vibraphonist Joe Locke during an informal gathering of musicians at a New York club three years ago. He picked up a copy and was inspired enough to create a CD's worth of music.
"It's a subjective interpretation [of Black Elk's tale] using my own musical language," he said. "The book conveys universal emotions such as despair and loss, but there is also hope and brightness."
If that sounds a lot like the blues, you understand how Slocum connected to Black Elk's story.
"Given B.B. King's description of the blues as 'an expression of anger against shame and humiliation,' and given all of the broken promises and inhumane treatment that the Oglala Lakota endured courtesy of our government," he said, "I felt the inclusion of a blues [number] in this project was merited."
If not mandatory.
4•1•1
The Matt Slocum Trio performs at SOhO Restaurant & Music Club (1221 State St.) on Monday, April 7, at 7:30 p.m. Call (805) 962-7776 or visit sohosb.com for tickets and info.