Sports
UCSB Baseball Plays Hard Ball
The Gauchos Work for a Spot in the NCAA Tournament
The diamond is the Big West's best friend. After a fleeting appearance in March Madness ​— ​Cal Poly managed to win a play-in game before being obliterated by Wichita State in the NCAA basketball tournament ​— ​the conference schools flex their muscles when the baseball season comes around.
Cal State Fullerton, which visits UCSB this weekend (April 11-13), is a perennial power out of the Big West. The Titans have won four national championships and made 22 consecutive appearances in the NCAA baseball tournament.
Last year, UCSB and Cal Poly tied for second place in the conference and joined the Titans in the NCAA's field of 64 teams. They all started out with victories in the first round of regional competition, but only Fullerton advanced to the Super Regionals, where it was edged out by UCLA, the eventual champion.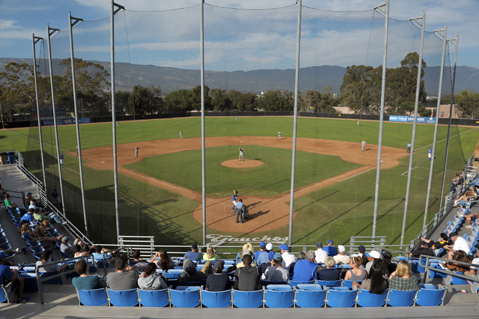 The same Big West trio is singing "Take Me Out to the Ballgame" in 2014. Cal Poly (26-5) leads the chorus with a No. 6 ranking on most of this week's national polls. UCSB (20-7) is ranked as high as No. 14 (by Collegiate Baseball Magazine) and Cal State Fullerton (16-11), which was a preseason No. 1 pick, holds the No. 15 spot on the National College Baseball Writers Association poll.
Led by those three teams, the Big West has winning records against all other West Coast conferences, including the Pac-12.
"The top of the Big West is comparable to the top of the Pac-12," said Andrew Checketts, an assistant at Oregon three years ago when he was hired as UCSB's head coach. The second-tier Big West teams are no pushovers either, as the Gauchos found out when they lost two of three games to Hawai'i.
UCSB's next series took place last weekend in San Luis Obispo. The Gauchos showed there was little difference between them and Cal Poly, but again they lost two out of three. They jumped all over the Mustangs' ace pitcher Matt Imhof in the opener and held on for an 8-6 victory. They rallied from a 5-0 deficit to take a 6-5 lead on Saturday, but Cal Poly won, 8-7, on a walk-off single in the bottom of the ninth. In Sunday's rubber match, Gaucho freshman Shane Bieber and Mustang sophomore Casey Bloomquist staged a magnificent pitchers' duel, and Cal Poly came out on top, 1-0.
"Bieber's a terrific pitcher," said Gaucho outfielder Joey Epperson, the leading hitter in the Big West with a .465 average. "We had opportunities to score five or six runs. It was one of those days. [Cal Poly] had one opportunity, and the ball fell in."
The Mustangs broke the scoreless deadlock in the fourth inning. With a man on first and two out, Jimmy Allen poked a ball inside the right-field foul line, and it rolled into the corner for a run-scoring triple.
Meanwhile, the Gauchos stranded eight runners on the base paths during the taut 2¾-hour contest, watched by a crowd of 2,489 under a blazing sun at Cal Poly's Babbitt Stadium.
"Talk about stress," Mustangs assistant coach Teddy Warrecker said. "We had to play our best baseball today. UCSB puts a lot of pressure on you."
The Gauchos have the highest team batting average (.307) in the conference. Cal Poly fans held their breaths whenever Tyler Kuresa (eight home runs, 32 RBIs) or hot-hitting Robby Nesovic came up to bat, but Bloomquist held them in check.
Warrecker, a Santa Barbara native and former head coach at SBCC, said that ever since last year's short ride on the road to Omaha (the College World Series), Cal Poly has been motivated to get back into the NCAA tournament "and go further. We want to host a regional. There's a great atmosphere here."
UCSB has the same goals in its reach, except perhaps for the hosting part. But off to a 2-4 start in the conference, the Gauchos have a hill to climb, and it could turn into a mountain if they don't start winning some series. "We still feel good," Epperson said. "We've got to keep playing our brand of baseball and battle."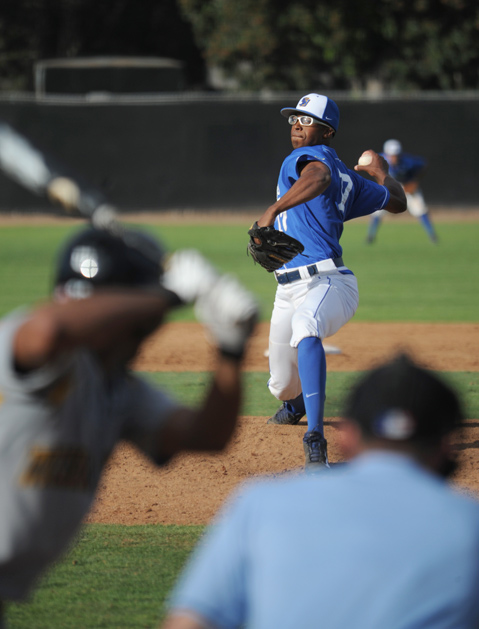 That brand includes robust offensive production and clutch pitching in the late innings. Before last weekend, the Gauchos were 7-0 in one-run games. Greg Mahle, a gritty junior left-hander, has the pitching staff's best record (5-1) in 16 appearances, all in relief. Dillon Tate, a lights-out freshman closer, has not allowed an earned run in 15 innings of work. Past and present injuries have forced Checketts to juggle his starting pitchers, but Bieber looked strong Sunday, and junior Austin Pettibone, the ace of last year's staff, seems to be regaining his form.
Cal State Fullerton's formula for success begins on the pitcher's mound. The Titans have a staff earned-run average of 2.05, and they have issued fewer walks than any other team in the nation.
The game times at Caesar Uyesaka Stadium will be Friday, April 11, 3 p.m.; Saturday, April 12, 2 p.m.; and Sunday, April 13, 1 p.m. It would be a happy occasion for the students, staff, and alumni who take pride in UCSB if the wildest party this weekend occurs at the baseball diamond.
MORE COLLEGE BASEBALL: The Westmont Warriors have made great strides under Coach Robert Ruiz. Last week they swept a three-game series from Concordia, the NAIA's sixth-ranked team, to move 10 games above .500 (24-14). Sophomore pitcher Russell Harmening sports a 9-2 record. … SBCC (20-9) enters the homestretch of the regular season three games out of first place in the Western State Conference, with a pair of games this week against first-place Oxnard.
BRIGHT SPOT: One of the best things to come out of UCSB's basketball season is the nationwide recognition of Gaucho junior center Alan Williams. He was named to the All-District 9 first team (comprising players from all West Coast schools) by both the coaches and the basketball writers, and the Associated Press put him on its honorable mention All-America team. Williams, who led the nation in rebounding, was a finalist for the Lou Henson Award that goes to the nation's top mid-major player. The winner was Langston Hall of Mercer, the team that knocked Duke out of the NCAA tournament.
WORLD'S GREATEST: Westmont College's track-and-field facility has become a spring-training oasis for Olympic athletes, most notably decathlon champion Ashton Eaton. There will be a high-powered coaching clinic there Sunday, April 13, conducted by Eaton's coach, Harry Marra, and sprinting guru Tom Tellez, known for his work with Carl Lewis. Josh Priester of the Santa Barbara Track Club will lead a clinic for high school and middle school athletes.