News
Pedaling away from Parkinson's
Patients Who Bicycle Show Improvement
When Dr. Jay Alberts set out to cycle over 460 miles in one week, he couldn't have imagined the impact the ride would have on his career. Alberts participated in RAGBRAI, the annual bike ride across Iowa. Along the way he made some critical observations that may substantially change the way doctors treat patients with Parkinson's disease.
Alberts rode a tandem bike with his friend Cathy Frazier. During their travels together, Frazier, who had been experiencing the effects of her Parkinson's disease on a daily basis, told Alberts, "It doesn't feel like I have Parkinson's when I'm on the bike." Indeed, others had noticed a reduction in Frazier's symptoms during the ride. Says Alberts, "We didn't go there to study exercise. We went to raise awareness for Parkinson's and to show you can fight this; you don't have to just sit back and let the disease take over. The observations we made were completely unexpected."
While the observations may have been unexpected, they were soon duplicated. Alberts biked with a Parkinson's patient in Arizona, who was astonished by his increased functioning after cycling. Alberts explains, "He said, 'Wow, I can drink with my left hand. Normally I can't do that because I have a tremor.' It was then that I really started looking at what was going on."
What was going on may have been the result of forced exercise. Animal studies have shown that forced exercise can be very beneficial to the brain. The effect is achieved in studies of rats and mice by providing a shock to keep the rodents moving more quickly than they would naturally. While less violent, tandem bikes require that both riders pedal at the same rate, forcing the weaker rider to match cadence with the leader. When Alberts rode with Frazier, he was the stronger rider: "I was driving her to pedal faster than she would on her own."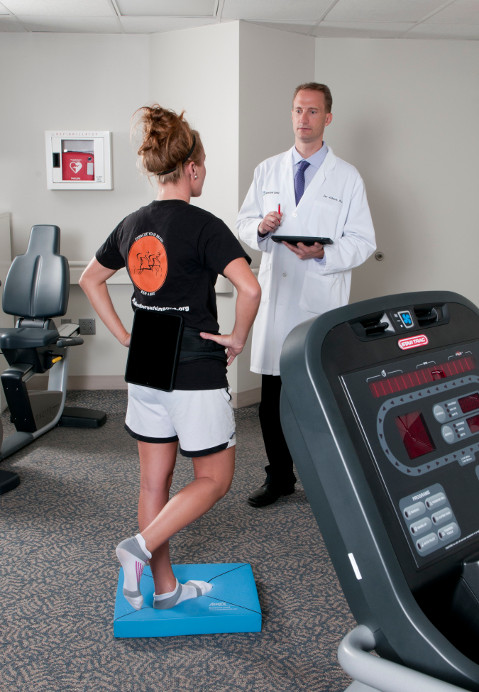 Alberts took his observations back to his lab at the Cleveland Clinic, where he has continued to achieve promising results. His studies have shown up to a 35 percent reduction in Parkinson's symptoms through cycling. Other forms of exercise may offer similar benefits, but there are some special aspects to biking that make it a great match for Parkinson's patients. Says Alberts, "Biking is very regularized; it involves cyclical movements. It's also an area where you can be forced to go faster safely, unlike a treadmill where people could fall off if driven too fast."
When Nan Little of Seattle heard about Alberts's work, she was intrigued by the possibility of enhancing her daily life while lowering her reliance on medications. Little says, "I wanted to have as much control as possible over my Parkinson's with as few drugs as possible." She met up with Alberts and dedicated herself to a bicycling regimen. "After the first month of cycling, harder than Jay's formula," says Little, "my symptoms essentially disappeared. Over the next months I was able to cut my medications in half."
Little was so impressed by the positive changes brought on by biking that she partnered with Alberts to bring Parkinson's-specific cycling programs to various facilities throughout the country. Several branches of the YMCA now offer Pedaling for Parkinson's, a guided biking program for those diagnosed with the disease.
Tammy Bennett, Healthy Living Director at Whatcom Family YMCA, says a cycling class is now being offered specifically for Parkinson's patients at their branch. Bennett says that after the first class, she was contacted by an excited physical therapist, "The PT could not only visibly see a difference in her patient, but also there were measurable improvements in some of her movement tests."
Perhaps just as important as the physical effects are the emotional benefits of such a program. Says Bennett, "One of the non-exercise-related benefits to class is the relationships people form, with their condition being their common bond. Many friendships are formed in these classes, and people enjoy being in class with others who understand the struggles they face with disease." The class has been very successful, says Bennett. "We are full and looking to add a second class."
Alberts is clear that biking is not the ultimate cure for Parkinson's. He says, "Data shows that results last about four weeks. It's not a cure, it's not the panacea, it's just a treatment. It's a lifestyle change." While biking may be only a part of a patient's overall treatment plan, Alberts believes the psychological shift offered by cycling can have a tremendous impact, "These individuals are taking an active role in the treatment of their disease."
Little says, "I have continued to deteriorate over the years, but at a much slower pace than predicted." This summer she will be participating once again in the ride that started it all. "I have my body back. Instead of contemplating my cane or my wheelchair, I'm training to ride RAGBRAI again next month on my solo bike at age 68."