Film & TV
Review: If I Stay
Chloë Grace Moretz, Jamie Blackley, and Mireille Enos star in a film written by Shauna Cross and directed by R.J. Cutler.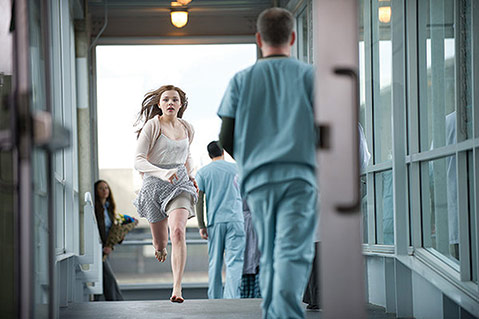 Leave it to pop sociologists and psychologists to figure out what's with all the teenage-girl death-and-romance movies. It began with Juliet, then Twilight, moved into The Hunger Games, and it now comes to the suburbs in The Fault in Our Stars and this film. Maybe If I Stay hangs on a schlocky premise, but it's clearly the best of the tear-jerking lot — barring Shakespeare, of course. For starters, it has Chloë Grace Moretz, who has double identification as child star and violent superheroine (Kick-Ass), lending her an automatic layer of cool. That unsentimental education gets a workout here, where she plays Mia, a high school cellist with punk-rock parents. She seems blasé until she meets Adam (Jamie Blackley), the new hunk in school who is neither a vampire nor a dying ex-jock, but instead a brooding rock star, which offers roughly the same cachet. Her parents like him, too — adding a new twist in this genre.
The death part comes when Mia and her family go out on a drive. It's enough to say that the film is told in flashbacks and the narrator becomes a disembodied soul (she's MIA) who can flit through time and space. The film avoids the New Age or even the pseudo-religious trappings, except for a puzzling white light that appears at the end of a hospital corridor.
What is cosmic about the movie, though, is the photography. Set in Oregon but shot in Canada, If I Stay consistently takes pains to make beautiful scenery double as emotional metaphor. It's pretty to look at even if a lot of it is set inside a hospital. The film has a nice fatalistic philosophy and fine acting, too — especially Stacy Keach as the teary grandpa and Mireille Enos as Mia's wise, worldly mom. This is a teen film that dares to suggest that we have no warranty on a happy life. Though sadly, the film's conclusion seems to hinge on college admission as life redemption. But, hey, at least it's not vampire love