Living
Recycling
The Natural Result of Decomposition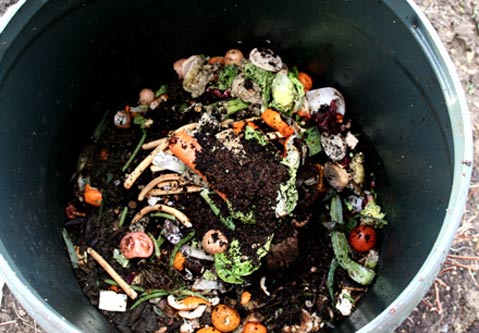 In an ideal natural ecosystem, no major inputs come from outside sources. Think about an old-growth forest. The natural forces of birth and decomposition require no guiding human hand. Seeds sprout; trees and herbs grow and die in accordance with their own genetic timetables and subject to the forces of weather and the seasons. Organic elements are recycled by fungi and bacteria and decompose to feed the roots of the remaining members of the forest. Can we emulate this process in our own landscapes? The answer is a resounding yes.
The lesson is to recycle organic material from the landscape right on site. We've been lulled into the thought that this is waste instead of a resource. If you must rake up those leaves, don't put them in a (nonrecyclable) plastic bag, compost them yourself; they make the best mulch you can imagine. Is your lawn mower a mulching mower? If not, don't discard those clippings; compost them. Other fodder for your composting operation: vegetable scraps from the kitchen and dinner table, even newspapers, small amounts of fireplace ash, algae from your water garden, and those stinky stems that were last week's flower arrangement. Large, woody material may need chopping or grinding, but softer vegetation can be easily composted in a minimum of space.
Composting is not hard. It relies on natural partners (fungi and bacteria) that are already in place. They complete their life cycles using organic detritus and leave a useful product to enhance our garden plots. The ultimate goal of all this recycling is to return the elements necessary for plant growth to the soil. By composting and returning these organic materials to your particular piece of the earth, you will have succeeded in reducing the need for some outside inputs to the system.
Virginia Hayes, curator of Ganna Walska Lotusland, will answer your gardening questions. Address them to Gardens, The Santa Barbara Independent, 122 W. Figueroa St., S.B., CA 93101. Send email to vahayes@lotusland.org.