Briefs
Library Fund Drive Opens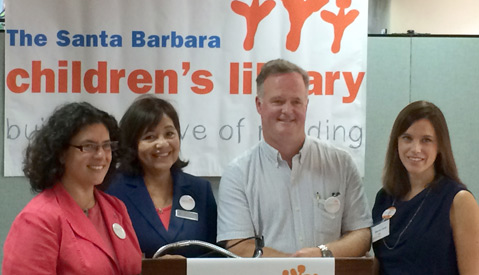 It's an empty space now, but by next summer the Santa Barbara Public Library's lower level is expected to be filled with page-turning kids — thanks to a $5.6 million fund drive that launched today.
With $500,000 coming from City Hall, along with private donations, the library has raised over $3.4 million — with about $2.2 million left to go to create a new children's library.
The present kids' corner upstairs is "undersized, dark, and extremely crowded," Librarian Irene Macias told the kickoff group today.
But the new space will have 6,325 square feet, room for plenty of books and computers (yes, we're in the 21st century), cozy reading nooks, age-appropriate spaces for parents and kids, room for free story times, homework help, and music, theater, and science performances by visiting authors and artists.
It's a dream that's been long in coming, with plenty of bumps along the way. But light's ahead in this tunnel of literary love, thanks to a small army of volunteers and stick-to-it efforts of the Junior League.
Mayor Helene Schneider spoke, and city councilmembers Bendy White and Randy Rowse were there to applaud. Campaign cochairs are Scott Brittingham, Janet Garufis, and Jim Jackson. Peter MacDougall and Anne Towbes head the honorary committee that somehow rounded up the millions.
The lower level has been vacant for some time, awaiting its time, but Macias told The Santa Barbara Independent that she hoped to have the summer reading program in full gear next year. "When a child learns to read, it sparks creativity, nourishes learning and inspires curiosity," said Dianne Duva, president of the Santa Barbara Library Foundation that was responsible for much of the heavy fundraising lifting.