Arts & Entertainment
KCSB Makes a Mixtape
Live in Studio A Compiles the Best of the Station's '13-'14 Year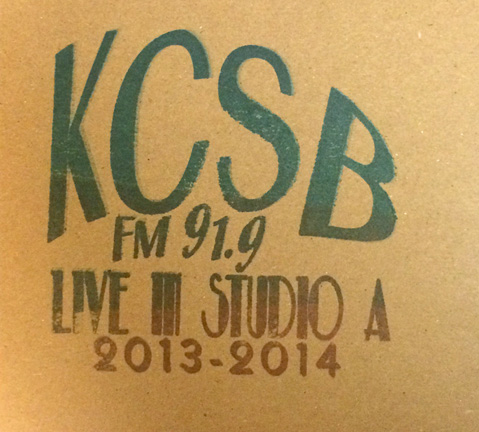 Last fall, as a kickoff to their annual fund drive, KCSB 91.9FM launched Bank Burner Records. The small, boutique label was created by a team of station employees and alums primarily as a way to give back to the musicians working in and around the KCSB community. While Bank Burner has only had one release so far — a shimmering 7-inch from Santa Barbara neo-surf act Dante Elephante — last week it helped usher in another station milestone: KCSB's first-ever compilation of live, in-studio recordings. The CD, out now and available as a free gift for pledge drive donors, is called Live in Studio A: 2013-2014, and it includes 19 tracks from artists that have graced the KCSB control room over the last year and a half.
Dreamed up and produced by KCSB General Manager R. Yibing Guo, Live in Studio A pulls performances from seven of the station's regularly scheduled programs, including Future Daze, 5…4…3…2…fun!!, The Freak Power Ticket, Cue the Blues, and Las Flores, as well as the now-defunct Boombox Surround Sound and Rambling Jams. As such, the music on it zigs and zags all over the map, encapsulating everything from ambient darkwave to strummy twee pop to bombastic punk-funk. Among the highlights are selections from faraway acts like Brazilian singer-songwriter Rodrigo Amarante, New York folk band Streets of Laredo, and L.A. psych rockers Blank Tapes, as well as a stellar cross-section of Santa Barbara artists, including Whoolicious, Remambran, and UCSB alum Chris Cubbison's Cub'B.
"[This] s something I have long wanted to do," said Guo. "But this release is just a sampling of some of KCSB's best performances."
An in true symbiotic non-profit fashion, all proceeds from album sales get filtered right back into the station, which will enable KCSB's programmers to keep bringing the goods. Score a copy by donating to KCSB's ongoing pledge drive through November 21. Or visit kcsb.org to purchase.