News
RV Ordinance Revision Hits the Skids
Concerns Aired by Residents, City Attorney, Homeless Rights Advocates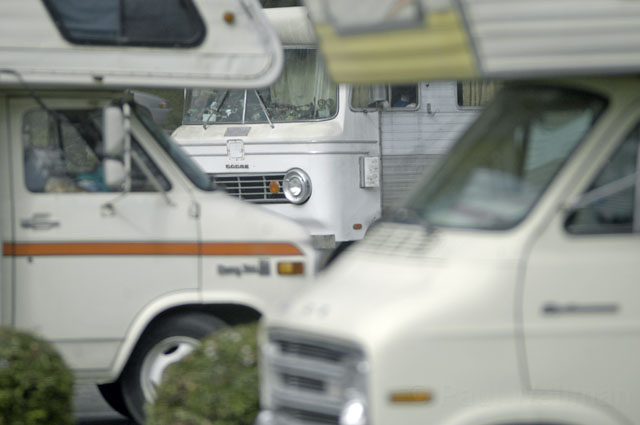 An effort to amend the city's RV ordinance so it could pass constitutional muster evolved into a legal can of worms as speakers on differing sides lambasted the city's ordinance ​— ​designed to restrict RVs from parking in certain locations ​— ​for being either too harsh or too feckless. Homeless rights advocate Peter Marin put members of the City Council Ordinance Committee on notice that he would sue City Hall in federal court unless certain changes were made. Meanwhile Diane B. Duncan, a Cliff Drive resident, complained that at any given time there are at least six RVs parked in front of one of her three properties, with the occupants drinking, arguing, and using the nearby bushes as their personal commodes. "It's an invasion," she said. Police explained they could not post a "No RV parking" sign by Duncan's home because it's not located within 500 feet of a school, park, church, hospital, or day-care center as the existing ordinance requires.
City Attorney Ariel Calonne had hoped to persuade the committee members that the existing ordinance was so flawed that the Ninth Circuit Court of Appeals might find it "repugnant" as it had similar ordinances in other cities. Of concern to Calonne was the broad latitude the city's ordinance gave police officers to determine whether there was "an excessive" number of RVs congregating at locations close to schools and the other sensitive sites. If such a determination were made, they could post "no parking" signs. Calonne said an examination of postings revealed that in many instances it only took one RV to constitute "excessive" in the eyes of local police. That, he warned, was vulnerable to legal challenge.
Calonne suggested the number be increased to three, but the committee voted to increase it to two instead. Likewise, the committee voted to ban any RVs from parking at any time within 500 feet of a school. Marin said he shared concerns about "anonymous" RVs lurking by school grounds, but he found it objectionable that RV drivers ​— ​even those with handicapped stickers ​— ​were barred from parking within 500 feet of hospitals and churches. He insisted that all the no parking signs erected in response to just one RV should be removed.