Briefs
Isla Vista Teen Center Undergoes Makeover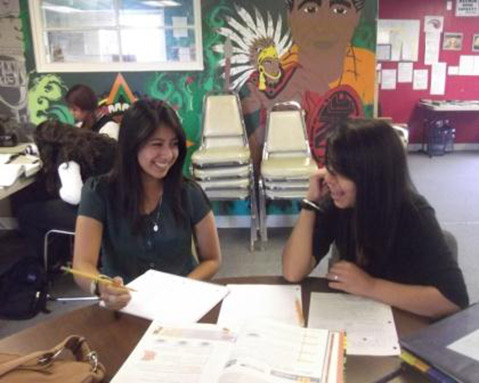 For years, students who frequented the Isla Vista Teen Center had to study in a dilapidated modular classroom in Estero Park, its leaky roofs and crumbling entry ramp in a state of continuous disrepair. The broken-down building became an official thing of the past on Tuesday, November 18, as a construction crew broke ground at Estero Park for the new St. George Family and Youth Center, a much improved 3,200-square-foot facility slated for a February 2015 opening date.
The new center, an outpost of the YMCA's Youth and Family Services, takes its name from Ed St. George, a local developer and philanthropist who offered to build the new center for free. St. George had previously contributed roof and flooring repairs to the former modular classroom, and he felt inspired to donate a new building while working on the 870 Camino del Sur apartments three years ago. He went on to enlist a team of engineers and builders to assist with the project, designed by ON Design, which has received additional donations from the Isla Vista Tenant's Union, the Alpha Phi Sorority, and UCSB Associated Students.
The I.V. Teen Center provides more than 150 6th- through 12th-grade students with after-school tutoring and recreational opportunities on weeknights from 3- 8 p.m. The center opened in I.V. in 1999, and in 2001 came under the wing of Youth and Family Services at the Channel Islands YMCA. The new facility will pair expanded educational facilities — new computers, new study areas — with the new addition of exercise equipment, a YMCA tenet absent from the mobile classroom, and family programming like Zumba and cooking classes. When completed, the new building will provide a much greater communal space for Isla Vista teens and their families, a rarity in a neighborhood devoted almost entirely to university and City College students. In the construction interim, students have used the Santa Barbara YMCA, UCSB Hillel, and outdoors Estero Park itself for their after-school hours.
Executive Director Lynn Karlson said that the center provides teens with "a sense of confidence, accomplishment, and a greater vision for themselves," offering them recreational and leadership opportunities they otherwise would not have access to in Isla Vista. Karlson credits the center's staff and volunteers, many of whom are UCSB students, for giving students the chance to "open up their lives; Isla Vista can be a very small place to grow up."