Theater
Review: The Best Brothers at the New Vic
Ensemble Theatre Co. Offers Comedy with Lyrical Interludes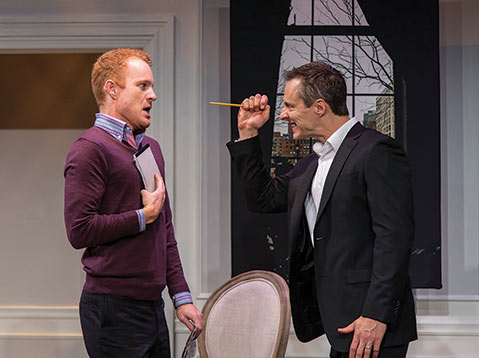 Visual art may have more of a reputation for the shock of the new, and music may be noisier about it, but few art forms can match theater's rate of innovation and experimentation in the last century. Maybe it's the impact of film, television, and radio on dramatic form, or maybe it's something about keeping pace with the ever-changing textures of modern life, but the sense of what counts as "a play" seems to exist in a particularly extended and unpredictable state of flux. And it's not just the experimental avant-garde that's permanently evolving.
Take The Best Brothers, the soaring new lyric comedy now playing at the New Vic, which has one foot firmly planted in the familiar world of the situation comedy. As with any sitcom, there's a hook. Whether or not Hamilton (Michael Polak) and Kyle (Kasey Mahaffy) are such great brothers, they nevertheless remain the Best, or more accurately the Bests, as that is their name — not an adjective but a proper noun. Working together in the aftermath of their mother's death, the brothers Best must confront everything from writing the obituary and delivering the eulogy to more intimate questions like "Who did Mom love more?"
And it is very good sitcom writing. In fact, the actors are outstanding, the design is impeccable, and the direction is spot-on, all of which conspires to render the play's lyrical interludes — its brief departures from expected dramatic forms — that much more unexpected. Because in between some very funny duets in the Niles and Frasier mode, there are these incredible soliloquies in which each actor in turn steps in front of a semi-transparent curtain and into an upstage spotlight to speak as Bunny Best, the mother they have just lost.
It's an extravagant trope, letting each of the guys actually be their dead mother for a few moments. Add in an element of dress-up, where at times they either hold or wear Bunny's hat, or her gloves, and it gets a little more provoking. But what makes this move really work are the monologues. Like Edward Albee, playwright Daniel MacIvor has clearly got a woman's (okay, a mother's) voice in his head that allows access to deep wells of invention. For the audience, after meeting the mother as it were, even a mundane task such as responding to condolence cards becomes a cascade of tantalizing glimpses into her mysterious and fascinating life.
Later, when Kyle and Hamilton turn their attention from the past to the future, these lyrical departures turn, as well, from expressions of grief to poetic meditations on love and self-acceptance. The fact that in these subsequent moments the characters are either talking to, or about, a dog only heightens the pathos.
And in between, for much more than half of the time, there is plenty of glorious slapstick, as when the brothers' eulogy for Bunny begins as an awkward duet and ends in a wrestling match. The brilliantly funny Mahaffy may get slightly more of the punch lines, but it's Polak as Hamilton who's responsible for the night's wildest moments. It's as though his character has to be in control only because he is so close to being out of control. Director Brian Shnipper has the perfect touch for the material, and as a result, the performances of these talented actors are beautifully realized. Just don't go expecting anything in particular as far as genre goes. Like so much great theater, The Best Brothers is restless formally and never completely what it seems.