Briefs
Six New Deputies Join Sheriff's Office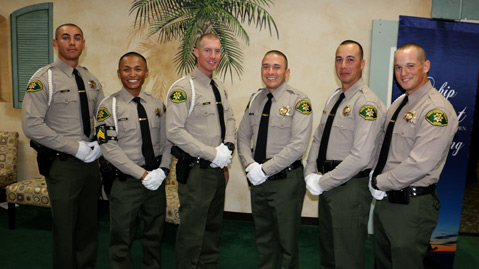 After 21 weeks of training, 48 classes, and more than 2,000 sit-ups, six new deputies joined the ranks of the Santa Barbara Sheriff's Office on Thursday.
Cliff Cabasag, James Carovano, Robert DeBarge, Paul Lewis, Shane Moore, and Anthony Nunez graduated from Allan Hancock College alongside 18 new officers for the Santa Maria Police Department, the UCSB Police Department, and the San Luis Obispo County Sheriff's Office.
"I am proud of the dedication our six new deputies displayed over the last five months of intense law enforcement training, and I am excited for them to join our team, which is committed to protecting and serving the residents of Santa Barbara County," said Lt. Brian Olmstead in a prepared statement. The group has two more weeks of in-house training followed by a period of field training.
Cabasag also received the Leadership Award and the Most Inspirational Award, Lewis was honored with the Safe Driver Award, and Moore earned the Physical Fitness Award.