Film & TV
Review: The Interview
James Franco, Seth Rogen, and Randall Park star in a film written by Dan Sterling, Seth Rogen, and Evan Goldberg and directed by Goldberg and Rogen.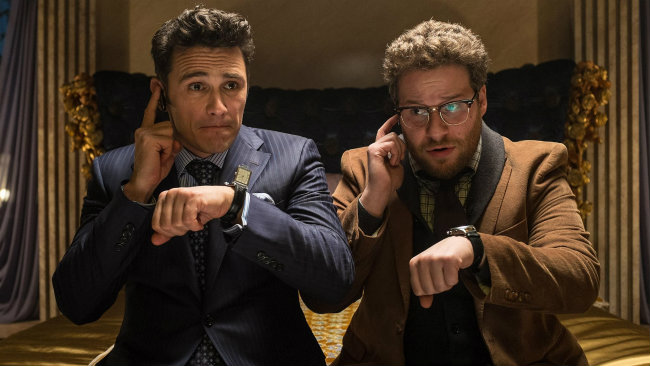 In concert Randy Newman used to introduce his song "Yellow Man" as "a pinhead's view of China." The Interview, despite all its suspiciously helpful controversies, isn't much more than a dimwit's perspective on the last full-fledged Communist dictator on the planet, Kim Jong-Un. The laughs are so-so. Some wonder whether this story of two entertainment journalists who land a sit-down with the dictator is real political satire or just another doper farce from those mighty bards who brought us This Is the End, Pineapple Express, and Superbad (all fine comedies). In truth, this skit is not up to the snuff and toke of its forerunners.
On the other hand, it does have the great Randall Park as Kim, a role he first explored on Adult Swim's Robot Chicken. Park provides the film's single saving grace by humanizing the tyrant during a set piece with shallow TV host Dave Skylark (James Franco). While playing basketball the young hipster-wannabe dictator confesses to loving Katy Perry songs and margaritas, which leads to deep confessions of abandonment and youthful trauma. In other words, the film manages to friendly up the brutal overlord just before it savages him. And it's a nice touch. Lizzy Caplan as a CIA agent and Diana Bang as Kim's attaché are both perfect, but Franco's high-pitched shtick is wearing thin.
And the rest, as they say, is history. Talk about satire? This okay film turned a profit by almost starting a war.