Arts & Entertainment
Review: Robert DeLong at SOhO Restaurant & Music Club
We Face Painted and Danced with EDM's One-Man Party on Saturday, March 6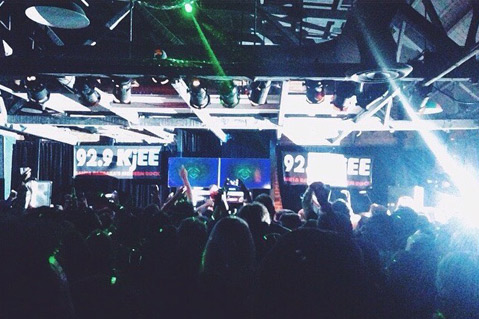 It's hard not to be impressed by a musician who employs joysticks and arcade game buttons as instruments and samplers. Robert DeLong's show this past Saturday at SOhO was a sold-out and strictly BYOP (bring your own face paint) event. Fans crowded into the venue and bar around 9:30 p.m. in anticipation of the arrival of the Seattle-based EDM musician, who took the stage around 11:20 p.m. after an opening set by Los Angeles rock band In The Valley Below. Although DeLong has been long embraced as an indie artist, he can work a packed bar scene just as well as — if not better than — any club DJ I've ever seen.
Prior to the main act, though, In The Valley Below worked the crowd like the rockin' lovechild of Lana Del Rey and Young The Giant. The dynamic between the male and female lead vocalists sounded great, but their lack of interaction with both the audience and one another detracted from their music, leaving something to be desired. Still, the compelling music and use of chains as a percussion instruments made the band well worth watching — even if their music was better than the performance itself. After half an hour, In The Valley finished up their set, leaving the crowd to warm themselves up with a pretty rad mix of '90s jams.
By this point in the night, everyone in the audience had finished painting one another's faces and was eagerly awaiting DeLong's arrival. At one point during the lull, the whole place erupted into song to the tune of Seal's "Kiss from a Rose," which blared over the speakers while DeLong's complex stage setup was being put into place.
Half an hour later, DeLong took the stage. And I mean the whole stage; his setup was a massive collection of drum pads, synthesizers, projection screens, microphones, MIDI inputs, and video game controllers. The audience screamed and surged forward as DeLong kicked things into gear with "In The Cards," and then seamlessly transitioned into "Religious Views." Behind him screens were aglow with visual accompaniments, flashing everything from trees to lyrics to pixelated video game avatars. DeLong is an artist who knows how to handle his own intricate setup and work a crowd, and he won over fans and bar hoppers alike with his high-energy performance. Most everyone in attendance was jumping and sweating as soon as he took the stage. DeLong, for his efforts, spent the majority of the set dripping sweat and running the length of the stage — and all his equipment — sans any backing musicians. Needless to say, both fans and artist got their workouts in for the week. Better still, though, the night proved to be one of those rare ones where the audience and performer seemed equally excited to be exactly where they were.