Sports
Sports: Vin Scully's Final Season
Blackout of Dodgers Games Continues for Santa Barbarans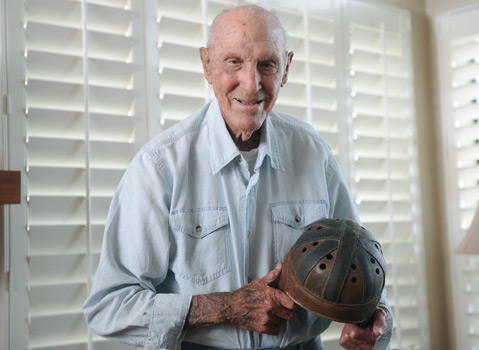 Vin Scully's sonorous voice came through loud and clear: "Hi, everybody. A very pleasant Monday to you …"
It was the opening game of the 66th baseball season that Scully has been the Dodgers' play-by-play announcer. The first three innings of his broadcast would be heard both on the club's ill-begotten television network — blacked out to 70 percent of Southern California viewers — and on the radio network. I tuned into KVEN 1450 AM, a Ventura sports station that has a decent signal during the day, but at night it becomes scratchy and fuzzy.
When you can hear Scully rolling out the descriptions, a televised image is hardly necessary. It's been that way ever since the Dodgers came to L.A. in 1958, and I was 12 years old with a technological marvel, a transistor radio, which I took to bed with me every night. The only times the Dodgers appeared on local television were the 11 games they played in San Francisco.
Scully set the scene for Monday's game — blue sky, brilliant sunshine, a baseball etched in the grass of center field. When former Dodgers slugger Matt Kemp came up for his first at-bat with the San Diego Padres, Scully pulled out a story from almost a century ago.
"The greatest Dodger homecoming involved Casey Stengel," Scully said. Stengel had been traded by the Dodgers to the Pittsburgh Pirates. On his return to Ebbets Field in Brooklyn with the rival club, Scully said, "He doffed his cap, and a bird flew out. It's hard to top that."
Then Scully noted that the Dodgers' infield was shifted to the left side against Kemp, and that observation proved prophetic moments later when Kemp hit a roller into right field for an RBI. "It would have been a routine groundout, but [second baseman] Howie Kendrick wasn't there because of the shift," Scully said. Then he added, "It was 65 degrees at the start of the game, and the Padres are trying to apply some heat."
Early in the broadcast, Scully expressed deep personal nostalgia. He was saddened by the death two days earlier of Billy DeLury, "a dear friend of mine," who was a traveling secretary, among other roles, in 60-plus years with the Dodgers. Scully reflected on his own good fortune to still be able to do a job he loves at age 87. "I feel I should do it on my knees," he said. Surely this man says his prayers every night. "We are grateful and honored to be able to serve you," Scully told his audience, and the thought that this will be his last season was hard to ignore.
Because most of Scully's work will be performed over Time Warner Cable's (TWC) SportsNet LA, most Dodgers fans will not be able to hear it for the second straight season. TWC is paying the Dodgers $8.3 billion for exclusive television rights, but it has failed to sell the package to other distributors, including Cox Cable in Santa Barbara.
John McCoy is distressed that his grandfather, Jim Ballard, is unable to enjoy his favorite pastime. Ballard, who turned 95 last Thursday, needs a wheelchair to move around his home in the Carpinteria hills. McCoy, a Carpinteria High basketball coach, is a full-time caretaker for his grandfather. He sent an email to the opinion page of the L.A. Times with the subject line: "95-year-old World War II veteran can't watch his Dodgers." He said his grandfather religiously followed the Dodgers with Margaret, his wife of 66 years, and after she died in 2010, watching the games was a vital connection between them. The Times sent columnist Bill Plaschke to interview Ballard, and his story — presenting a human face amid the corporate TV dealings — made the front sports page on April 1.
Ballard blames the situation on the Dodgers, asserting that they could reduce the exorbitant sum they are receiving from TWC, making the telecasts affordable to other providers. Don't count on it. Magic Johnson will lose his million-dollar smile before he and his fellow owners part with their money.
I called Ballard on Monday to see how he was doing. He had watched the Angels defeat the Dodgers twice during the Freeway Series, which was televised on Fox Sports West, the Angels' widely available TV network. "I'll be following the Angels," Ballard said. "It wouldn't surprise me if they went all the way."
He may never hear Vin Scully again. His radio cannot pick up the broadcasts from Ventura or L.A. It's been years since the Dodgers had a Santa Barbara station, KTMS, carrying their games. Here is my suggestion to the Dodgers: Sign up a radio station in every area of the Southland that lacks television reception. It wouldn't cost much. And put Scully's voice on the radio as much as possible. It would be a great comfort to the club's oldest, most loyal fans.
As for younger fans in this era of high-definition video, it's my guess that the Dodgers will lose them in droves as long as this TV impasse continues.
GREATEST GENERATION: Virtually every surviving World War II veteran has crossed the threshold of 90 years by now. Jim Ballard was a sergeant in the army who served in an engineering regiment in France and was awarded a Bronze Star.
Sam Cathcart, who saw heavy combat in the Army's "Diaper Division" (the 75th Infantry) in the last months of the war, died last Friday at Cottage Hospital. The recipient of a Silver Star, he celebrated his 90th birthday last July.
After the war, Cathcart was focused on family and football. He was an all-conference halfback at UCSB and spent three rough-and-tumble seasons in the NFL with the San Francisco 49ers (beginning, appropriately, in 1949). He retired as a player — his top salary was $5,000 — to become a teacher and coach at Santa Barbara High. He was head coach of the Dons' football team for 19 years, including their CIF championship season of 1960. In his later years, Cathcart worked as an evaluator of NFL officials and enjoyed watching his grandsons play football.
At the end of the month (Apr. 24-26), everybody who played football for UCSB is invited to the All-Gaucho Reunion to commemorate the 50th anniversary of the school's 1965 Camellia Bowl team. There will be a gap in the backfield where Sam Cathcart, one of the most rugged Gauchos of all, used to pack the pigskin.