Living
Go-Kart Club's Formula 1 Dreams
Santa Barbara High Dons Race in ePrix School Series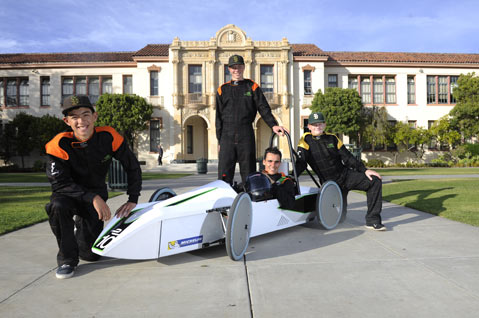 Visitors to the Green Car Show at the Alameda Park Earth Day Festival in April may have noticed a pair of peculiar eco-friendly vehicles standing out amid the high-end Tesla Model S and Nissan Leaf: two electric racing cars built by kids too young to drive. The vehicles run on two 12-volt batteries and can barely be heard as they zip around, but they cannot be found on any electric-car lot and aren't even street legal. They are the work of the Santa Barbara High Electric Go-Kart Club, a group of four students quietly revving up a racing revolution.
Though their hobby of building and racing electric cars isn't one most teens pursue, Will Hahn, Liam Gallant, Jeremy Knight, and Xavier Spears are already making a name for themselves. They were one of just six Southern California high school teams to participate in the Long Beach Formula E ePrix School Series, an electric Formula 1 car race for high schoolers that happened on April 4. A joint venture between the FIA (International Automobile Federation) and the nonprofit Greenpower Education Trust, the Long Beach race was the third in a series of five inaugural races held around the world, from Buenos Aires and Miami to Berlin and London.
Santa Barbara High was the only high school to come to Long Beach from beyond the borders of Los Angeles County, and that's only due to the persistence of Will Hahn, the club's 15-year-old leader. A sophomore, Hahn has been working on cars since the age of 3 with his father, Steve, the materials manager at Santa Barbara Metropolitan Transit District. Hahn the younger began racing carts by age 12 and founded the team late last year. With low funding and few opportunities to build a car, the club shared a passion but had no way to fulfill it — until the race came along.
"We didn't really have any capability to build a car," said Hahn. "It's something we really wanted to do, but money plays a big role, and we didn't have the money." Fortunately, the Formula E race cost nothing, and the teams were supplied a metal chassis, a kit, instruction manual, and some assistance. "The day we got there, I just saw their faces light up," Hahn said of his teammates, some of whom "hadn't even turned a wrench really ever in their life."
Gallant, a legal driver at 16, took on driving duties. The race got off to a good start, with the team holding second place, but turned disastrous when another team cut off their kart, damaging the steering column and nose. Gallant could barely hook a right turn on a circuit full of right turns, and the team plummeted to last place. "I told the other school they don't know how to drive and that we'll see them next year," Hahn said. "We're already looking above it."
The Santa Barbara High Go-Kart Club is just one of 20 in the U.S. and 60 worldwide, but Hahn sees it as part of Santa Barbara's eco-conscious history. "Without Santa Barbara and the '68 oil spill, the whole environmentalist movement wouldn't exist," said Hahn, who believes their next project, once funded, could break acceleration records.
The four teens will probably also enjoy enthusiastic acceptances when college application time rolls around. A retired UCLA engineer professor who helped the team in Long Beach told them that many of his past engineering students couldn't use a wrench, to which Hahn replied, "Well, we have some future students here who can sure as hell do that."