Briefs
Vegan Group Protests Foie Gras in S.B. Restaurants
Demonstrators Call on Bouchon, Olio e Limone, Seagrass, and Others to Stop Selling the Divisive Delicacy
Last week, a group of Santa Barbara vegans accompanied by a crested duck with an impressive pompadour gathered outside Bouchon restaurant to protest the sale of foie gras by area businesses. They implored passersby to ask restaurants to stop offering the luxury food, naming the other "offenders" as C'est Cheese, Julienne, Olio e Limone, Seagrass, Stella Mare's, and The Stonehouse, among others.
Earlier this year, a federal judge overturned California's 2012 ban on the production and sale of foie gras. A Hermosa Beach restaurant, along with New York and Canada foie gras producers, had challenged the ban. The judge ruled the state law didn't trump federal poultry regulations. California Attorney General Kamala D. Harris appealed the ruling, but as the matter works its way through the courts, many restaurants across the state have started selling the controversial delicacy again.
"Foie gras is a cruel and antiquated ingredient that is simply unnecessary in our modern culinary landscape," said Sayward Rebhal of Go Vegan Santa Barbara in a statement. "Whether or not you agree with eating animals, there is a line that we can all draw between good farming practices and torture. Foie gras production falls on the wrong side of that line."
Go Vegan described foie gras as the "fatty, diseased livers" of ducks and geese that are force-fed 2-4 pounds of corn mush three times a day. When the food inevitably gets stuck in the birds' throats, the group claims, sticks are used to jam the feed into their stomachs. That often leads to severe throat injuries and open wounds that attract maggots and leak when the birds eat and drink. The animals are often so sick and injured in a matter of weeks from the gavage technique that they are left unable to walk, Go Vegan reps said.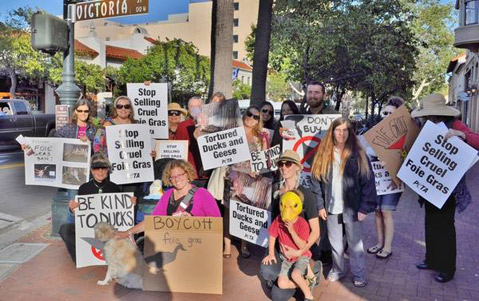 Go Vegan distributed this disturbing video of foie gras gavage in action. The group also offered this alternative recipe that it said is plant-based and just as tasty.
"While Go Vegan Santa Barbara does not support the production or consumption of any animal-based foods, foie gras is an easy food to eliminate and inflicts a high amount of stress on the animals used to produce it," the group said in a prepared statement. "Foie gras is neither a staple of the American diet nor is it a convenient and affordable food. What consumers are paying for is the needless torture of ducks and geese."