Arts & Entertainment
Music for the English Church
The Adelfos Ensemble and Organist Thomas Joyce Perform Saturday, June 6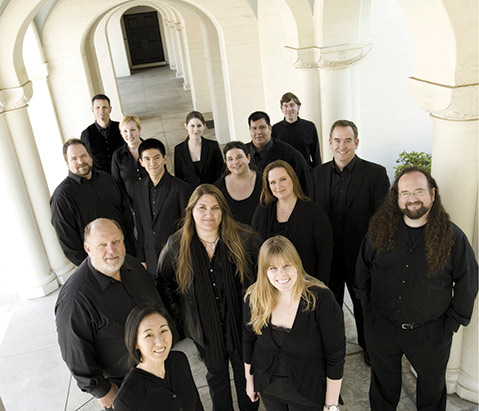 When early-music scholar Temmo Korisheli was invited to take over direction of the vocal ensemble Adelfos in 2008, the first thing he addressed was programming. He was not interested in the hodgepodge approach of well-known arrangements that school and amateur choirs typically lean on but rather wanted focused thematic programming. The singers were game to try, but the onus would fall squarely on the shoulders of Korisheli to cook up the themes, research obscure works, and even adapt and arrange for the choir. That's a lot of work for a volunteer arts group; at what point does the toil outweigh the love implicit in "amateur"?
Korisheli's leadership, vision, and sweat paid off; seven years later, Adelfos continues to attract and retain some of the finest singers in Santa Barbara, with a significant contingent of freelance professionals working in opera, studio, school, and church. One and all make space, even within crowded and conflicted schedules, for the singular experience and rewarding challenge that is Adelfos. "I'm very lucky," Korisheli told me in a recent interview. "I work at the music library at UCSB as a cataloger and supervisor, so that gives me access to worldwide databases of music. And I can search around to see what's available and what's in print. If I want to preview a score, I can get it through Interlibrary Loans. I'm wonderfully situated for doing this kind of work."
Past themes include Greek Orthodox liturgy, colonial America, and songs of seafaring. This weekend's performances at Trinity Episcopal Church partner Adelfos with Trinity's distinguished new organist, Dr. Thomas Joyce, for a remarkable survey of English Church music, including works by Benjamin Britten, Hubert Parry, Henry Purcell, Healey Willan, Herbert Howells, and Thomas Weelkes.
There is good reason to assume these performances will strike choral gold. "Tom Joyce had a fabulous musical upbringing," explained Korisheli. "He was a boy chorister at the National Cathedral, Washington, D.C. Then he went to Oberlin. He got his doctorate in organ performance at the University of Washington. We had talked about collaborating, and when I sent him the packet of scores, he wrote me back very excitedly, 'I'm so looking forward to playing. I know all these pieces, some of them I've known since I was a child.'"
Korisheli grew up in the Episcopal Church, but it was his student years abroad that proved pivotal to his calling. "That fledgling identity was very much enhanced when I spent two years at a historically Anglican college at Halifax, Nova Scotia. They had a very active chapel, and I was a choral scholar in the chapel choir and had a very close relationship with the Anglican cathedral where I sang. I learned tons about that tradition from those two years of experience. Ever since I came back … I've been employed at the Episcopal Church as a church musician. So it's very near and dear to my heart, this repertoire."
4∙1∙1
The Adelfos Ensemble featuring organist Dr. Thomas Joyce performs Saturday, June 6, at 7:30 p.m. and Sunday, June 7, at 3 p.m. at Trinity Episcopal Church (1500 State St.). For information, call 965-7419 or visit trinitysb.org.