Sports
Can Mia Fisher Turn Gaucho Hoops Around?
Former UCSB Star Hired as Assistant by New Women's Coach Bonnie Henrickson
Mia Fisher had a smile on her face and a diploma in her hand at UCSB's graduation ceremonies in 2005. In her four years as a student and a Gaucho basketball player, she had made thousands of smiles light up in the Thunderdome. Now, a decade later, she has returned to her alma mater with that indelible smile of her own, along with hopes that she can again help put happy faces in the stands.
New head coach Bonnie Henrickson made a good impression on longtime Gaucho fans by hiring Fisher as an assistant coach last month. "Mia brings energy, passion, and people skills to the table," Henrickson said. "She makes people feel comfortable instantly. I chuckle when I see her in action. It's a gift."
Fisher seemed destined for this development from the time she went out into the world from Santa Barbara. She played for eight years on professional teams in Belgium, Bosnia, France, and Turkey. "I made lifelong friends," she said. "I majored in sociology, and I learned how to understand cultural norms. Meeting people face-to-face is different from watching TV."
After her last year overseas, Fisher said, "I was ready for the next phase. I emailed Tara VanDerveer about becoming an intern at Stanford. I wanted to learn from the best in the profession." She got the job assisting VanDerveer's coaching staff and went with the Cardinal to the 2014 Women's Final Four.
Fisher landed a full-time assistant's position at San Jose State a year ago. "We did great," she said. "We went to the Mountain West Conference semifinals, the best they'd ever done." San Jose was close to her home and to the nondenominational church her parents, Alfred and Myrtle Fisher, had founded in Oakland. There were few opportunities that could lure Fisher away.
"When Bonnie reached out, I was pretty surprised," she said. "I definitely wanted to take a look. Bonnie was very direct in describing her vision. She understands the tradition here. She knew I was a part of an important time in the UCSB program. She said, 'Mia, you talked the talk and walked the walk. You know what it takes to be a Gaucho.' I want to give back to what the program has given me. I want to inspire young women to be great individuals."
Fisher, an all-state player from Amador Valley High in the East Bay, was one of a triple crown of Gaucho recruits — along with Kristen Mann and Brandy Richardson — who led the Gaucho women to 101 victories in four years and went to four consecutive NCAA tournaments, reaching the Sweet 16 in 2004. A master of the mid-range jumper, Fisher is the most accurate shooting guard (52.3%) in UCSB and Big West Conference history.
"Mia was crazy good our senior year," said Mann, who has continued to play in Europe. "She missed two shots in the whole conference tournament. It was insane. They gave me the MVP award, but she should have gotten it without a doubt." Fisher's personality should suit her well in coaching and recruiting, Mann added. "She has a good vibe. She should be able to connect well with players."
Henrickson and her staff — also including Evan Unrau, a veteran West Coast assistant, and Drew Markowitz, who came with the head coach from Kansas — face a daunting challenge of rebuilding the Gaucho women's program from last season's plunge to a 2-27 record. "It's been done before," Fisher said. "If you're a Gaucho, you have to fight."
A FULL DOZEN: I wrote last week that San Marcos High's 800-meter sensation Erica Schroeder was the 11th Santa Barbara area athlete to win a state track-and-field championship. Make that the 12th. I overlooked the very first, Carpinteria High's Ralph Wood, who won the 880-yard state title in 1935, tying the existing record in a time of 1:57.6. Also, I did not supply a complete list of the state champs. Add these two names: Santa Barbara High's Bob Looney, who won the pole vault in 1959, and Cate School's Tracye Lawyer, the girls' high jump champ in 1993.
FANTASTIC 10: There have been numerous books written about baseball cards. Most are mundane volumes about collecting and trading them, but there also is a series of juvenile adventures in which a boy is magically transported through his cards back to the eras of various famous players. Santa Barbara author Ken Berris puts another imaginative twist on the subject in his novel Wild Cards. It is about a boy who has 10 cards that miraculously materialize into legendary players, each at the peak of his career. They form a team, the Wild Cards, that will play the Major League All-Stars in a showdown between the beatified past and the complicated present.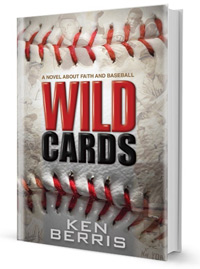 Berris chooses an interesting assortment of players to bring back to life: Ty Cobb, Babe Ruth, Lou Gehrig, Christy Mathewson, Ted Williams, Roberto Clemente, Jim Thorpe, Jackie Robinson, Josh Gibson, and Satchel Paige. Each of their stories, marked by a hardship of one sort or another, is retold in chapters throughout the book.
Wild Cards is drenched with ruminations about mortality, religion, spirituality, and the possibility of a bodily afterlife. In their temporary reincarnation, the baseball legends wax eloquent about the meaning of life. "The only real reason for living," Robinson says, "is to help make the universe better." Cobb, who had a reputation as a racist, has an initially brittle relationship with his black teammates and Thorpe, a Native American, but even he comes around. "We are now rebuilt from scratch for a higher purpose," he says. There are some villains in the book, and Cobb's bellicosity comes in handy as a way to deal with them.
Berris will appear at a book-signing at Chaucer's Books (3321 State St.) at 7 p.m. on Wednesday, June 24.
QUARTERS AND CLOCKS: Among the changes in college basketball rules recently approved by the NCAA, the women's game will comprise four 10-minute quarters instead of 20-minute halves starting next season. "That will create more excitement," Henrickson pointed out. "We'll have twice as many opportunities for a shot at the buzzer."
The most significant change in the men's game is the reduction of the shot clock from 35 seconds to 30. "I'm a huge fan of it," Gaucho men's coach Bob Williams said. "It speeds up the game. We used it in the CBI [the College Basketball Invitational postseason tournament], and average scoring went up six points a game."