Briefs
Amateur Radio Club Competes in Field Day Contest
Participants Sends Signals Around The World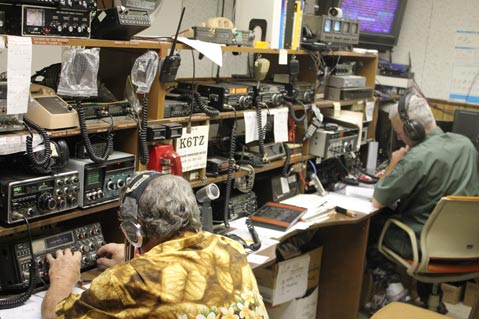 Late last month, the Santa Barbara Amateur Radio Club (SBARC) took part in the annual "Field Day" contest, using their technical skills to make radio contact with stations worldwide.

 Volunteers cycled through different positions inside the club's station — identified by its Federal Communications Commission (FCC) call sign, K6TZ — in an attempt to establish contact with as many different places as possible. Contacting the maximum number of stations is one of the two main goals of Field Day. In total, SBARC made 91 contacts on 40-, 20-, and 15-meter bands.
Amateur radio operators (or Hams) refer to the different portions of the electromagnetic spectrum they operate on by the length of the "wave" produced. In short, the wavelength is determined by taking the number 300 and dividing it by radio frequency in megahertz (Mhz). Dividing 300 by 146.40 Mhz, for example, would show that the VHF frequency falls within the popular 2-meter band. While this naming convention is in place and used by many Hams, it is not required and may be substituted with simply stating the frequency in megahertz.

The second stated goal of Field Day embodies an "any climb and place" mentality. According to Dave "Shackmaster" (K6HWN), Field Day is an "ultimate test of our abilities to go way from anything, even into a wilderness, with all our equipment and set up a communication station." Although SBARC owns and operates a mobile repeater that is housed inside a van, it was not used during the contest because of a lack of personnel. Rover, as the van is known, is capable of bridging communication gaps in even the most isolated areas, with the potential to send a life-saving message. Portions of the populated Santa Ynez Valley, for example, are unable to be serviced by conventional communications.

SBARC's radio expertise offers more than the chance to simply talk to people around the world. Amateur radio operators are known as the "back bone" of emergency communications and have proudly served behind the scenes during many of our nations disasters. During 9/11 and Hurricane Katrina, Hams delivered messages, known as "Welfare Traffic," around the nation for families hoping to locate their lost loved ones.
Oftentimes, conventional communication methods do not work in large-scale emergencies because of an overwhelming amount of traffic and damaged infrastructure. Dave once forwarded an emergency message to a sailboat that was in the vicinity of the Channel Islands. The skipper's wife's appendix had ruptured and she needed him to return. "You can't stop it," said Bruce Coffman (KG6NRW) referring to Hams ability to talk to anyone, anywhere. The ability relies on Hams having everything they need: radios, batteries, food, water, maps, computers, first aid kits, and the list goes on. 


SBARC's participation in the contest was overseen by Dave "Shackmaster." Upon entering the station, Dave immediately requested he not be photographed and that he only be referenced as Dave "Shackmaster." The surname on his identification badge was covered with scotch tape and member photographs were not easily seen through the building. He did admit, however, that he could easily researched and identified through the FCC's call sign database.

Anyone can Ham: http://www.arrl.org/Tech-Question-Pool

The explanation of "Meter to Frequency": dxing.com/frequenc.htm
The role of Hams in emergency communication: emergencymgmt.com/safety/