Bottles & Barrels
Summertime Is Ready for Riesling
Santa Barbara County Producers Doing Well with the Noble White Grape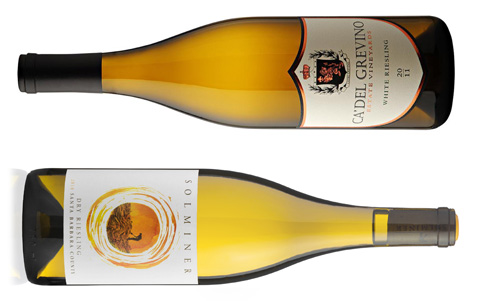 Riesling is not a grape that gets much attention these days in Santa Barbara County. But that hasn't stopped a determined group of winemakers from working to make the grape relevant again in a region where it has a surprising history.
In fact, the region's first riesling vines were planted in Rancho Sisquoc back in 1968. Pierre Lafond followed in 1972 by planting his eponymous vineyard along Santa Rosa Road with riesling, and then took a serious stab at making it in a dry style under his Santa Barbara Winery label. Even Sanford & Benedict Vineyard was first planted in riesling before the more fashionable pinot noir and chardonnay took over in later years.
Today, the cool climate and loamy sand soils of Kick-on Ranch, just west of the town of Los Alamos, is a leading site for riesling in the region. Although the grape still carries the stigma of the sweetness that was popular in the 1980s, most Santa Barbara County producers tend toward the bone-dry style of Germany and Austria. These racy, low-alcohol wines, laden with floral aromas, citrus flavors, and the zing of minerality, are fantastic with food and perfect for summer quaffing.
Tatomer Kick-on 2013 Riesling: Notes of jasmine on the nose. Briny on the palate, it feels soft and light with a melon-y musk on the finish.
JBrix 2014 Cobolorum Riesling: Cloudy and crown-capped, this Pét-Nat shows zesty lime and grapefruit on the nose with a whiff of bubblegum. The bubbles are frothy and mouth-filling with notes of green apple and tart minerality on the finish.
Ca' Del Grevino 2013 Riesling: A floral nose and notes of juicy apricots with a slight bitterness on the finish to complement the wine's off-dry style. There's a nice herbal, almost minty quality to the wine and marshmallow-y texture.
Solminer 2013 Riesling: Lush, ripe, and round with notes of tropical fruits balanced by a strong backbone of acidity and stony finish.
Stirm Kick-on 2013 Riesling: The first bottling from young winemaker Ryan Stirm, this riesling is made with native yeasts. It's razor-sharp and steely with clean notes of citrus and stones.
Mes Amis 2012 Dry Riesling Kick-on Ranch: Classic riesling on the nose: pears with a twang of dried apricot. This one was all pink fruits with a soft and fruity finish that's also a bit musky. 
Ojai Vineyard Kick-on 2013: Smells warm and ripe with a trace of the old French barrels the juice is aged in. There's a hint of bubblegum throughout, from the nose to the finish. It's rounder than the other rieslings I tried with notes of ripe nectarines and a swath of oak.  
Kessler Haak Sta. Rita Hills 2013: Produced with fruit from the Lafond Vineyard, this wine smells intensely grapey on the nose, but there's a whiff of lime zest that hints at the wine's underlying minerality. On the palate, notes of almost gummy peaches followed by tangerine peel. 
Fess Parker 2013 Santa Barbara County: This lightly off-dry riesling (the only one I tasted) has spritzy acidity and juicy stone fruits on the palate with a long finish that has a pleasing note of bitterness. 
Tatomer Vandenberg 2013: Notes of honeydew melons and Fuji apples on the nose and an especially honeyed character on the palate, although the wine is completely dry. Notes of pears and a rush of bright acidity and minerality on the finish.
Kaena 2013 La Presa Vineyard: More florals on the nose than fruit, and crisp clean fruit notes and a touch of citrus on the finish for a light, bright riesling.