Briefs
Refugio Oil Spill Likely Far Larger Than Projected
New Information Released by Plains All American Shows 40 Percent Jump in Volume Estimates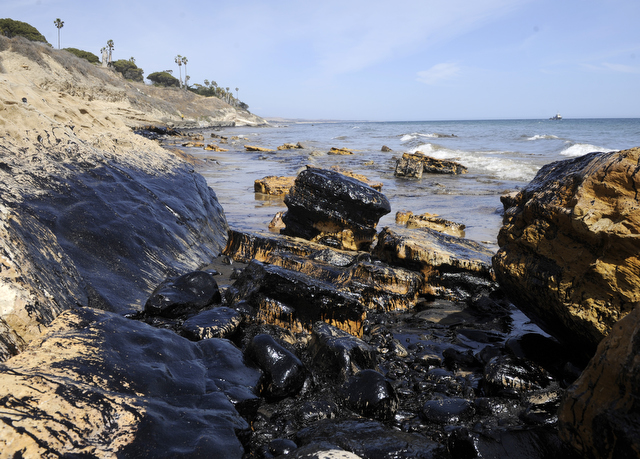 The size and scope of the Refugio Oil Spill may have been far larger than originally reported, according to documents released today by the company responsible.
In the weeks following the May 19 incident, Plains All American Pipeline publicly estimated that 101,000 gallons of oil spilled from a corroded pipeline it operates along the Gaviota Coast. That number was repeatedly cited by Coast Guard and EPA officials during their emergency response and cleanup efforts.
But in a second-quarter financial statement made public this Wednesday, the Houston-based company now states as many as 143,000 gallons could have been released.
Plains said it arrived at the new figure — about 40 percent larger than the initial estimate — after Line 901 was fully emptied of its remaining crude. That process was completed in mid-June and forced Plains to recalculate its "worst case" approximation for how much oil escaped. In the financial report, Plains stresses the latest 143,000-gallon figure is still not final; the calculation may change as more data is gathered.
The company had also stated that 21,000 gallons of crude made its way to the ocean. The report does not provide an update to that figure, and a company spokesperson did not immediately return questions seeking comment on those details.
"Unfortunately, this is what happens every time there's an oil spill," said Linda Kropp, chief counsel of the Environmental Defense Center. "If the number comes from the company, it's on the low side." Kropp cited the BP oil spill and what turned out to be wildly inaccurate information provided by that company to federal authorities and the public.
"This is one of the reasons people are frustrated that Plains is part of Unified Command," Kropp continued. "It's important to have them involved so they can be told what to do and provide access to equipment, but it's important that they not come up with any assessments or plans for cleanup and restoration." Kropp explained her organization and other agencies have consistently shied away from using the 21,000 figure as a basis for assessment until an independent evaluation is complete.
Senator Edward J. Markey, a member of the Environment and Public Works and Commerce, Science and Transportation Committee, released a statement on the upward revision of the spill volume. He blistered the federal agency that oversees the ruptured pipeline.
"The revelation that the Santa Barbara pipeline spill was much larger than originally thought underscores the importance of our pipeline safety agency providing complete information to Congress and the American people," he said. "Unfortunately, the Pipeline and Hazardous Materials Safety Administration's operational culture has been to withhold information from the American people and Congress."
Line 901 remains shut down as an investigation by the U.S. Department of Justice continues and extensive repairs are made. No timeline has been provided to restart the pipeline. Both El Capitan and Refugio state beaches, evacuated and closed immediately after the rupture, have since been reopened.
Plains estimated that, when all is said and done, it will incur a total of $257 million in costs related to the spill. That includes cleanup expenses, fines, and claims settlements but does not include any lost revenue from the continued pipeline shutdown.
Plains' net income fell 40.5 percent this last financial quarter, from $287 million to $124 million. Overall revenue fell from $11.195 billion to $6.66 billion.