Sports
High School Football Preview 2015
A Look at Santa Barbara, Bishop Diego, Carpinteria, San Marcos, and Dos Pueblos Teams and Games
While NFL and college football teams have yet to debut this season, the high school ranks entered the fray last week and are preparing for a full schedule of games this weekend. To get you ready for the season, Presidio Sports previews the area's five 11-man football teams and highlights the most anticipated matchups. All five teams have a talented and motivated group of senior players who want to finish their high school careers on a high note. Visit presidiosports.com for additional video interviews with players and coaches.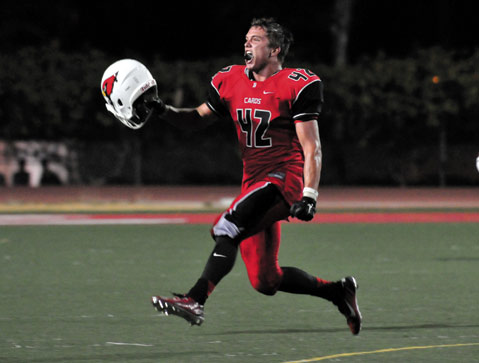 Bishop Diego
The Cardinals, 43-8 over the past four seasons, look to continue their winning ways as they enter their second season in CIF Division 3 with most of their playmakers returning from last year's 10-2 season. Several players stood out in last Friday's 14-9 victory over Righetti. CIF sprint champion AV Bennett showed off his speed on a 24-yard touchdown run late in the game, and quarterback Spencer Stovesand completed a 36-yard scoring play to receiver Dylan Streett. The Cardinals expected a stiff challenge from Righetti, a larger school that was a Division 3 play-off team last year. "We came out really bad in the first half," senior linebacker Matt Shotwell said. "We didn't execute that well, especially on the first drive. [We] came out and did our thing in the second half, and that's execute plays even though we're not the biggest team around." Shotwell had 15 tackles in the game. It was Bishop's fifth straight season-opening win. The Cardinals travel to San Diego–area small-schools power Santa Fe Christian on Saturday.
Santa Barbara
With improved size and strength on the line and an experienced, talented, motivated group of seniors, the Dons have the ingredients to make a run at a league title and CIF play-off berth. "We've always had what coach [Jaime] Melgoza says, 'the corazon,' so we'd always stay in the games," senior linebacker Carter Soto said. "But more size is actually going to help us push through the fourth quarter and actually win more ball games this year." The offense starts with quarterback Brent Peus, a three-year starter. He passed for 2,125 yards and 15 touchdowns last season working behind a line that was ravaged by injuries. He has a trio of big-play receivers in 6'5″ senior Blake Kelley, senior Mason Bigelow, and junior Chris "Tic" Jellison. The Dons unleashed their weapons at Hueneme on Friday and rolled to a 64-8 win. They led 43-0 at halftime. Santa Barbara (1-0) moves on to face Santa Maria next. The Dons are playing their final season at Peabody Stadium before it undergoes a major makeover. The home opener is September 11 against Channel Islands.
San Marcos
"We are in the truest sense a blue-collar team," coach Anthony Linebaugh said of his 2015 Royals. Linebaugh spent the off-season determining where players could be best utilized for the team to be successful. "I have a lot of players in new positions. We're doing a lot of learning right now to accelerate that growth, that learning curve, if you will, leading up to the season." One of the biggest changes was converting D'Shaun Vines into a quarterback. He played tight end last season. Vines will have senior running back Ivan Reyes behind him. He gained 884 yards and scored 11 touchdowns last season. Reyes and Vines will have the luxury of working behind an experienced line that includes seniors Anthony Pico, Anthony Ramirez, Rogelio Lopez, Abe Kesablyan, and junior Josh Harrah. San Marcos can shake off a 62-14 season-opening loss at West Ranch this week against Rio Mesa. The Royals' home opener versus Pacifica is September 11.
Dos Pueblos
Coach Nate Mendoza has more than 70 players on his squad, and several saw action last season. "When you get kids back with game experience, it's huge," said Mendoza. Quarterback Kellen Roberts is one of those players with game experience. Because of an injury, he was thrust into duty early last season as a sophomore. The mobile, 6'2″ signal caller will be running a high-tempo attack, which, he says, suits his style of play. Roberts has experienced players around him, starting with big-play senior receiver Josh Flora. His big targets include 6'1″, 220-pound senior Austen Pearce and 6'3″, 195-pound junior Marcellous Gossett. Senior Manny Nwosu (6'0″, 195), who helped the soccer team win the Channel League title and lost 25 pounds in the off-season, will show off his increased speed and strength as a running back; he was a defensive end last season. The Chargers saw good things in the first three quarters of their opener, building a 24-7 lead over Pacifica. But the Chargers let the victory get away by giving up 31 unanswered points in the fourth quarter to lose 38-24.
Carpinteria
The Warriors were the only area 11-man team with a bye during Week Zero. Carpinteria, coming off a 4-6 season, will host Santa Ynez on Friday. The Warriors have size and experience in the offensive line, which should make quarterback Mikey Garibay feel more comfortable in his first varsity season. Garibay was the JV quarterback last year. The O-line has one underclassman in sophomore David Torres at center, and the rest are seniors with game experience, led by tackles Jose Pancho Sanchez (6'1″, 265) and Nico Garcia-Jimenez (6'3″, 267). "We have a great nucleus and a really fine corps of guys who are doing everything we ask them to do, and they're enthusiastic about it," said longtime coach Ben Hallock. "I feel great about this group."
Rivalry Games to Watch
Carpinteria at Dos Pueblos: It's the first meeting between the Warriors and Chargers since 2001, when current Laguna Blanca head coach Shane Lopes threw for four touchdowns in a 37-21 Dos Pueblos victory. Friday, October 2, 7 p.m.
Dos Pueblos at Santa Barbara: It's the Channel League opener for both teams and the first of three crosstown matchups that decide the city championship. Friday, October 16, 7 p.m.
San Marcos at Dos Pueblos: The Battle of the Goodland returns to Scott O'Leary Field after a 27-10 decision last year at Warkentin Stadium in favor of San Marcos. Friday, October 23, 7 p.m.
Carpinteria at Bishop Diego: The Little Big Game is an annual rite of passage for this longtime rivalry. The Tri-Valley League's three-game schedule makes each contest incredibly important. Friday, October 30, 7:30 p.m.
Cate at Laguna Blanca: The eight-man game is showcased locally when these two engage in their small-school clash. It's the regular-season finale for the teams as the eight-man CIF postseason begins a week before 11-man. Saturday, October 31, 2 p.m.
Santa Barbara at San Marcos: The team records won't matter in this regular-season finale at Warkentin Stadium. "The Big Game" for city bragging rights is always intense. Last year's game ended in an on-field scuffle. San Marcos scored in the final seconds to win the game and claim the city championship. Friday, November 6, 7 p.m.