Arts & Entertainment
Public Enemy Still Creating Socially Relevant Hip-Hop
'Man Plans God Laughs'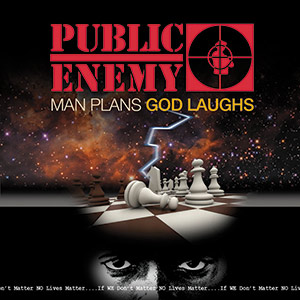 Chuck D proves once again why he is the poet laureate of consciousness-expanding, socially relevant hip-hop packed with substantive lyrics on Public Enemy's latest masterpiece, Man Plans God Laughs. The Bomb Squad's legendary Gary G-Wiz likewise kills it with his densely layered, mesmerizing production on an incredibly tight 28-minute album. "No Sympathy from the Devil" opens the record righteously as Chuck D comes out swinging with, "News fit to rhyme / BS fit to spit / The hate that hate produced / Swung up in a noose / Most them history pages / Comin' off stages / Colors, genders, and ages." Track two, "Me to We," is a funky call-and-response solidarity-invoking number on which Chuck D weighs in with, "We all relatives / Human family / No 'I' in team / But who we be?"
On the title track, Professor Griff rocks the mike as he scathingly proclaims, "Goddamn, damn man / Man laughs at God's plan / God laughs at man's trash / Man plans / God laughs." "Honky Talk Rules" deconstructs the Stones' classic "Honky Tonk Women" and reimagines it as a biting critique of hegemonic honky hypocrisy, and "Corplantationopoly" is a fresh joint that furthers the point.
Meanwhile, the plutocracy-smashing "Those Who Know Know Who" contains the wickedly acerbic 21st-century wage-slave-referencing line, "Get to picking / While they politickin'," and the pro-global citizen tune "Earthizen" contains the thought-provoking lyrical pun, "The Earth without art is just 'eh.'"
Throughout PE's oratorical odyssey, Flavor Flav remains the hyped-up clown prince of rhyme and one-man Greek chorus. Straight outta Long Island, PE was the original revolutionary hip-hop band to kick out the jams and call out institutionalized racism in the U.S. and demand change. Ultimately, the band's legend and cultural impact is huge, and now — more than ever — old-school sonic gurus Chuck, Griff, Flav and co. remind us that it's still time for everyday heroes to fight the power — and that Public Enemy's music matters!