Briefs
Nonprofits Prep for Fast Pitch Santa Barbara
Finalists Share 3-Minute Business Pitches, Compete for Cash October 15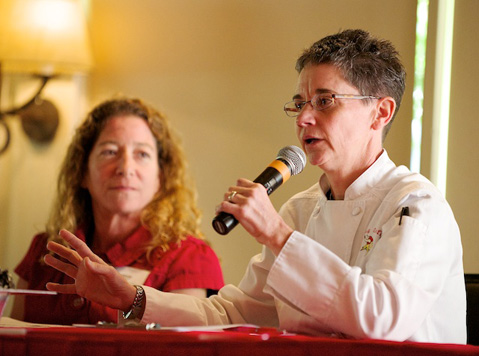 "When I first started I was pretty monotone — it wasn't good," said Bethany Markee of Solvang's Viking Café, last year's winner of both the Grand Prix Award and the Audience Choice Award of Fast Pitch Santa Barbara, a two-month training program connecting local nonprofits with potential funders and offering cash prizes for the best three-minute business pitches.
But, after many hours of individual and group coaching in public speaking — led by area nonprofit leaders who volunteered their time — and almost nightly drives from Solvang to Santa Barbara, Markee gained confidence speaking in front of large groups. She soon earned a spot among the top10 finalists, where her business pitch for "farm fresh food for kids" at last year's final event won her $25,000, which she used to purchase a delivery truck and computer system that allows the Viking Café to serve hot lunches and cold salads to the neighboring junior high school campus.
The new development has greatly improved students' safety, Markee said in an interview, because previously students had to leave campus each day to eat at the Viking Café, recognized in 2013 by the D.C.-based nonprofit Physician's Committee for serving the healthiest school lunch in the country.
Speaking to the experience of participating in Fast Pitch, Markee said she was initially intimated by the time commitment, but "I was learning so much that I made it work." Markee could always count on straightforward feedback from her coach Mark Levine because, she said, the volunteers who coach Fast Pitch participants are "highly successful business people who take time out of their day to give you advice. They're honest." As Levine said of his personal investment in the program, "Helping individual leaders build skills to promote their programs is exactly why I'm involved with Fast Pitch Santa Barbara."
Of the competitive environment at Fast Pitch, Markee said it was not what one might expect — "We all really became fond of each other's visions and goals." She has kept in contact with several of the people she met through the program because most participants were genuinely interested in the wellbeing of each other's organizations.
Next month, Social Ventures Partners Santa Barbara (SVPSB), a philanthropist group which funds other socially minded nonprofits, will select ten finalists from the twenty participating nonprofits — including the Alpha Resource Center, Family Services Agency, and Girls Rock SB — who will compete in front of 6 judges for $45,000 in cash in Santa Barbara's second year of Fast Pitch.
Community members are invited to attend this year's final event on October 15 at the Deckers Rotunda and may purchase tickets or sign up to be a sponsor here.