Foodie Awards
Foodie Awards 2015
The Santa Barbara Independent's Sixth Al Ode to Our Edible Culture
Though we love the outdoors, Santa Barbarans are quick to sacrifice sunshine time to head inside for a great bite of food. And we've never enjoyed more ways to fill our bellies than today, with options ranging from inventively creative to inspiringly authentic.
In 2010, The Santa Barbara Independent started celebrating this bounty of cuisine by launching the Foodie Awards, which shine a light every fall on the people and places cultivating this culture. This week's issue also kicks off the month-long ode to Santa Barbara's dining and drinking scene known as Epicure.SB. See epicuresb.com for a full list of events.
This year, for our sixth annual Foodie Awards, we celebrate the usually varied slate of establishments, including "The Izzy" Lifetime Achievement Award, named after Isidoro Gonzalez of La Super-Rica fame and this year going to Paradise Café. But to satisfy your intellectual hunger, as well, we're also diving a bit deeper into one particular chef's story and also focusing on a company that's connecting restaurants to the regionally grown produce that diners crave.
All of the awards will be presented at the Wine Cask on Monday, October 5, at 5:30 p.m., so please join us for the brief ceremony.
• The Cook's Cook Award: Chef Justin West of Julienne and Wildwood: Click here for the feature by Mitchell Kriegman on this chef's past, present, and future.
Putting the "To" in Farm-to-Table Award
Harvest Santa Barbara (696-6930; harvestsantabarbara.com)
It's quite easy these days to preach the almost mandatory restaurant mantra of "locally grown farm-to-table," but actually making that happen in a steady fashion is a whole lot harder. Even if chefs know their neighborhood farmers as friends, the logistics of getting fresh produce into kitchens on a daily basis is costly and time-consuming. Try scaling that philosophy up to grocery stores and institutions such as UCSB, and the entire concept becomes nearly impossible to pull off.
Harvest Santa Barbara is working farm by farm, restaurant by restaurant, and campus by campus to change that. Started by Jasper and Brook Eiler in June 2012 on the roots of the Farmer Direct Produce Network ​— ​which started distributing Santa Barbara Farmers Market produce in 2005 ​— ​Harvest Santa Barbara is connecting more than 30 different farmers from Ojai to Santa Maria with more than 100 different establishments and institutions from the Santa Ynez Valley to Los Angeles with farm-to-kitchen deliveries six days a week. That includes 25 percent of UCSB's produce needs to feed 8,500 people daily, as well as servicing school districts from Goleta to the Conejo Valley, companies like Patagonia and LinkedIn, about 10 grocery stores, and restaurants from Industrial Eats to Scarlett Begonia.
"I realized distribution was the missing link in our food system," said Jasper, who grew up exploring his grandparents' S.B. orchards, worked at Fairview Gardens from 2000 to 2003, attended grad school at UC Davis, and taught children in Berkeley school gardens before getting back into farming with the legendary Tom Shepherd in 2009. "Without it, there is a whole range of companies that would not otherwise buy local fruit and vegetables."
He and Brook built a dream team of ag-savvy employees, including produce buyer Shawn McMahon (formerly the Isla Vista Co-op produce manager and also a Fairview alum) and sales manager Micah Elconin, a UCSB alum and U of Oregon MBA who's spent a decade in food system education and development. "This job is really exciting because I get to take it to another level and really help the people who are helping our community," said McMahon. "We're buying and selling what I think is the best stuff ever." Added Elconin, "People come to us when they really want to know what the product is, where it came from, and that it is of superior quality."
Business is brisk, almost doubling each year, so a big part of the job is helping farmers identify which fruits and vegetables are needed when. "The prices to us change every day," said McMahon, who must provide a consistent supply while also taking risks on new farmers to continue growing a regional agricultural base that's diverse and sustainable. "There's a decent amount of room to grow, so we're looking to make more in-depth relationships with growers to meet that demand."
Most of the produce comes from Santa Barbara County with some from Ventura County and occasional stone fruit from Fresno, and the company's three trucks are strategically picking it up from farmers and dropping it off at clients along the same routes. "We have the least food miles traveled out of anyone," said Brook. "Those avocados are not going for a long ride first."
And, yes, supporting your neighborhood farmers does cost more. But if we're lucky enough to be in a region where we can truly support farm-to-table over industrial-sized agribusiness, then we'd better be ready to pay for it, too. Said Elconin, "The customers requesting local will drive the growth of our business long-term." ­
"The Izzy" Lifetime Achievement Award
Paradise Café(702 Anacapa St.; 962-4416; paradisecafe.com)
Any establishment can evince a laid-back, beach-town vibe or deliciously grill on red oak or shake up a spot-on margarita or have a perfectly restful patio. But only Paradise Café does all of those things and more in a century-old building whose artful neon sign stands out in this non-neon town. That neon sneaked through ever-persnickety City Hall decades ago because, as Paradise owner Randy Rowse explains, one councilmember remembered how "dark and ominous" Santa Barbara seemed during the blackouts of World War II. "It was reassuring to him when the red and green lights flickered back to life," said Rowse, himself a councilmember today. "It made it seem like everything was going to be all right."
Those lights have burned bright for 32 years since its days as La Paloma, and now Paradise offers the hidden hipness of being off State Street, as well as perhaps the best burger around. "Our customers have been loyal friends over the years, and we do not take that for granted," says Rowse, who also prides his establishment on promoting Santa Barbara wine country since its earliest days. "We feel honored and very lucky to still be going after all of these years, through all of the changes and all of the new places that have opened. Big-time thanks are due to all the people who have kept us going."
Raising Regional Award
Barbareño (205 W. Canon Perdido St.; 963-9591; barbareno.com)
Seemingly fully formed the day it opened, Barbareño took what's become almost trite ​— ​locally sourced, farm-to-table ​— ​and revived the concept. "To keep pushing our own creativity, we limit ourselves," explains GM Jesse Gaddy, who started the restaurant with Head Chef Julian Martinez. "Staying true to our concept of exploring what is historically and culturally relevant to Santa Barbara and the Central Coast, we delve into ingredients and dishes that we hope can tell part of the story of the region we live in." Cue their eggamuffins, Santa Maria tri-tip, quail à la Spanish, and so forth. By working closely with growers, Gaddy continues, "We are constantly learning from others about what makes our region special and discovering the living stories of the incredible people who make this culinary culture possible." Believing that notions like farm-to-table are "thrown about in a lackluster manner nowadays," Gaddy and crew choose "to focus on stories to create food that is inspired rather than contrived." Add attentive, knowledgeable service, and it's no wonder Gaddy and Martinez have a huge hit on their hands.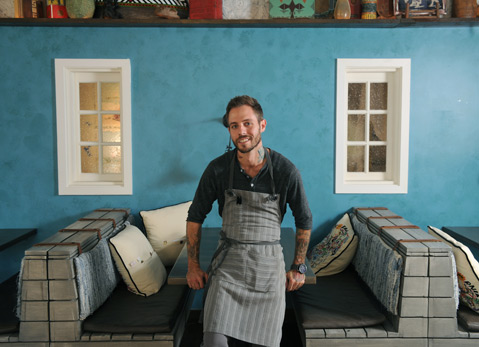 Goleta Goes Hipster Award
Outpost and GoodBar @ The Goodland Hotel (5650 Calle Real, Goleta; 964-1288; outpostsb.com)
The boutique-chic Kimpton Hotel chain gambled big in refurbishing a rundown motel along Goleta's strip mall row. But as the immediate then steady rush of crowds confirmed upon opening in September 2014, they played their cards right by including the Outpost ​— ​a stylish-casual indoor-outdoor restaurant run by Chef Derek Simcik ​— ​and Goodbar, a smart cocktail lounge run by lead bartender Chris Burmeister.
"It's just been nonstop from day one," says Simcik, who estimates Santa Barbara County residents make up about 90 percent of the business. "This area wanted some place that's cool to hang out and not pretentious, where you can chill and, before you know it, you've had a couple cocktails, a couple bites, a great conversation on the patio, and three hours have gone by." Such bites may include the popular tacos and bao buns on the "1-2-3" section of the menu, as well as small plates like the crispy artichoke and brussels. "We have a relaxed kind of feeling with a quality product and great service," says Simcik. "It's the individuality of the experience."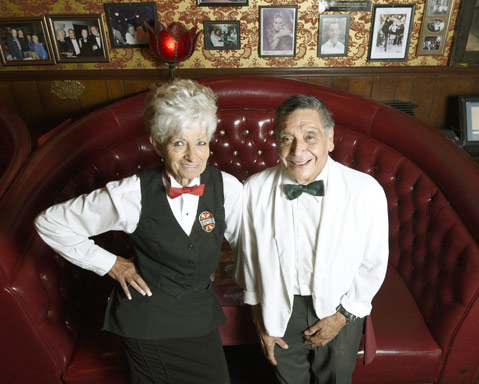 Dedicated Service Award
Ruben Rosas and Renee Donati
Harry's Plaza Café (3313 State St.; 687-2800; harryssb.com)
Restaurant work can be a grind, but when you find a place that embraces you, where people really know your name, it can be a whole lot like family, too. That's the case for two longtime employees of the iconic Harry's Plaza Café in Loreto Plaza: Ruben Rosas, who's been a busboy for 43 years, and Renee Donati, who's waited tables for 35.
When he came from Guanajuato, Mexico, Rosas first worked on a farm near Patterson Avenue but started at Harry's in 1972, working for Harry himself, whom he called "a good boss." Everything is pretty much the same today, said the father of three and grandfather of seven, explaining, "I like it here. The people, they know me."
Donati, meanwhile, came to Santa Barbara from Chicago with her three kids and was lucky to get a job at Harry's in 1980. "It was hard to get because nobody wanted to quit ​— ​that was the place everyone wanted to work at," recalled Donati, who arrived one morning when one employee happened to be leaving town. "That's how I got the job." Today, her regulars have standing reservations at Donati's tables from Tuesday to Saturday ​— ​"every day that I work," she said proudly. "I love my customers. They are more like family to me, and that's why I've stayed," she said. "They're loyal. They're really good people."
Patio Salvation Award
Benchmark Eatery (1201 State St.; 845-2600; benchmarkeatery.com)
After a dismal stretch both half-baked and overdone, the patio at State and Anapamu is again alive with chatter and chowing down thanks to Benchmark, brought to you by the Bennett family's benevolent empire of eats, which includes Brophy Bros. and On the Alley. "We would like the patio to be a clear representation of Santa Barbara: casual, simple, and fun," says John Bennett. "Our family is grateful to have had the opportunity to bring this genuinely local operation to the theater district. Every restaurant launch has its challenges, and we are pleased that we have ironed out the wrinkles and found our footing." That footing features the scrumptious fried garbanzos instead of table bread, designer cocktails at corner-bar prices, and a menu that runs from pozole to pan-roasted salmon. And the perfect urban patio.
Way Worth the Drive Award
Industrial Eats (181 Industrial Wy., Buellton; 688-8807; industrialeats.com)
Upon opening in December 2013, Industrial Eats in Buellton became the hottest meal ticket in Santa Barbara wine country, its wood-fire-loving clientele a who's who of vintners and their adoring fans. Owners Jeff and Janet Olsson, who were already beloved for their New West Catering Company, attribute this to offering "generous portions of very straightforward, honest food cooked in a wood-burning oven ​— ​the most primal way possible ​— ​at reasonable prices." They do so by cutting out the fancy linens, glassware, menus, and even traditional table service, as visitors order from the cashier off of hanging butcher-paper sheets ("Pizza" and "Not Pizza" are the categories) and then sit down. "It confuses some people," admits Jeff, "but we tried to cut out what I felt was unnecessary so we could get the best quality product at the lowest price." The same goes for their affordable on-tap wine list. "The $18 glass of wine was beginning to bother me," he laughs.
Vanguard Veggies Award
Mesa Verde (1919 Cliff Dr.; 963-4474; mesaverderestaurant.com)
Forget soy masquerading as meat, and welcome Mesa Verde and modern plant-based cuisine. "After the first year, we are just super excited to have made such strong and amazing connections with all the local farmers," says Chef Greg Arnold. "We can't wait to see what they have for us this year. The menu is basically written around what becomes available seasonally at the market. The farmers are my muses!" Arnold is also influenced by bands such as Can and painters such as Anselm Kiefer, which explains the dash and drama of his exciting plates, adorned with slashes of shishito puree or salvitxada. "It maybe took a minute for people to become familiar with some of the Middle Eastern and North African influences," Arnold admits, "but I think that was mostly just vocabulary ​— ​food is food, around the world!" It's not always this tasty, though.