Briefs
Giant Insects Arrive in Santa Barbara
Rare Butterfly and Moth Collected at Natural History Museum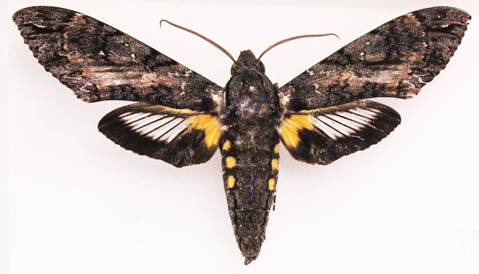 Local butterfly enthusiast Richard Priestaf recently recorded the expanded geographical range of both the giant swallowtail butterfly (Papilio cresphontes) and the giant sphinx moth (Cocytius antaeus) after he and Paulette Ferrari, another Santa Barbara resident, found both species in the area.
With wingspans reaching up to six inches, the giant swallowtail is the largest butterfly in the United States. The species is commonly found in the Southeast and Arizona but has been gradually extending its range westward across the Mojave Desert into San Diego County and up the coastline to Ventura County.
This year, the butterflies were spotted all the way at Hope Ranch, on the Mesa, and in the Goleta Valley throughout the fall season. Priestaf believes that the Central Coast's abundance of orange trees is the cause of these unusual sightings, as the caterpillars that feed on the trees are one of the giant swallowtails' main food sources. Santa Barbara also provides these butterflies with a year-round source of bougainvillea nectar.
Ferrari then spotted the giant sphinx moth on her Bath Street lawn in late September. The species measures well over five inches in wingspan and is native to Central and South America. Known as strong fliers, these moths have been found in Texas and Arizona and have been reported as far north as Chicago. However, this specimen is the first recorded giant sphinx in the state of California.
Unlike the giant swallowtail butterfly, the giant sphinx moth is not likely to settle here in Santa Barbara. Both specimens have been deposited in the insect collection at the Museum of Natural History, where researchers have collected hundreds of thousands of preserved insects, primarily from California, to document current and historical occurrences of different species. The museum has ten indoor exhibit halls that focus on regional natural history, including an insect display.