Real Estate
House Hunter: Making Sense of Microclimates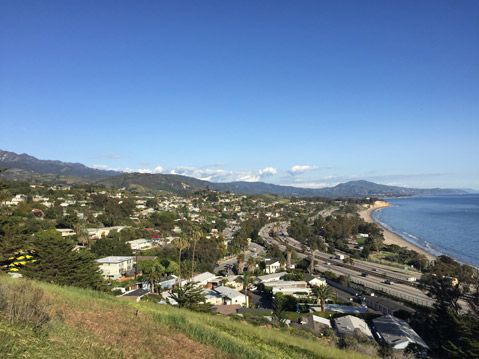 We were hanging around in the old backyard in San Roque a while back and noticed that it was hot — which sparked a bright idea: Let's go to the beach as fast as humanly possible.
Off we raced to Hendry's, and on the way there, zipping along Las Positas, we noticed something: The sun had gone away. When we parked at the beach, we noticed something else: It was no longer hot. In fact, it was downright cold.
What the heck? We zoomed back home and, wait a minute, hot again. To repeat: What the heck?
Microclimates, that's what.
There are about as many weather factors weaving through Santa Barbara neighborhoods as there are neighborhoods, according to Alan Rose, chief meteorologist for KEYT TV. It's all a brew of Pacific breezes, mountain elevations, canyon wind tunnels, etc. and etc. He suggested checking the website of Weather Underground — not the Vietnam-era protesters but actual weather mavens who, among many other things, gather data neighborhood by neighborhood. Right now, for instance, the site says it's 58.8 degrees in Oak Park and 76.6 degrees three miles south on the Mesa. See? Microclimates.
This matters for house hunters. "I always ask clients if they'd like more urban or rural, about views, and also about temperature," said Samantha Ireland, an agent for Keller Williams Realty.
"A lot of people like it cool," she said. "They like the fog rolling in, love to able to walk over to Shoreline or Leadbetter regardless of weather." So they veer toward the Mesa. "Some prefer it warmer and drier, like San Roque or Mission Hills." Or you can move up the mountain a bit, above the marine layer. "It can get quite warm on the Riviera," Ireland said. "But most people don't have any complaint because they get breezes up the hill and spectacular views."
There can even be microclimates within microclimates, she noted — that 56.6 temp in Oak Park above, for instance. Some parts can be much shadier and cooler than others, depending on where you're standing. And as for the Mesa, the shoreline fog tends to burn off by midday, which can mean big variations hour by hour.
Ireland grew up in a place that was more regimented: your basic hot in summer, cold in winter. When she moved to Santa Barbara 25 years ago, "I was very surprised how different it can be in any given day. It might start out foggy, and you're wearing a sweater and a scarf, but by afternoon in another part of town, you're peeling off layers." The good part is that, though it can be changeable hour by hour and neighborhood by neighborhood, Santa Barbara doesn't vary much throughout the year.
"There's a little something for everyone," Ireland said. "Not too hot, not too cold, but if you have a preference, there's a part of town that will suit you."
Which brings up the tricky subject of spousal concord. Ireland had just such a case a while back: a husband and wife, good friends of hers. "He loves the ocean and loves it cool, so the closer to the beach, the better for him," she said. "His wife likes more sunshine and warmer."
How did she resolve that age-old dilemma?
"They settled for a happy medium downtown."