Drink
The Bobcat Drinks Tonight
Bob Stout and Patrick Reynolds Team Up for New Speakeasy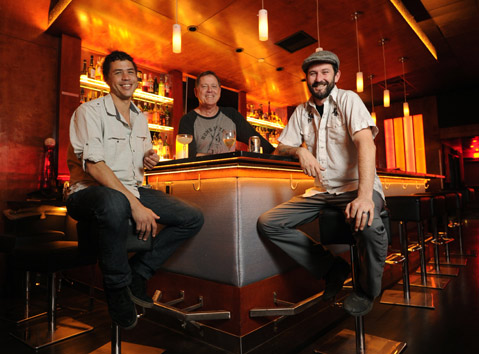 It's easy to think that the last thing Santa Barbara needs now is another bar — cue Prohibition-revivalist online commenters! — but with the coming of the Bobcat Room on West Ortega Street, it's easier to conclude that such a notion is horribly wrong. Hip without being hipster, retro without irony, clubby without being exclusive, it's not so much dimly lit as artfully shadowed, with wall seating angled just so people are edged into ergonomically easier talking postures. That it's the rowdier Wildcat Lounge's speakeasy neighbor — you have to enter through a double door from the dance floor — is even more of an enchanting surprise.
While Wildcat owner Bob Stout is the money and vision behind the Bobcat, Patrick Reynolds — a 2013 Foodie Award winner who has made a career of cocktailing in all the coolest 'cats in town (Wild, Hungry, and now Bob) — is the face and soul. "It's my bar program, but I'm not a consultant," he explained. "I'm an imagineer over there."
Indeed, the Bobcat offers a Disneyland sort of imbibing delight, watched over by a large painting of Pam Grier and soothed by a soundtrack of handpicked LPs. "We want a place where you can come and have a good drink and a good conversation and never feel like you're not welcome," said Reynolds. "We are creating an establishment for people to come and learn and not feel looked down upon if you ask a question." There are even lectures in the works on topics like bitters.
The cocktail program expands on Reynolds's popular Tuesday-night farm-to-bar feature at the Wildcat. "This [the Bobcat] was the carrot in front of me for the last three and a half years," he said. Although each night can't have just-purchased farmers' market ingredients, that's still the theme for the listed cocktails, which are rich with fruits, herbs, and distilled products from nearby.
And for Reynolds, farm-to-bar is more than juicing a just-picked Meyer lemon. The idea, he explained, is "basically honor, awareness, above all, respect for the ingredients, the alcohol, the people, just everything."
11 W. Ortega St., open Thursday to Sunday evenings