Film & TV
'How to Survive a Breakup'
Filmmakers Kai Collins & Deena Adar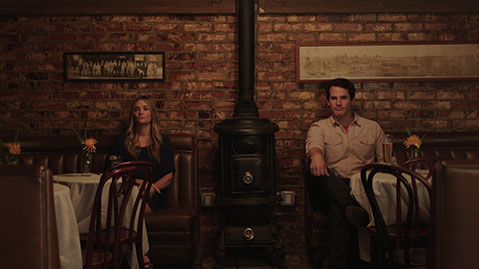 This slickly produced, well-acted, expertly edited, all-too-true, and ultimately moving short comedy watches two recently broken up thirtysomethings go through the stages of a fallen relationship. When they eventually get back on the horse and explore the new social media dating world, hilarity ensues.
See www.quietduke.com.

Is this autobiographical?
Ha! Absolutely. Our strongest work always evolves from autobiographical experiences, particularly our most awkward, painful, and horrifying moments! We love finding ways to turn uncomfortable life situations into something funny and universally relatable. This was a script we started a few years ago, but when one of us went through a harrowing breakup this year, and the other provided shelter and comfort when a best friend was dumped by his fiancée, we felt especially compelled to tell this story from a his and hers perspective.

Is it hard to assemble such a great crew and the funding to make a short comedy so slick?
Yes! We met in an improv class at The Groundlings nine years ago and immediately clicked comedically. We hit the ground running, writing and producing comedic web shorts, branded entertainment, viral ads and videos, and beyond. Independent filmmaking is exhausting and challenging, so we've made a point of hiring talented people who elevate our work and with whom we can collaborate (and laugh) when things go awry.
Funds are always a challenge — we wear a lot of hats — but are fortunate to work with people who are excited by our scripts and willing to work with our budget to be a part of what we're creating. We shoot quickly. This was shot in three days in L.A. on a very limited budget. We try to maximize rates, locations, rentals, and fees by being smart about scheduling and the filming process. And then we do it all over again because we love it so much!
The cast isn't famous, but it seems like they should be.
We joke that the alternate title for this film could be "Wait. Isn't that the actor from…?" They're all so incredibly gifted and hilarious, it's only a matter of time before they're household names. We knew all the actors from The Groundlings, standup, previous productions we've directed, or by stalking them. We wrote these roles for these actors and were fortunate that every single person said yes based on their connection to the writing and our vision (or determination).
You can catch Bre Blair starring in "Game of Silence" on NBC this spring, and several of our actors are in just about every commercial playing right now. Lea Coco recently starred in "Sinister 2," while Amir Talai and Adam Hershman you may recognize from Harold and Kumar, Hot Tub Time Machine, and What to Expect When Expecting. Many have recurred and starred on TV shows like Campus Ladies, American Dad, House of Lies, and Drunk History, to name a few.

Is there a market for films like this?
There are many channels that now showcase short films, so there's definitely a market. We'd also love to develop it either as a feature or TV series. We were so inspired during post production to keep creating projects, that we wrote and filmed the webseries CMC (Cannabis Moms Club), starring five of the actresses from How to Survive a Breakup. So it's definitely leading to more work. And hopefully some money too, because money is nice.