As part of our longstanding relationship with SBIFF, we've already watched more than one-third of the 208 films being screened during SBIFF 2016. Many of those are featured in our fifth annual Meet the Makers magazine (published in 18,000 copies of this paper and available at most SBIFF venues) and online in our Filmmaker Interview series at independent.com/SBIFF. From those screenings, these are the 30 feature-length films we've enjoyed the most, in alphabetical order.
25 April: A beautifully rendered documentary that uses graphic-novel-style animation to tell the true stories of six Australian and New Zealand Army Corps (ANZAC) soldiers who fought in WWI's ill-fated Gallipoli campaign.
Against Your Will: The story of Gil and Esther Alexander, who lost two of their sons to suicide and are working to raise awareness around mental health in Israel's kibbutzim, where suicide is a growing epidemic.
Amerika: The Czech tradition of tramping re-creates the American West's ideal of freedom by camping with friends in the middle of Central European forests, and this doc examines the dying traditions.
Being George Clooney: A fascinating, charming film that reveals the men and women who dub the voices of American movie stars in countries including Italy, France, Turkey, and Brazil, it's for film dubbers what Twenty Feet from Stardom is for back-up singers.
Bizarre: A Circus Story: This is a documentary on circus act pioneer Master Lu Yi and the lives of the many entertainers and circus performers his teachings have touched.
The Champions: This doc looks at what happened to the animals in football superstar Michael Vick's brutal dog-fighting ring, and the life-saving efforts of animal sanctuaries to take these pit bulls from rescue to rehabilitation.
City of Gold: Jonathan Gold's food writing is so impressive that the former L.A. Weekly and current L.A. Times critic even won a Pulitzer Prize in 2007. This explores the daily life of Gold, whose articles weave together the various cultures and experiences that make Los Angeles a fascinatingly diverse metropolis.
Craft: The California Beer Documentary: Never before has such an exhaustive, wide-ranging documentary been made about craft brew in California. This interviews every big name, covers every topic you can imagine, and leaves no sudsy stone unturned.
Crossing Bhutan: This doc follows a team of adventurers, sponsored by Bhutan's Olympic committee, as they hike and bike across the mountainous kingdom, where no one wants to harm the country's Gross National Happiness levels.
Fire Birds: This suspenseful, culturally insightful feature film from Israel follows a detective who tries to figure out why an elderly man with a mysterious identity, and an apparent Holocaust survivor, was killed and tossed in the sea.
Floyd Norman: An Animated Life: Not only was Floyd Norman the first African-American employee at Disney in an era of outright segregation; this Santa Barbara–raised artist and writer also worked intimately with Walt Disney.
The High Sun: This epic Croatian feature follows multiple timelines and plots amid the past 30 years, a period full of war and ethnic strife in the Balkans. It's visually arresting in its sweeping scenes, which are full of heavy drama, impeccable acting, and ambitious cinematic tropes.
Huntwatch: With spy cameras, historical footage, stunning visuals, and a truly legendary protagonist in activist Brian Davies, this lays bare the past, present, and future of Canada's seal-hunting industry and the people who have been fighting it for decades.
It Had to Be You: This is a smart, inventive, expertly acted, thoroughly engaging romantic comedy about a woman who's intimidated by the thought of marriage, despite all the stars otherwise aligning.
Koza: Languidly paced, texturally gritty, and groundbreaking in production style, this feature film portrays a poor Romany boxer, a former Olympiad from Slovakia who must endure a series of last fights to get enough money to convince his girlfriend not to abort their coming child.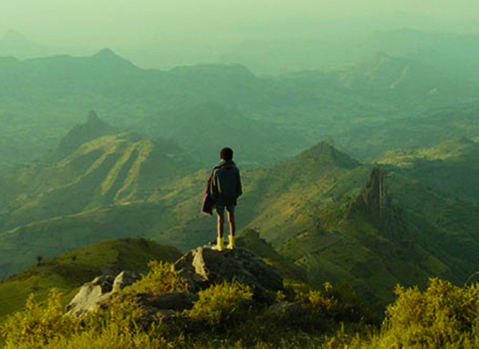 Lamb: A sweet young boy must leave his drought-ravaged village to live with distant relatives in the far-off highlands of Ethiopia, where his uncle hates the boy's inability to farm but his aunts are impressed by his cooking prowess.
Lazar: Human smuggling of refugees from the Middle East and Africa is a regular business in Macedonia, where desperate people slip from poverty and danger into the hope of Western Europe. This feature focuses on one such smuggling outfit and one man's attempts to get out.
The Midwife: The Lapland War put Finland between the Nazis and the Soviets at the end of World War II, and this feature follows a brave midwife who voluntarily became a concentration camp nurse to get closer to a German soldier she desired.
The Missing Ingredient: This doc peruses what makes a restaurant "classic" by following an up-and-coming New York City restaurateur as he tries to take his establishment up a notch by paying blatant homage to a now-shuttered iconic Manhattan joint.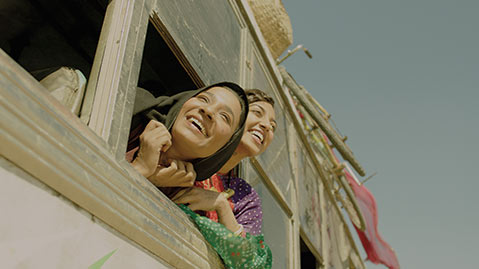 Parched: Set in a desert village in India, this is a fun, candid portrayal of women who exhibit carefree enthusiasm for life and sex despite living in repression.
Showroom: This comedy from Argentina follows a man who must leave his chosen career to sell high-rise condos in Buenos Aires for his uncle, who also lends the man's family a home on the city's outer, jungle-y reaches.
Silent Heart: Before taking pills that will end her life, a mother suffering from a terminal illness spends a weekend with her adult daughters.
Spear: This film combines contemporary dance with a variety of urban and rural locations to create an atmospheric portrait of the lives of indigenous people. 
Standing on Water: This is a cinematically arresting portrait of the world's most unlikely saltwater hero: Denmark's world champion stand-up paddle surfer Casper Steinfath, who had an anything-but-traditional childhood and family life.
Stereotypically You: This is a hilarious and unhinged look at being single when everyone around is making babies, featuring a protagonist who specializes in daydream hallucinations.
Thank You For Your Service: An uncompromising look at the deep psychological toll war takes on so many soldiers, and how the military often fails to provide proper mental-health care upon their return home.
Viva: Jesús is a young gay hairdresser in the heart of Havana, Cuba, whose dreams of becoming a lip-synching drag queen are threatened when his hard-drinking widower dad comes home from prison surprisingly soon.
The Wave: Quite possibly the most realistic natural-disaster film ever made, this thriller follows one geologist's attempts to save his family when an avalanche unleashes a powerful tsunami in Norway's fjords.
Who's Driving Doug: Inspired by the experiences of screenwriter Michael Carnick, this story of companionship and discovery shared between introverted young man Doug (RJ Mitte), who has muscular dystrophy, and his driver, Scott (Ray William Johnson), is heartwarming and heart-wrenching.
You Carry Me: This Croatian feature follows three daughters in the pursuit of happiness and reconciliation with their fathers and confronts loss and desire at their highest stakes.
SHORTS TO SEARCH
Sometimes the most exciting films at a festival are the shorts, shown as a collection. Here are eight of our favorites in SBIFF 2016.
Bacon & God's Wrath: This is a graphically enhanced look at what happens when an elderly Jewish woman decides to try bacon for the first time.
Cuddle Party: Watch the hilarious and touching things that ensue when a troubled couple attends a cuddle party.
The House Is Innocent: What happened to the cursed home of Sacramento serial killer Dorothea Puente? A cute couple moved in and embraced the history.
How to Survive a Breakup: This slickly produced short comedy follows two broken-up thirty-somethings through the stages of a fallen relationship.
Madam Black: This is a quirky, touching comedic short about a bottom-scraping photographer who kills a cat.
The Many Sad Fates of Mr. Toledano: Watch photographer-artist Phil Toledano explore what his future may become.
Prestige Ingredients: This sweet short film about recipes and tears stars Alia Shawkat and Chef Pierre Jancou.
Sandorkraut: Meet Sandor Katz, a best-selling author and expert in the lost art of food fermentation.