Meet Penelope, she's three-year-old ball of fun! Penelope is extremely people friendly and wonderful with children. She's an active girl who enjoys daily walks but is mellow in the home. She's house-trained so no need to worry about accidents! Her smile can light up a room and her butt wiggles about when she greets you. Penelope is looking for a home that will give her equal amounts of structure, exercise, and love. Think Penelope might be your perfect pal? Please call Dog Adoption & Welfare Group at (805) 681-0561 or e-mail us at adopt@sbdawg.org to learn more on how you can give Penelope the home she deserves.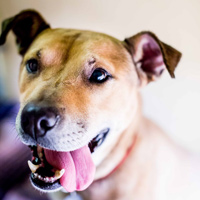 DAWG (Dog Adoption and Welfare Group) is a no-kill, not for profit dog rescue/adoption organization located at 5480 Overpass Road in Goleta. For more information or to view more adoptable dogs, visit: DAWG
All of the dogs at DAWG have been spayed/neutered, micro-chipped, are current on their shots, and have flea/tick/mosquito protection. We ask for a minimum adoption donation of $250 for young dogs (under three years), $150 for adult dogs, and $125 for seniors (dogs 8 years old and over).