Film & TV
SBIFF 2016 Peeps: Week One
Opening Night, Johnny Depp, American Riviera Awardees, and More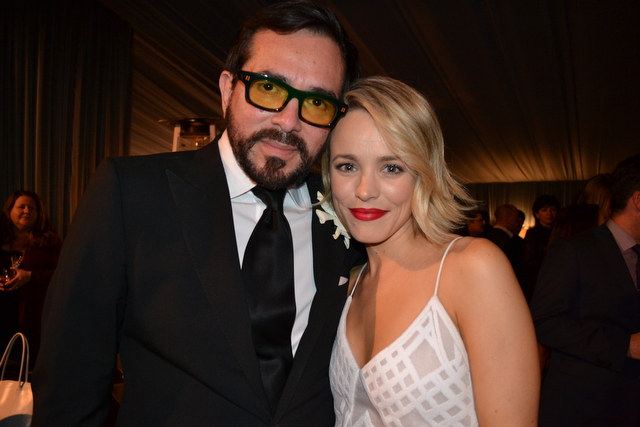 As the 31st Annual Santa Barbara International Film Festival (SBIFF) dawned upon the city, I approached the intimidatingly loaded schedule with a mixture of awe and trepidation, as one might a superior platter of nachos. After all, strategy is paramount when facing down a week and a half of films and tributes, schmoozing, and late nights—generally in orthopedically ill-advised footwear.
Then again, when life gives you a gut-buster of indulgence, sometimes it's best to simply dive in.
Energy crackled on opening night, which brought the U.S. premiere of The Little Prince to the packed Arlington. S.B.'s favorite dude, Jeff Bridges, who voiced the part of The Aviator to epic effect, was on hand, as were director Mark Osborne and star Mackenzie Foy. As is tradition, SBIFF director Roger Durling welcomed the crowd by pumping up the lights and inviting us to get to know our neighbors, but the real bonding happened as the film drew to its close, loosing tears and inspiring new kinship built upon a need for Kleenex. The party migrated to Paseo Nuevo for the Opening Night Gala, and as befits an after-party for a movie whose theme is the importance of remembering the wonder of childhood, the grown-ups partied like kids — or at least like grown-ups who'd forgotten that the details of their grown-up lives would be waiting come morning.
The spirit-of-childhood game remained strong the following evening, at the Maltin Modern Master tribute to Johnny Depp. The gloriously weird Black Mass star arrived late, to a swirl of rumors (he's not coming!) and a houseful of peeps taking proper advantage of the newly installed lobby bars. Depp, dressed in black and heavily inked, bejeweled, and golden-toothed, did not disappoint. The scent he gave off was less actor than medium, and the various personae he's inhabited — Hunter Thompson and Captain Jack, Eds Wood and Scissorhands — seemed to hum precariously close to the surface. Speaking in a slow, roundabout, oft-hilarious, and oddly hypnotic stream of consciousness, his "answers" to moderator Leonard Maltin's questions often meandered so far afield that I'd find myself laughing at some random crack only to snap out of it and wonder, Wait, how did we get here?
He corralled his thoughts often enough, however; appropriately, sanity — or the lack thereof — proved a theme. Of working with Marlon Brando on Don Juan DeMarco, Depp said: "I liked the idea of playing against him, and I'm the crazy one." Of his Donnie Brasco costar Al Pacino: "I said to him, 'People say you're certifiably insane,'" to which Pacino deadpanned in response: "You're pretty fucking strange yourself." Of his first meeting with director and frequent collaborator Tim Burton, Depp said: "His hair looked like there was an explosion at a hardware store, and he was chewing on his spoon." It was impossible not to be charmed by this delightful oddball of a man — nor to leave without wishing for entrée to the cartoony parallel universe from which he sprang. And while it appeared that the shape-shifting Depp skipped the after-party, it's difficult to say for sure: I did see a pirate loitering by the taco bar.
The following night brought the American Riviera Award tribute to Michael Keaton, Rachel McAdams, and Mark Ruffalo, stars of the heavily Oscar-nommed Spotlight, which tells the true story of the Boston Globe journalists who uncovered the staggering, systemic sexual abuse of the Catholic Church. While Ruffalo could not attend (oh, woe), McAdams, Keaton, and Durling, who moderated the conversation, delivered a discussion that bounced from serious to silly and back again. The stunning McAdams was measured, thoughtful, and quick to credit her real-life counterpart, Sacha Pfeiffer, who was in attendance, as instrumental in her performance. Keaton waxed romantic about journos, whom the self-described curious-to-a-fault news junkie clearly views as kindred spirits, and deflected Durling's compliments about the importance of movies in demystifying scandals like this one, insisting instead that real change is owed to survivors, such as Durling, coming out and telling their stories.
Yet everyone was up for a laugh: When Durling asked the duo if, rather than being part of an ensemble, they'd have preferred other, bigger parts, Keaton jumped: "Yeah, I wanted Rachel's part because I'd be wearing that dress tonight."
"I would love to see you in this dress," she replied. (Related?: Earlier, McAdams copped to a crush that dates back to Mr. Mom.)
Though there was no dress-swapping to report, the good times continued afterward in the Hennessy lounge, as the two sipped Paradis Imperial and mingled with the crowd.
Saturday night brought the Virtuosos, which boasted a roster of seven people and scads of talent deep. Among the honorees were Elizabeth Banks (Love & Mercy), who joked that the $69 million Pitch Perfect 2 brought in on its opening weekend may have been her favorite part of directing; Paul Dano (Love & Mercy and Youth), who admitted that it struck him as rather a red flag when Love & Mercy director James Ponsoldt said he didn't need to hear Dano sing; the extremely affable (and crowd-pleasing) O'Shea Jackson (Straight Outta Compton), who said the main difference between him and dad Ice Cube is that "I smile more"; as well as Géza Röhrig (Son of Saul), Alicia Vikander (Ex Machina and The Danish Girl), Jacob Tremblay (Room), and Joel Edgerton (Black Mass), who wasn't able to attend.
Fandango host, Hollywood handicapper, and moderator Dave Karger kept things moving, interviewing each individually before bringing everyone back onstage for some quick-fire questions. The 9-year-old Tremblay handily stole the show: When asked if he was allowed to see Room, he said yes and that it wasn't too scary, because "if you're a mom, you understand this is like the worst thing that ever happened. But to a kid, it's like … whatever." When asked if he could do a movie in any foreign language, what it would be, he said, "Mongolian. But I can't tell you what, because that would be a spoiler."
And while the next day may have brought a certain bloated sporting event to TVs everywhere, my personal SBIFF halftime report shows an impressive dent in that proverbial platter of nachos and the wonder of childhood running away with it.