Sports
Celebrating Female Athletes
30th Annual Women in Sports Day; Plus Foresters, Tennis, and Good-Bye Hot Dog Man
Title IX, passed almost 44 years ago, paved the way for exponential growth in the participation of women and girls in college and high school athletics, putting their opportunities and benefits almost level with males'. But the law does not apply to professional sports leagues, where the gap is huge between women (average WNBA salary: $75,000) and men (NBA average: $4.5 million).
That's not entirely a bad thing, in that it encourages women to stay in school, get a degree, and pursue a profession — meanwhile, using the lessons of teamwork, perseverance, and confidence they learned in sports to help them along the way.
Alison Bernal and Jill Deering are two women who followed that path. They took part in a panel discussion in front of 400 female athletes who attended Monday's 30th annual National Girls and Women in Sports Day Luncheon sponsored by the Santa Barbara Athletic Round Table. Both women are in the legal profession, Bernal as a litigator and Deering as an in-house counsel.
Bernal, who swam for two years at UCSB before concentrating on her studies, said that courtroom combat is comparable to competitive athletics. "There are winners and losers," she said. "You have to prepare and practice." She would put in 80-hour weeks preparing for a trial. She took time out to go through childbirth twice, making her 5:45 a.m. swimming workouts seem easy by comparison.
Deering said she was guided by the slogan "Winners win." She explained it as "the mentality of looking at what you're doing, wanting to succeed, and taking steps to get there."
Both women still achieve empowerment through athletics. Bernal has jumped back into the pool and competes in Masters Meets for the S.B. Swim Club. Deering, who ran cross-country at the University of the Pacific, is one of Santa Barbara's top distance runners with aspirations of qualifying for the Olympic trials marathon. "I'm better now than I was in college," she said. Then, echoing a chant that fitness zealot Jenny Schatzle prodded the entire audience to shout at the luncheon, Deering said, "I am awesome."
HOT STOVE: The annual Santa Barbara Foresters Hall of Fame/Hot Stove Dinner will heat up the climate for baseball on Saturday, February 13. Friends and fans of our own boys of summer will gather at 6 p.m. at the Santa Barbara Auto Group's BMW Lounge on Calle Real.
Hall of Fame inductees Fred Warrecker and Cameron Rupp were separated by a half-century as players for the Foresters. Warrecker played for the original version of the semipro team, sponsored by the Foresters Lodge, in the 1950s. He was head baseball coach at Santa Barbara High for 42 years, retiring after last season. Three of his sons — including Donny Warrecker, who has succeeded him as coach of the Dons — played for the latter-day Foresters, who were revived in 1991.
Rupp was a catcher on the 2008 Foresters who brought home the club's second National Baseball Congress championship and also made a historic trip to Cuba. He has been a major-league backstop for the Philadelphia Phillies the past three years.
Foresters manager Bill Pintard has enlisted another five-time national champion — coach Augie Garrido of college baseball fame — to deliver a video talk. Tickets are $75 for adults and $20 for children. Visit sbforesters.org.
LOVE AND TENNIS: In an effort to encourage beginners to take up tennis and to reacquaint former players with the Santa Barbara Municipal Tennis Courts off the Old Coast Highway, the city is sponsoring a free day for all ages to play at "Muni" on Sunday, February 14. The Valentine-inspired theme is: "Try it, you'll love it." Tennis professionals will provide lessons and drills from 9 a.m.-noon. The lighted courts will be open until 9 p.m.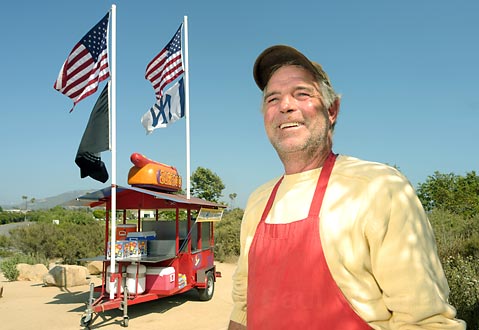 ONE OF A KIND: I won't be able to hold back the tears the next time I drive past the Carpinteria Bluffs. I will be looking for flags flying above an oversized plastic wiener, but I know I won't see them. The Hot Dog Man has left the scene. Bill Connell's sudden death last week left a void that cannot be filled. I'll never forget the good times I spent with him: treating the grandkids to juicy hot dogs, lemonade, and Red Vines; joining him and his friends on the buses he chartered to Dodger games; spending a day with him at the races and watching him hit — or just miss — a trifecta wager. If Bill had a bad day, he wouldn't let it spoil yours. He was a perpetual smile maker.
S.B. ATHLETIC ROUND TABLE ATHLETES OF THE WEEK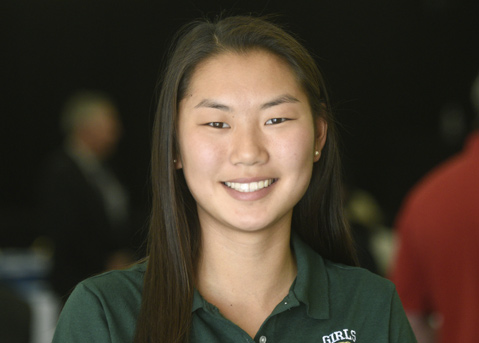 Isabelle Mendro, S.B. High soccer
In a 3-2 victory over Ventura, she assisted on the first goal and scored the other two, connecting on the game-winner in extra time, as the Dons clinched second place in the league.
Tejon Williams, SBCC basketball
The 6'1" freshman guard's season-high 28 points and 16 rebounds helped the Vaqueros score an 85-80 upset victory on the road against first-place Cuesta College.