Sports
What Are the Dons Drinking?
Fabulous Weekend of Sports for Santa Barbara High; Plus UCSB and SBCC Hoops
Just what is in the drinking fountains at Santa Barbara High? Three Dons teams were spectacular in postseason action last week.
BOYS' BASKETBALL: Not only have the Dons reached the 30-win plateau and advanced to the CIF 2A championship final at the Honda Center (see the Game of the Week), they've done it with style. In their 84-69 quarterfinal victory over visiting Lawndale, they lit up the scoreboard. Bolden Brace channeled his inner Steph Curry, bombing six three-point baskets in the first six minutes. A couple of them splashed down from almost 30 feet away. "Sometimes I get that feeling," Bolden said. "When there's good energy in here, it makes me super fired up." The final quarter featured a flurry of slam dunks by Brace, Nick Busch, and Ben Clay before Santa Barbara coach David Bregante cleared the bench.
In their semifinal game last Friday at La Mirada, the Dons got something they needed: a gut check. It was a one-score game down to the final minutes when junior guard Ben Brown sank a three-pointer to put them ahead, 61-55. They held on to win, 62-57. It was the kind of toughness they'll need Saturday, March 5, against a Lynwood team that outlasted Hart in overtime to reach the final.
GIRLS' BASKETBALL: After the Dons' 36-point loss to Chaminade in the power-packed Open Division, I foolishly implied they'd be in over their heads against Mater Dei in the consolation round. The Dons overcame a 10-point deficit in the second half and stunned the Monarchs, 48-45. Amber Melgoza gave away six inches to Mater Dei's UCLA-bound 6'4" center Allyson Rosenblum, but the Santa Barbara senior outplayed her at both ends of the floor.
After his team fell two points short in another comeback against visiting Vista Murrieta, which had four legitimate Division I college prospects, Santa Barbara coach Andrew Butcher declared, "We're really good. We start two sophomores and a junior. We'll be even better in 10 days." He was looking forward to the State Regionals, which will combine the best teams from Fresno to San Diego. Santa Barbara's boys also are expected to land a regional berth next week.
BOYS' SOCCER: One of the last natural-turf-and-dirt games to be played at Peabody Stadium was one of the most memorable. In the CIF Division 1 quarterfinals, the Dons scored a 3-2 victory over Paramount, which was ranked No. 1 in the state and No. 5 in the nation. They spotted the visitors a 1-0 lead but surged ahead on a seeing-eye grounder by Brandon Sanchez shortly before halftime; a rebound goal by Sloan Hanson; and a swerving rope of a shot by Sanchez. Paramount had yielded only 11 goals in 24 previous matches.
COLLEGE HOOPS: UCSB's men have a chance to close out the regular season with eight consecutive victories. They have six in their pocket with two home games remaining, Thursday night, March 3, against UC Riverside and Saturday at 4 p.m. against Cal Poly. It's worth it to get out and see Michael Bryson play. The 6'5" senior guard has secured UCSB's career record in three-pointers with 223 and counting. When the Big West Tournament begins March 10 at the Honda Center, the Gauchos could loom as a threat to conference kingpins Hawai'i and UC Irvine.
An 11-18 record may not seem to qualify a team for special mention, but in the case of UCSB's women, it's a feel-good story. The team that used to dominate the Big West fell on hard times last year, going 2-27. With much the same personnel, new head coach Bonnie Henrickson and her staff transformed the Gauchos into a team that was fun to watch again. They'll at least break even in the conference (8-7 heading into the finale at Hawai'i) and will return to tournament next Tuesday at Irvine's Bren Events Center.
"I've really enjoyed it," said Henrickson, who coached teams to the NCAA Sweet 16 at Virginia Tech and Kansas. "I've had a lot of fun getting in the trenches with them. I'm demanding. I'm fussy about how we do things. Some teams have an attention to detail; the best teams have a ridiculous attention to detail. I'm big on that, especially when you can improve your program. There's so many things a player can do that require no talent. We try to own all the areas that require no talent, and grow all the areas that require talent. We've done a pretty good job in both those areas."
A striking improvement has occurred in UCSB's shooting and scoring. "We're unselfish," Henrickson said. "We had 22 assists on 28 field goals [against Cal State Northridge]. We don't take bad shots. We recognize every possession is 'our' shot; it's not 'mine.' If I don't have a good shot, I need to let go of it. These kids have trusted me when I said, 'Here's the shots we can take; here's the shots we're not going to take.' I'm a firm believer that they need to know why."
A pair of smallish guards — 5'5" junior Onome Jemerigbe and 5'7" sophomore Makala Roper — have played big roles in the Gauchos' resurgence. With Jemerigbe looking for her on the drive-and-kick, Roper has become a confident shooter and UCSB's leading scorer. Jemerigbe also sets the tone for the defense by putting hard pressure on opposing point guards. Jasmine Ware, a sparky senior guard, has played with verve down the final stretch of her career.
NOTEWORTHY: Destinee King, a freshman on the SBCC women's basketball team, averaged a double-double (18 points, 11.6 rebounds) and was rewarded with a first-team All-State South Region selection. … UCSB shot up to No. 27 in the ITA collegiate men's tennis rankings last week. … In the National Collegiate Hockey Association Southwestern Conference Championships at Ice in Paradise, UCSB's club upset top-ranked Cal Lutheran in overtime, 8-7, en route to second place.
S.B. ATHLETIC ROUND TABLE ATHLETES OF THE WEEK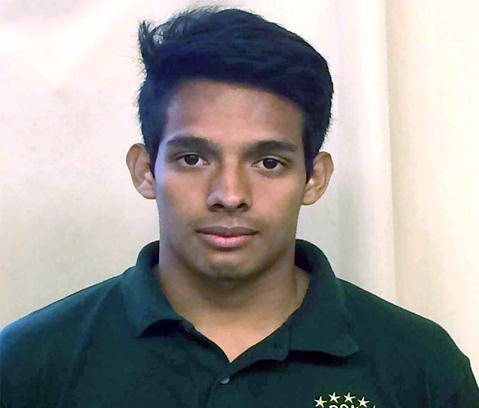 Brandon Sanchez, Santa Barbara High soccer
The senior midfielder scored five goals in the CIF play-offs: a hat trick in a 3-2 overtime win over Santa Margarita and two goals in another 3-2 victory over No. 1 Paramount.
Amber Melgoza, Santa Barbara High basketball
The Washington-bound senior scored 57 points in two CIF Open Division play-off games to move up to No. 9 on the Southern Section career-scoring list with 2,731 points.