Cover Story
Heartbreak and Hope in Lesbos
Santa Barbara Couple on Front Lines of Refugee Crisis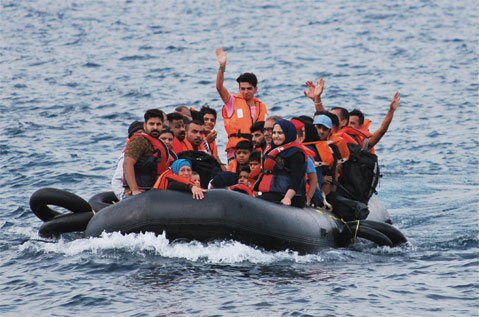 It was early last November, and Robert and Robin Jones were eating a late dinner with friends on the Greek island of Lesbos, their home away from home. Ahead was a small harbor bobbing with blue-and-white fishing boats; behind them, the one-street village surrounded by olive groves and sheep trails. Turkish minarets shimmered through the cold night air five miles across the Aegean Sea.
Suddenly they saw Greek coast guard officers sprinting toward the marina. The Joneses knew right away that another refugee boat had capsized. An ambulance arrived with doctors and stretchers. A crowd of villagers gathered to wait. Everyone had seen this all before.
The coast guard returned with a man and his two unconscious children, a boy and girl ages 3 and 5. Their mother had drowned. The family, fleeing a war-ravaged Middle East, had been crossing from Turkey to Greece in an overcrowded boat when rough waters threw passengers overboard. Medics tried but failed to resuscitate the little girl. The boy died on the way to the hospital.
These heartbreaking scenes are hard to talk about for Robert and Robin. The beautiful island of Lesbos, where they have lived on and off for 42 years, has now become a flashpoint for the refugee crisis sweeping Europe and Asia. But since last fall, when they returned to their home in Santa Barbara, they have felt compelled to tell their friends and community what they have witnessed: the tragedies as well as the faith, courage, and kindness displayed by the thousands of refugees and the volunteers who, like themselves, rushed to help in any way they could. "Everywhere was desperation and beauty," said Robert.
When the Joneses arrived to their house in the village of Molyvos last April, fewer than 150 refugees a week were landing on the island. By the time they left in November, more than 3,000 a day were clamoring onto the beaches. And the numbers still keep rising. So far this year, at least 120,000 refugees have escaped through Turkey to the Greek islands of Samos, Kos, and Lesbos, a tenfold increase over the same period last year, according to the International Organization for Migration. More than 400 have died making the crossing. An average of two children are drowning every day.
Back in Santa Barbara, Robert and Robin describe grim realities beyond the statistics. They aren't fundraising, and they don't have a political agenda, but they have spoken before a few groups when asked. "We're just trying to give people the opportunity to feel what we feel," said Robin. The couple, who raised three sons and ran a travel business in Santa Barbara for 28 years, offers a lens through which we can begin to comprehend the real human toll that the violence is taking on families throughout Syria, Afghanistan, and Iraq ​— ​families, the Joneses say, not unlike ours.
"These aren't terrorists," said Robin, sitting in their living room on the Riviera. "These are human beings. Many are college-educated, middle-class people who have lost everything." During their eight months on Lesbos, she and Robert met teachers, construction workers, merchants, doctors, and a leather maker. "It's every type of person," said Robert. They're escaping bombing, torture, chemical warfare, and wholesale slaughter. Most arrive with little more than the clothes on their backs, where they hide IDs and cash. Many carry cell phones they use to contact loved ones stuck behind or in countries they hope to reach.
At one of the island's two transit camps, Robin met a Syrian woman named Sahar Kharsa. She recorded their conversation. Kharsa, who studied English literature in college and was six months pregnant, said she and her husband, an electrical engineer, left their country because it had become too dangerous for him. ISIS leaders in Syria have reportedly been forcing men to fight for the militant group. Those who refuse are killed. "Our dream," Kharsa said, "is to live a happy life — me, my husband, and our baby."
World Upside-Down
Life was normally easy and quiet in Molyvos. Approximately 1,000 Greeks live in whitewashed houses cascading down a gentle hill below an ancient Genoese fortress. Fishing and olives bring in some money, but tourism had been the island's lifeblood. Visitors spent leisurely days in the mild climate, experiencing, as Robin said, "the joy of simple living."
All of that has changed. The tourists have stopped coming. The groups of migrants huddled along Molyvos's streets have left villagers ​— ​already in the vise of Greek's financial crisis ​— ​panicked for their livelihoods. Tensions run high. A number of villagers refuse to offer aid, believing it will only encourage more waves of refugees. But they're in the minority, said the Joneses.
The rest of the townspeople have transformed into frontline responders alongside volunteers from all over the world. They lift women and children from wrecked boats, pass out food and water, collect trash, clean porta-potties, and offer translation services and medical care. Fishermen are regularly rescuing refugees out of the sea. "The rest of the world may be Greece-weary and refugee-weary," said Robin, "but when you're there and you see them, it's an easy choice to help."
For much of the spring and summer, shockingly little aid was supplied to the island by the Greek government or any other European Union nation. Politics and xenophobia are to blame, said Robert. Only recently have relief organizations such as the UN Refugee Agency and IsraAID started to build an infrastructure of meager meals and shelters. Groups like Doctors Without Borders are finally arriving.
But still absent are the Red Cross tents and American dollars one might expect for such a critical waypoint in the largest forced migration of people since World War II. "The United States, in my view, are late to the game," said Robin. "We have to do something," she continued. "We at least should be talking about it."
She and Robert did what they could. They regularly loaded their car with fruit and bread they bought from small grocery stores. They said hello and offered rides. "We felt a need to connect with our eyes and acknowledge them," Robin said. Robert passed out toys and cleaned beaches. Every night he wrote about their experiences, as he tried to sort out the reality unfolding around them. Like the sound of a helicopter overhead: "Does it mean Bono is finally showing up to bring attention," he would wonder, "or has a rescue mission turned into a search mission?"
Robin, an art teacher, would lay a tablecloth on the ground for children to draw. They sketched tanks and guns, but also flowers and dogs. Streaks of blue represented the water they had just crossed. Their parents were grateful for the short reprieve to normalcy. Everyone, adults and kids alike, was unfailingly patient and polite, said Robert, save for a few minor scuffles when the despair became too much. "The respect of the people among themselves was overwhelming."
Last month, Lesbos citizens were nominated for the Nobel Peace Prize. Singled out was 83-year-old Aimilia Kamvisi for her work with children. "I felt like they were my own grandkids," she told CNN. "We are from the same planet under the same God." Another resident, Maria Androulaki, said to reporters, "We are monsters if we don't do this ​— ​why should we be given a prize for being human beings?"
The Long Road Ahead
The majority of refugees come to Europe by sea, across the Mediterranean to Greece, Italy, or Spain. A few attempt the overland route through Turkey and then Albania. They may apply for asylum in the first EU country they reach, but more likely they push north toward Germany, which has thrown open its doors to migrants. Sweden, France, Belgium, and other EU members had also been accepting large numbers of asylum seekers.
The war in Syria is by far the biggest driver of the exodus, but ongoing violence in Afghanistan and Iraq ​— ​along with abuses and poverty in African countries such as Nigeria and Eritrea ​— ​is also forcing whole communities to migrate elsewhere. Lebanon to the south has taken in more than a million refugees. Hundreds of thousands more live in squalor in Jordanian camps.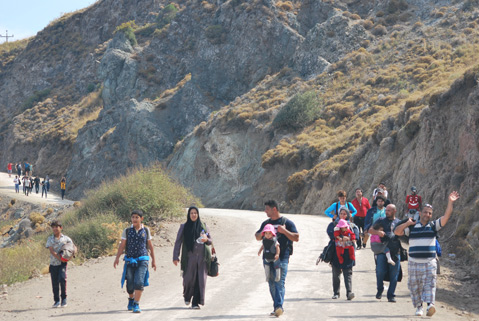 Those who head through Turkey on their way to the Greek islands stop in Istanbul, Ankara, or another big city to meet smugglers. They may pay up to 1,000 Euros per person and spend another 50-100 Euros on a life vest, sometimes fakes stuffed with dry grass or Styrofoam. Small mountains of these life vests litter Lesbos's otherwise pristine beaches.
The Turkish government is already hosting up to three million Syrians but is under increasing pressure from EU leaders to better police its Aegean Sea routes. Overwhelmed officials there say there's little hope of stemming the tide without cooperation from more powerful countries. Negotiations around relocation schemes in exchange for funds and quotas keep breaking down. The United States vowed to take in 10,000 Syrians this fiscal year. So far it has accepted 841 in five months. In Syria alone, 7.1 million people have been displaced since 2011.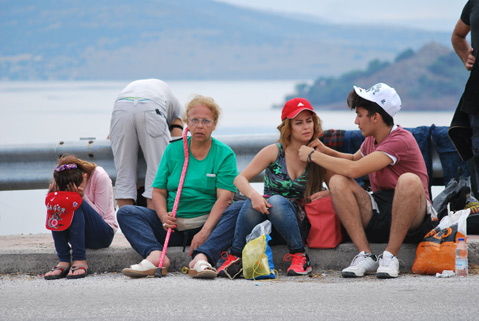 Meanwhile, even Denmark has started seizing assets and valuables from those seeking refugee status. Austria has set a cap of 80 asylum claims a day; Hungary is building steel fences patrolled by guards with tear gas; and Bulgaria has earned a reputation as perhaps the cruelest country toward illegal migrants, with regular reports of beatings and extortion. Last March, a human rights group reported that two Iraqi men fleeing ISIS had their legs broken by Bulgarian police. They were brought back to Turkey and, unable to move, eventually froze to death in a remote village.
Refugees who reach Greece through Turkey rarely intend to stay, given the few opportunities afforded even its own citizens. And the country is hopelessly ill equipped to take in the masses. Instead, to the chagrin of the rest of the EU, it acts as a sort of way station, registering migrants through passports and fingerprint scans before issuing transit papers that allow them a temporary stay before they must move on.
Athens has just ordered fewer ferry crossings, and Greece's three neighbors immediately north ​— ​Albania, Macedonia, and Bulgaria ​— ​are now accepting even fewer migrants, if not closing their gates altogether with lines of razor wire. Last week, Greece took the unprecedented step of recalling its ambassador from Austria after Vienna organized a mini-summit of Balkan states to discuss new restrictions that would strand even more refugees in Athens and on the islands.
The situation has become a pressure cooker. "The migration is not being stopped," Robert explained; "it's just being choked. And it's going to get worse."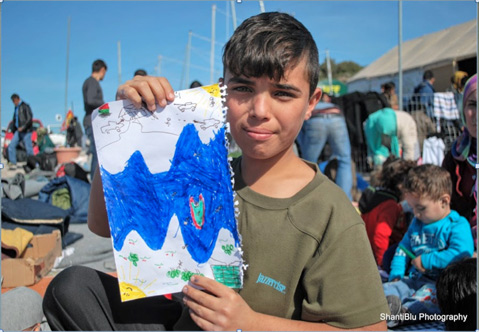 Fresh Perspective
Yet the Joneses refuse to give up hope. They hold onto proof of the indomitable human sprit they saw on Lesbos, and they learned that though a few selfless acts can't solve any big problems, they do make a difference. "I had always heard about people who volunteered, but I never quite got it," said Robert. "Now I do." Robin keeps thinking about those they met. "Their faces are etched in my mind forever. I wish I could know where each one went."
On Lesbos, migrants who land near Molyvos on its remote northern shore face a 40-mile, three-day trek over mountains to reach a ferry in Mytilene that will take them to Athens. Robert and Robin became a taxi service for many of them, cramming seven people into their backseat and holding shivering children on their laps. They were happy to see jubilation on the refugees' faces during their first few hours on EU soil, but dreaded what lay ahead for them. "I couldn't get the car to go slow enough," said Robert. He would crank up the heat and turn on music. "I just wanted them to have that moment."
The couple is thinking about returning to Molyvos in April, as long as the island remains safe enough. To them, it's a duty. "We have to help," said Robin. "It is our obligation." In the meantime, they're settling back into their Santa Barbara routine, but with a new outlook. Homeowners association meetings about landscaping suddenly don't seem so important. "We learned some good lessons there," said Robert. "It was a big jump in reality." Robin agreed. "You get a choice in life. You get to choose where you put your energy."
And, even after more than four decades together, they saw something new in one another. "You amazed me," Robin said to Robert. "We amazed each other," he replied.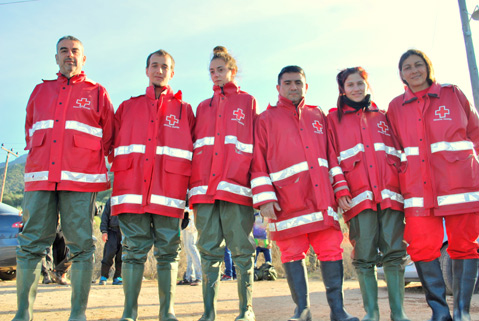 How to Help
With a whole galaxy of aid groups, NGOs, and nonprofits out there, it can be hard to decide where to donate. Here's a short list of safe bets we compiled based on firsthand testimony from Robert and Robin Jones and information gleaned from CharityWatch, which grades organizations based on how well they'll use your donation to fund the programs you want to support.
• Starfish Foundation — asterias-starfish.org
The Starfish Foundation sprang out of grassroots efforts by Melinda McRostie, owner of The Captain's Table restaurant in Molyvos. She started coordinating volunteers in 2014 and registered as an official NGO last October. Starfish operates 24 hours a day, offering food, water, dry clothes, and travel information.
• Doctors Without Borders — doctorswithoutborders.org
In addition to operating a clinic at the port of Mytilene, Doctors Without Borders medics fan out across Lesbos and the other Greek islands, responding to injured refugees. They also offer neonatal care and mental-health support for migrants who have been victims of torture.
• IsraAID — israaid.co.il
This Israel-based humanitarian organization has been one of the few large aid groups on the front lines of the Lesbos crisis. It deploys teams of doctors, search and rescue personnel, and community organizers, and last week its leaders met with UN officials to discuss future field strategies.
• International Rescue Committee — rescue.org
Based in New York, the IRC is consistently awarded top marks by watchdog groups for efficient use of donations. And it's not afraid to speak out. IRC's Europe regional representative, Kirk Day, said in response to Balkan states sealing their borders: "Greece cannot be expected to carry the responsibility of this humanitarian crisis on its own."
• Direct Relief — directrelief.org
Since 2011, Santa Barbara–based Direct Relief has distributed medical supplies throughout Syria, Iraq, Turkey, Jordan, Lebanon, and Macedonia. In January, it partnered with the Royal Health Awareness Society to extend preventative medical care in refugee camps, where poor sanitation can spread diseases like cholera, meningitis, and measles.
Other organizations with proven track records include the following:
Oxfam America — oxfamamerica.org
American Refugee Committee — arcrelief.org
Care — care.org
Save the Children — savethechildren.org
Catholic Relief Services — crs.org
Lutheran World Relief — lwr.org
United States Association for UNHCR — unrefugees.org
4•1•1
Robert and Robin Jones will present images and stories from their time on Lesbos to the Channel City Camera Club at the S.B. Museum of Natural History's Farrand Hall on Tuesday, March 15. Doors open at 7 p.m.
---