Make Myself at Home
Make Myself at Home: Sweet San Roque Haven
Take a Look Inside This Tranquil Artists' Retreat
Address: 3013 Paseo Tranquillo
Status: On the market
Price: $1,689,000
There are certain architectural elements that we don't see very often in Santa Barbara. When my son James was about 8 years old, we took a weekend trip to San Francisco, just the two of us, and splurged on a room at a fancy hotel on Union Square. As we walked up to the entrance, James exclaimed, "Whoa! It has one of those rotating doorways. I thought those were only in the movies."
Visitors may come to Santa Barbara and marvel at our red-tile roofs, but to those of us who live here, revolving doors, basements, and even elevators are exotic details that we can go years without encountering. When I was introduced to the lovely home at 3013 Paseo Tranquillo last week, I was intrigued with some of its unusual amenities. The description stated that it has a whole-house water-filtration system, which filters every faucet's water. The home also has radiant floor heating throughout, so your toes stay warm as you walk from the bedroom to the kitchen for your midnight snack. The living room boasts a biofuel fireplace, one of the most efficient, smokeless, eco-friendly fireplace options available. These elements aroused my curiosity, but it was the tip-top detail that reeled me in: It has an honest-to-goodness cupola. A cupola? In Santa Barbara? I wanted to visit just to see that.
As it turns out, the entire house is well worth a visit. It's in a quiet corner of San Roque on a wonderful street. The front yard is beautifully landscaped with native trees and grasses, an inviting seating area, and a stone-lined walkway. As I approached the front door, there was the prominent, windowed cupola, smiling from above.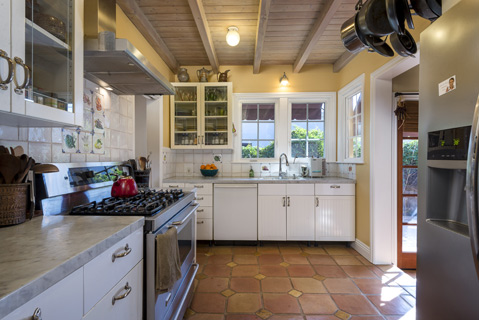 The interior of the house is open, bright, and airy, and at more than 2,000 square feet, it's much larger than original houses in this neighborhood. It turns out that the home was extensively renovated — almost completely rebuilt — in 2002. All of the rooms were redone with quality craftsmanship and efficient, plentiful storage. The floors are a blend of warm pecan hardwood in some rooms and Saltillo tile in others. With four bedrooms, two baths, a large living room, a beautiful kitchen, a dining room, and an office, the house itself is large and livable. But step outside, and it really gets interesting.
There's a big deck off the back of the house, plus a patio and a pool. Over the garage and up a stairway framed by blooming bougainvillea is my favorite part of this home: a full studio that feels like a tree house. Being up that high affords a view of the ocean out the back and a stunning mountain view from the front. The only better view would be from the cupola. No wonder it's smiling down on this happy home.
3013 Paseo Tranquillo is currently for sale in Santa Barbara, listed by Laurel Abbott of Berkshire Hathaway HomeServices. Reach Laurel at (805) 455-5409 or laurel@laurelabbott.com.