Positively State Street
Ghost Tiger Returns with New Lineup
Downsized Band Finds New Life, Plays with U.S. Elevator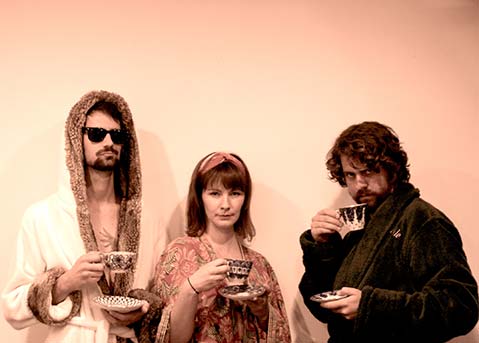 These have been transitional times for Ghost Tiger, who plays at SOhO Restaurant & Music Club (1221 State St., sohosb.com) this Thursday, March 24, at 8:30 p.m. with area rocker Johnny Irion's excellent U.S. Elevator and San Francisco's sea knight. But talking to them, one is reminded of that quote commonly attributed to Marilyn Monroe: "Sometimes good things fall apart so that better things can fall together."
As many may know, Ghost Tiger — until very recently a duo of singer/guitarist/keyboardist Alixandra Macmillan-Fiedel and Chris Norlinger, but now a trio with drummer Maxx Farris — was not long ago a five-piece. Last year, the band released Some Friends Feel Like Family, a sort of farewell EP that was a culmination of their years together with former members Kevin Evans, Emma Huston, and Chris Stansell. New directions prompted these tigers to ghost off into the jungles beyond Santa Barbara, and though the exits were cordial and the festivities grand, the band was now three-fifths reduced. Ghost Tiger, in many senses, had ended. Macmillan-Fiedel and Norlinger were left to build anew.
With this lineup blow coming only a couple of years after Macmillan-Fiedel underwent jaw surgery, it would seem that the project of Ghost Tiger could buckle under the combined weights of tough circumstances. How could a band, dissected by departures, continue? But Macmillan-Fiedel and Norlinger have found a new strength in the absences, and the specter of Ghost Tiger has arisen again.
In the months following the April 2015 transition, the two found themselves "figuring out what the hell we were gonna do," Macmillan-Fiedel said. Their solution was to learn new instruments, expand the pedal boards and synth sounds, and book a tour. "It was scary," Macmillan-Fiedel recalled, as the two found themselves playing songs written for five. Now taking on keyboard, as well as singing harmonies sung by former member Huston, she experienced "a lot of stage fright." The keyboard, she said, "was a totally new instrument, and a totally different way of being in front of the audience. Growing isn't comfortable."
They've made great gains, however, through their growing pains. Though still rough demos, their newest songs — some of which the band hopes to play at its upcoming show — reveal a new kind of confidence, with guitar tones and a beastly and brooding rhythmic section courtesy of new drummer Farris, who joined the band while working as the band's tour manager. "I love working in the trio format — there's so much space to be filled. It becomes a really cool, organic way of thinking about and trying to make music, and it's always a challenge," he said.
Norlinger described the new sound as "a lot less folky … pretty much folkless." What started as an intimidating task of filling in for former players has become an emboldening rediscovery, a new beginning. "It's been really freeing actually," he said. "It's basically been a year of feeling like being naked in front of the whole class with your art, but now I'm feeling very happy with where the music is at." He's grateful for the "very, very rich times" spent with the former lineup but feels the remainders have achieved a new esteem toward the material that can only come from foundation rebuilding.
"It's been humbling," Macmillan-Fiedel said of the learning process, but described the band in a new creative Zen, doing it for the love of the music and not the results that may come from it. "Before, we were doing it for the music, but we were trying to find this door that would open … now we're just enjoying doing it and trusting that the door will open when it does."
See Ghost Tiger tonight, March 24, at SOhO with U.S. Elevator and sea knight, and hear how their invigorating sound has endured. Here's to new beginnings.