News
Capps Optimistic About Pipeline Safety Bill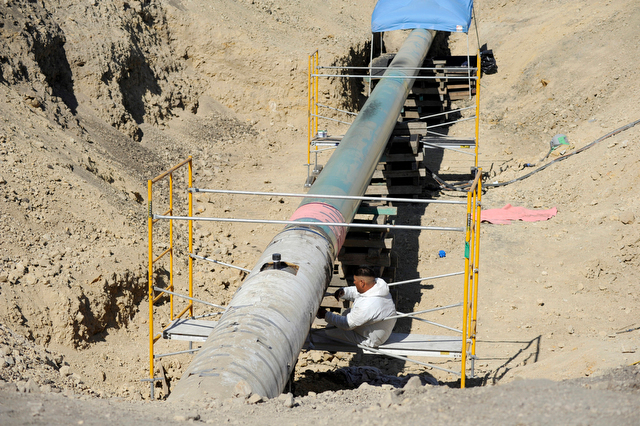 At a time when hyper-partisan gridlock plagues Washington D.C., Representative Lois Capps is optimistic that a compromise can be reached on the Pipeline Safety Bill. Last week, the bill advanced through a House subcommittee with Republican legislators pledging to work with Democrats before its next hearing.
Democrat Capps and Congressmember Fred Upton, a Republican from Michigan, vowed to prioritize pipeline safety after oil spills occurred in their districts. The bill would reauthorize the now-expired pipeline safety program for the federal agency known as PHMSA (Pipeline Hazardous Safety Material Administration), which regulates 2.6 million miles of pipeline in the country.
Capps offered three amendments to specifically address safety shortfalls exposed during last May's Refugio Oil Spill, which leaked an estimated 125,000 gallons of viscous crude oil (with 20,000 reaching the ocean) from a Plains All American pipeline.
One amendment would update the definition of federally designated "High Consequence Areas" to include coastal waters and adjacent lands — i.e. the Gaviota Coast. The second would require oil companies to install automatic shutoff valves in such environmentally sensitive areas. The third would increase the frequency of inline inspections, again in ecologically rich areas.
"We have a great opportunity in front of us," Capps said at the hearing. "Unfortunately, the bill before us is severely lacking, leaving far too many communities at risk. While it includes the start to some important provisions, including emergency order authority, it fails to consider the actual scope of the need for improvements." Capps agreed to hold her amendments because Republican congressmembers assured her they'd sit down to hash out the language before the next committee hearing expected to occur next month.
It so happens that Republican congressional candidate Justin Fareed worked as an aid for Ed Whitfield, chairman of the subcommittee of energy and power, who will write the final bill. Whitfield said he would oppose the bill as-is in part due to another amendment (also held) that would double the penalties civilians could impose against oil companies responsible for infrastructure that fails.
Asked about his stance on pipeline safety, Fareed said in an email he is for "reasonable oversight" to ensure that the "Central Coast is protected for future generations." "I would be in favor of automatic shutoff valves for environmentally sensitive areas, but would have to see the specific proposals to comment on increasing inline inspections," he added, referring to Capps's amendments.
Assemblymember Katcho Achadjian, Fareed's Republican rival, touted his support of state bills authored last year by Santa Barbara politicians Hannah-Beth Jackson and Das Williams. They included provisions to require annual inspections of interstate pipeline, to mandate remote leak detectors and auto-shut off valves, and to equip fisherman with tools to contain leaks in their areas. "In Congress, I would support legislation that requires automatic shutoff valves. It's a commonsense step to protecting our California coastline and preventing serious oil spills," he said, adding he would also support penalizing oil companies if they "were aware of the weak spot in the pipeline and ignored it."
The other congressional frontrunners, Democrats Salud Carbajal and Helene Schneider, have both been staunch environmental advocates and participated in numerous events largely opposing the fossil fuel industry immediately after last May's spill.